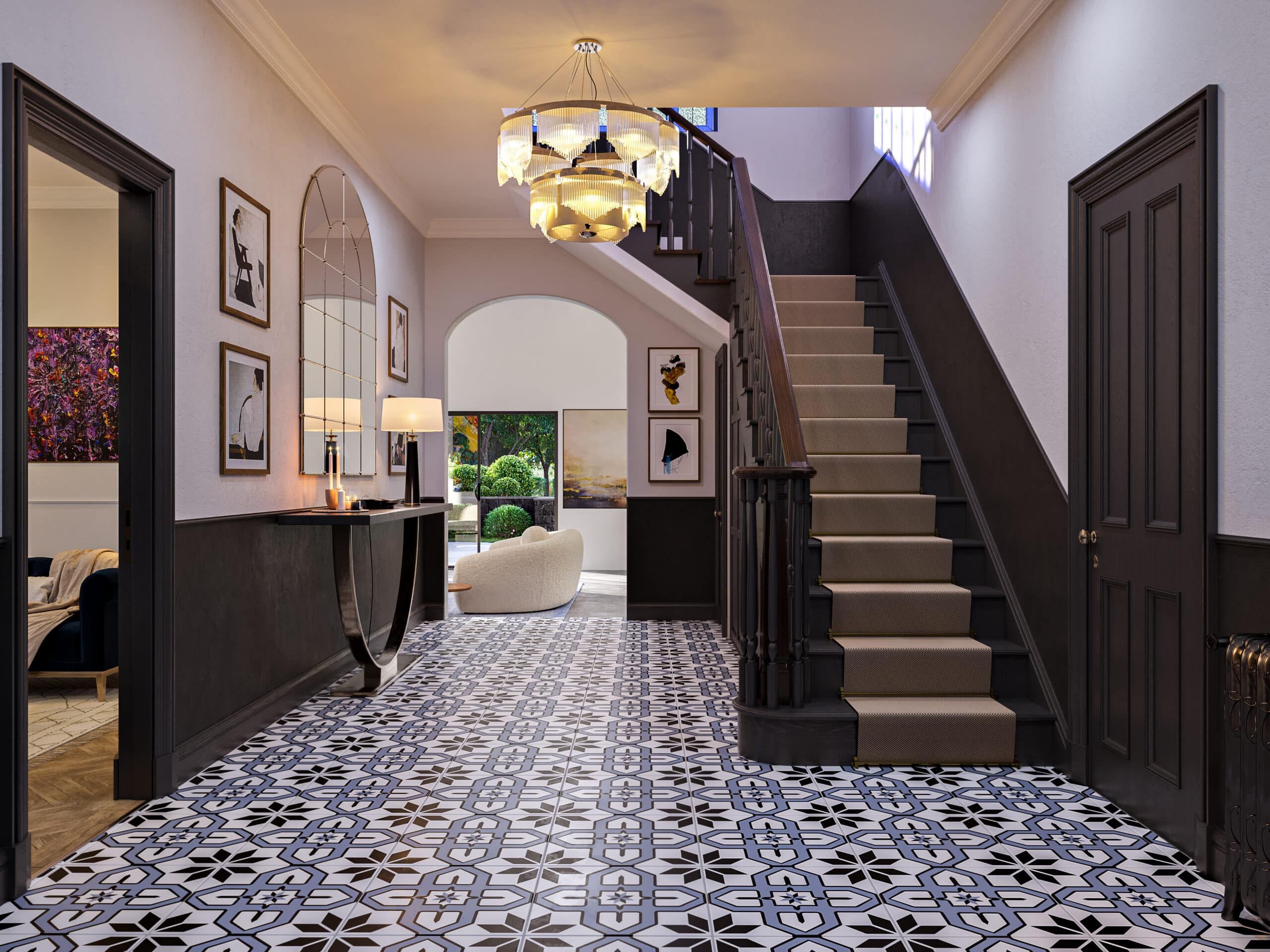 Marvellously Monochrome: life in black and white
Black and white is definitely not boring. Few design schemes are as chic and sophisticated. Whether you opt for pristine white, dramatic black or a combination of the two, the real beauty of black and white is its versatility. It looks stylish on period and contemporary properties alike, from bathrooms to bedrooms, on walls, floors and everything in-between.
Getting started with monochrome is easy, and you can be as bold or as subtle as you like. In this article, we share some top tips on incorporating this classic colour combination into your home.
Choosing the right shade
Not all blacks and whites are created equal. You may think these are 'one-size fits all' hues but the spectrum ranges from warm whites to soft blacks. So, when choosing these shades for your home, it's important to make sure they work in harmony together and with your existing decor. Pairing off-white with bright white, for example, can look muddled so pay attention to the undertones and use a colour matching tool if need be.
The type of black and white you choose will also have an impact on the ambience of the room, so consider where you plan to use it and how you use that space. Pure shades are better suited to high energy rooms like kitchens and bathrooms, whereas creamy whites and charcoal blacks are a better option for rooms where relaxation is key.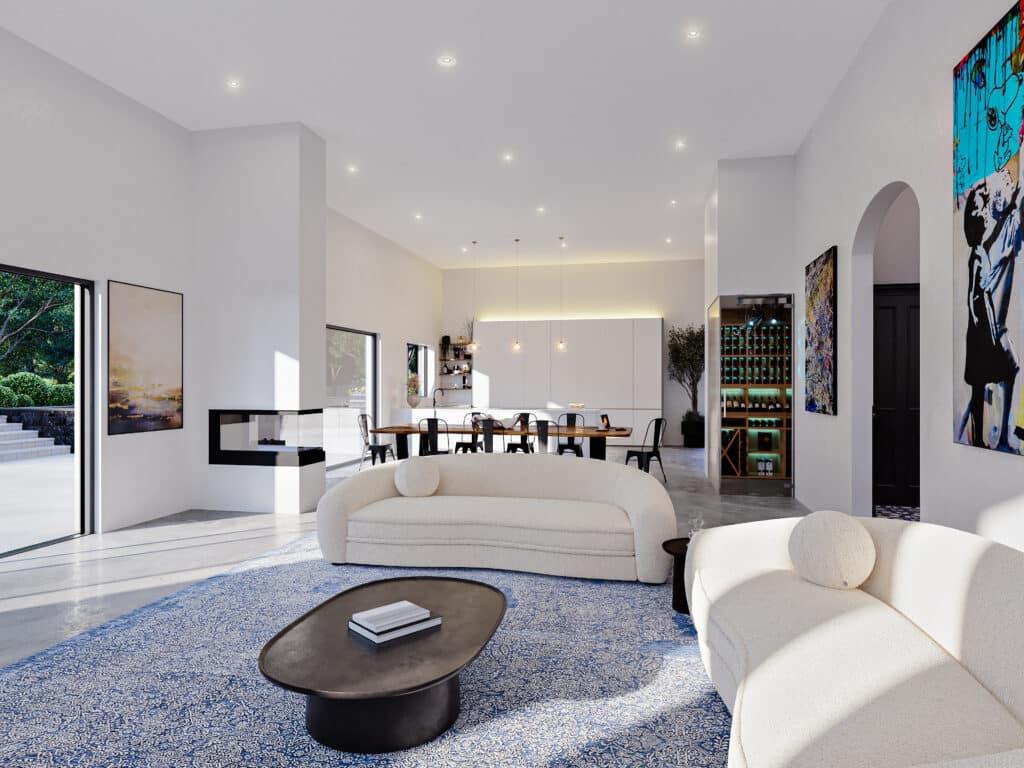 Incredible interiors
As with all colour schemes, balance is crucial. Most designers recommend a 70/30 rule to avoid one colour overpowering the other, i.e., use one colour in roughly 70% of your space. Decide which one you want as the dominant colour and use the other as the accent. So, you could paint the walls white and choose a large black sofa as the centrepiece of your living area. You can then use both colours in the accessories and fixtures of the room to create the perfect contrast between them.
Before deciding on your dominant colour, think about your space. Both black and white are great for playing with the sense of space. If you're decorating a smaller room, aim for light walls to make it feel more spacious and accessorise with black accents for a little drama. The flip side of this is to use dark tones to create a cosy ambience and temper these with some paler shades. If you're a bit nervous about going all-black, why not paint just one feature wall? Choosing the wall behind your room's focal point, whether that's a desk or a fireplace, will create the sense of different zones within the space.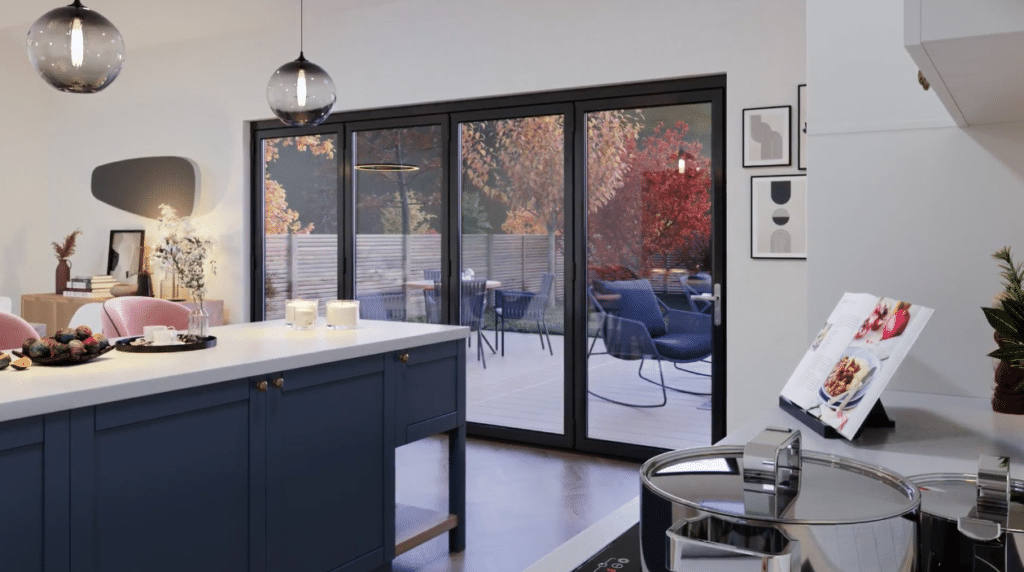 Monochrome doesn't have to be a big job. One of the easiest ways to incorporate black and white into your home is with a simple repaint. Pick out focal points, such as skirting boards, door frames or even your window frames, and give them a lick of paint. This can instantly add a sense of drama and interest to your room, without breaking the bank or taking up much time. If you're feeling playful, you could even paint the spindles of your bannister alternating black and white for a really eye-catching look!
Similarly, you can use tiles for maximum impact with minimal effort. Updating a kitchen splashback with a mix of black and white tiles can create a cheery focal point. Or you can transform a walk-in shower into a cosy nook by using floor-to-ceiling black tiles. This works particularly well if you arrange a few plants to create a lush, tropical feel, making it the perfect place for some relaxing 'me-time'.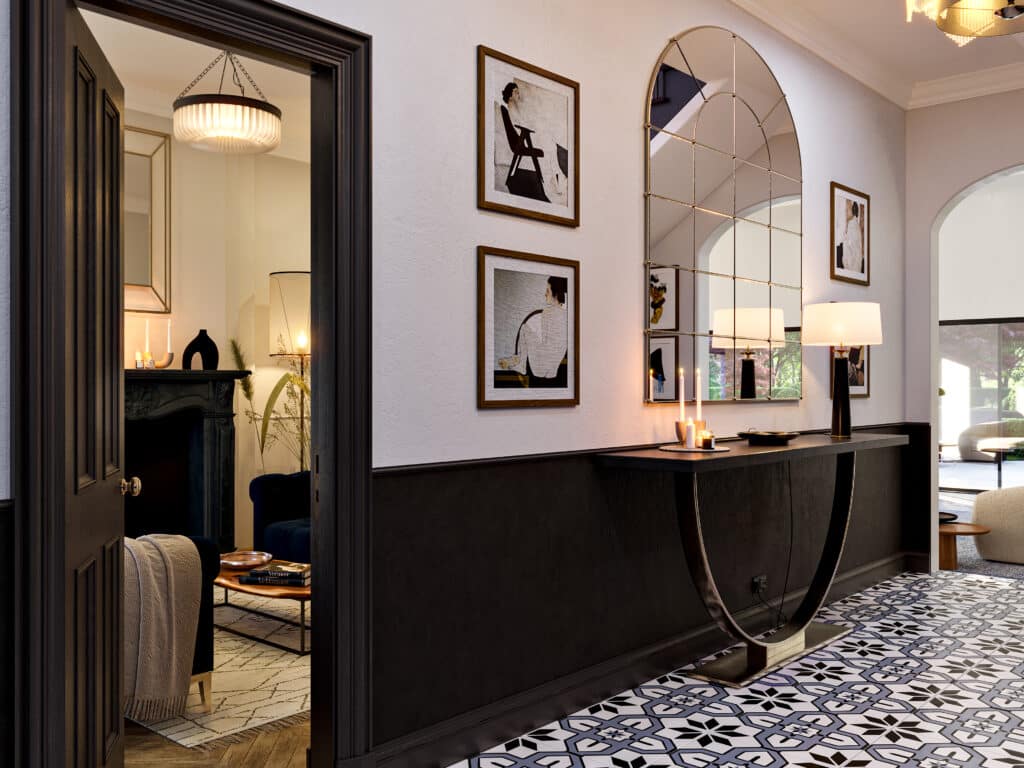 Black and white design schemes are great fun in transient spaces like hallways and bathrooms, where you can afford to be bold with your decor. High gloss black and white tiles on your hallway floor are a fabulous way to set the tone for a classic, luxurious look. The size of the tiles will have their own impact – the larger they are, the greater the sense of space. Complete the look with a statement mirror (which will also create the illusion of more space) or paint any window frames in a matching black for a bold graphic look.
A black and white bathroom can add a high-end Parisian feel to your home. Think white marble sinks and tiled walls alongside a black standalone bath, complete with metallic fixtures and a black and white chequered floor. However, you don't have to go for a full remodel to achieve this look. Adding some black accent pieces, such as a jet mirror or hand towels, or swapping your shower screen for a black crittal one will bring the glamour. It'll certainly take the edge off getting ready for work on a rainy Monday morning!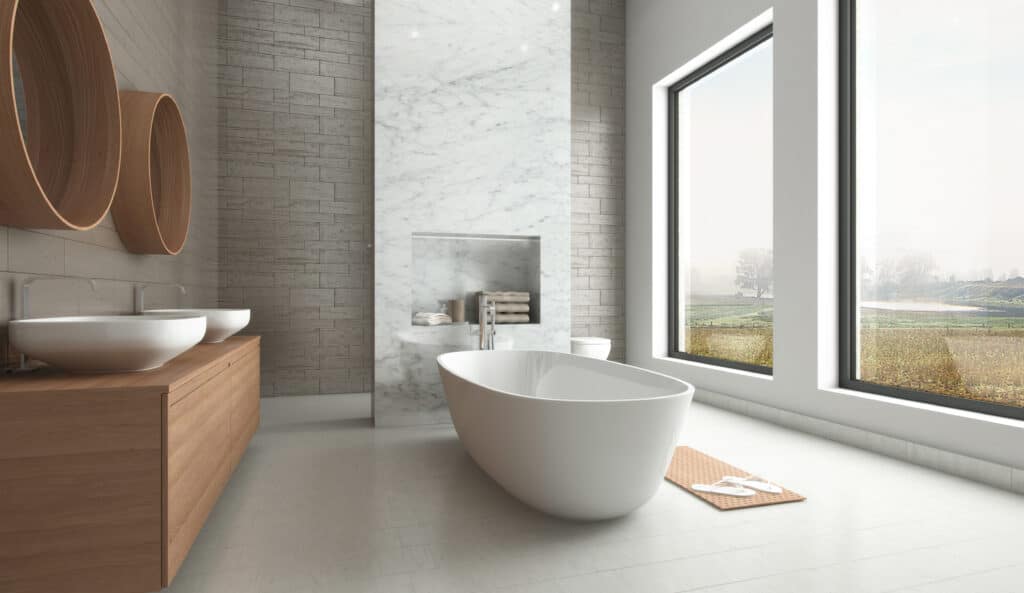 As living rooms and bedrooms are where we relax, most people tend to avoid too much drama in their decor. This doesn't have to rule out a black and white colour scheme, however. Instead of opting for the purest form of these shades, choose muted versions such as deep slates or creamy whites for a laid-back feel. Alternatively, patterns are perfect for incorporating black and white in a more subtle way. Houndstooth upholstery, striped or dark floral wallpaper (great for a feature wall), abstract art or monochrome accessories are all understated examples of black and white, and don't feel too jarring when you're trying to switch off.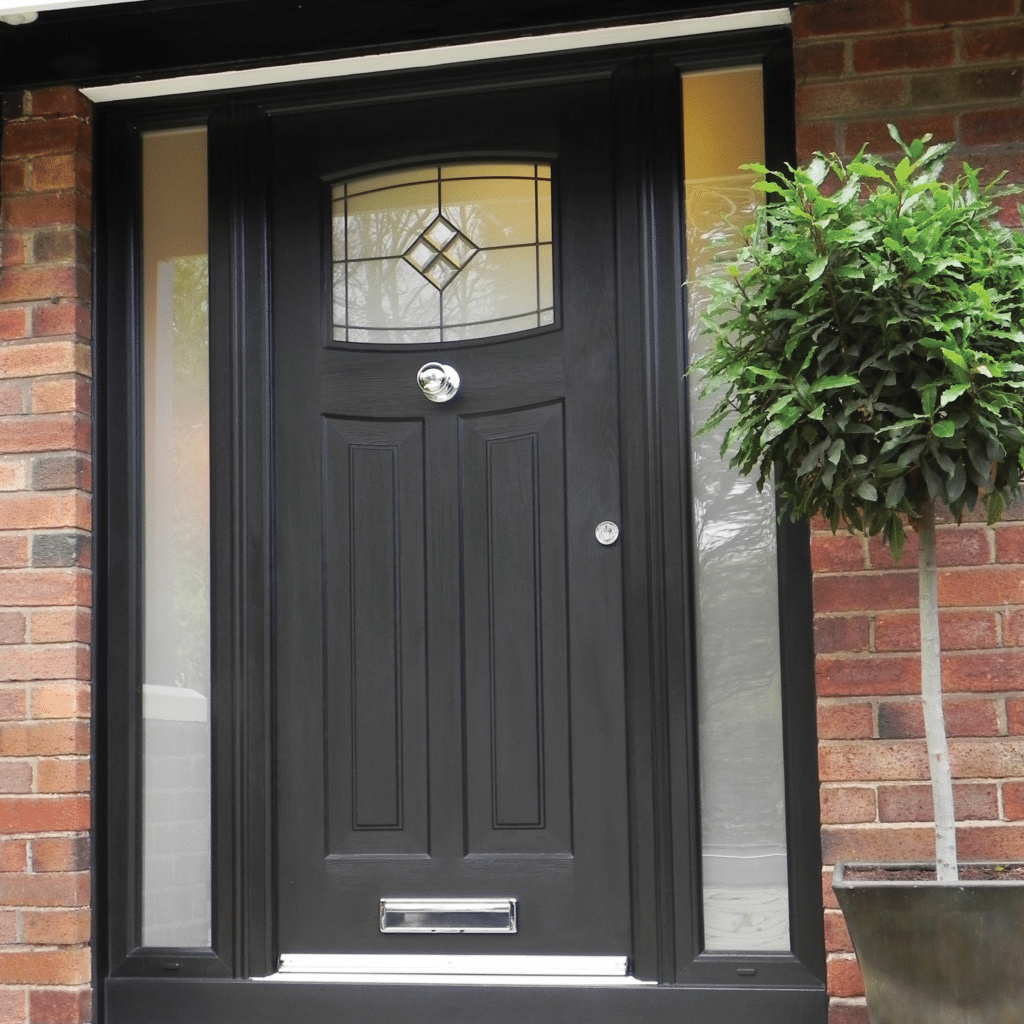 A bold first impression
Don't forget your home's exterior when it comes to creating a marvellously monochrome aesthetic. Black and white looks stylish on both classic and contemporary buildings. In fact, it's a great way of highlighting any interesting architectural features on your period property – especially if you use white against a dark background – and can give your facade a fresh new look.
A white exterior has long been a popular choice among homeowners and for good reason. White stands the test of time and makes your property look clean and bright. However, black is very on trend right now so if you want to give your home a modern twist, consider black windows and doors. They look sleek and sophisticated, lending an air of elegance to period homes or minimalist chic to modern ones, particularly if you opt for slimline aluminium frames.
Bear in mind the colour of your home's facade if you decide to change the colour of your windows and doors. White frames rarely look good against white render; however, dark hues (including the ever-popular anthracite grey) look amazing set in a white facade and can make your home stand out without being too 'in your face'. Read more about render here.
Bring on the warmth
There's a risk that a black and white interior can look a bit chilly, but there are a few things you can do to avoid this. Incorporating variations in texture is a sure-fire way to create a cosy vibe – think faux fur throws, matte black metal fixtures, plush black velvet furniture, or sheepskin rugs. It's a great excuse to go rummaging through antique shops or flea markets for vintage furniture or knick-knacks, whose patina will also add a note of warmth. Anything made with natural materials will help reduce any starkness, so consider choosing slate floor tiles or balancing out monochrome tones with natural wood accessories.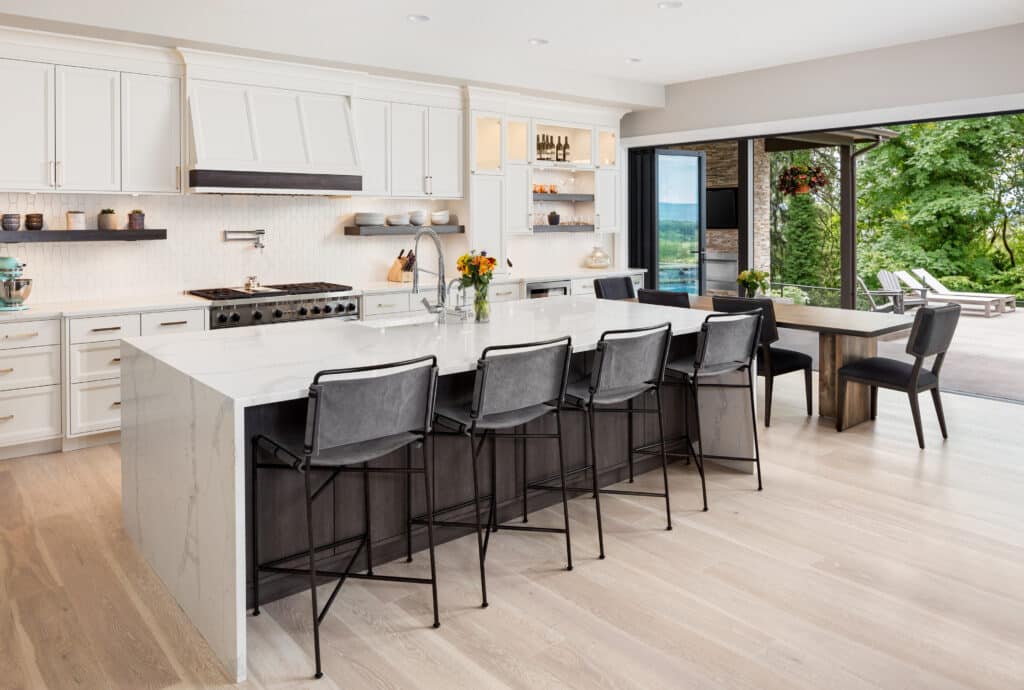 Speaking of natural materials, the addition of flora will instantly lift any space. When it comes to black or white flowers, the possibilities feel endless. Carnations, peonies, roses, tulips…all come in either black or white. Or you could opt for something like white Black-Eyed Susans, which come with a jet-black centre amid white petals. For maximum drama, arrange in a contrasting-coloured vase and balance out with plenty of greenery. You can keep your look constantly fresh by switching out different blooms.
For those chilled-out spaces we've already mentioned – living rooms, bedrooms etc – it's important to choose the right lighting. Bulbs in warm white, lamps or dimmable lights will all make your room feel cosy and welcoming and will offset any potential starkness.
Life in black and white
Monochrome design schemes are almost limitless when it comes to their interpretation, so you can really let your imagination go to town. What's more, decorating in black and white is a good investment – it's unlikely to go out of fashion so there's no risk of your home looking dated. It also provides a practical backdrop for your favourite furnishings. Whether you decide to go all-out on a new look or you just want to add a few monochromatic touches here and there, the look is easy and timeless.
If you need advice on the best black and white windows or doors for your home, our friendly team will be happy to help.
doors, exterior design, home inspo, interior design, monochrome