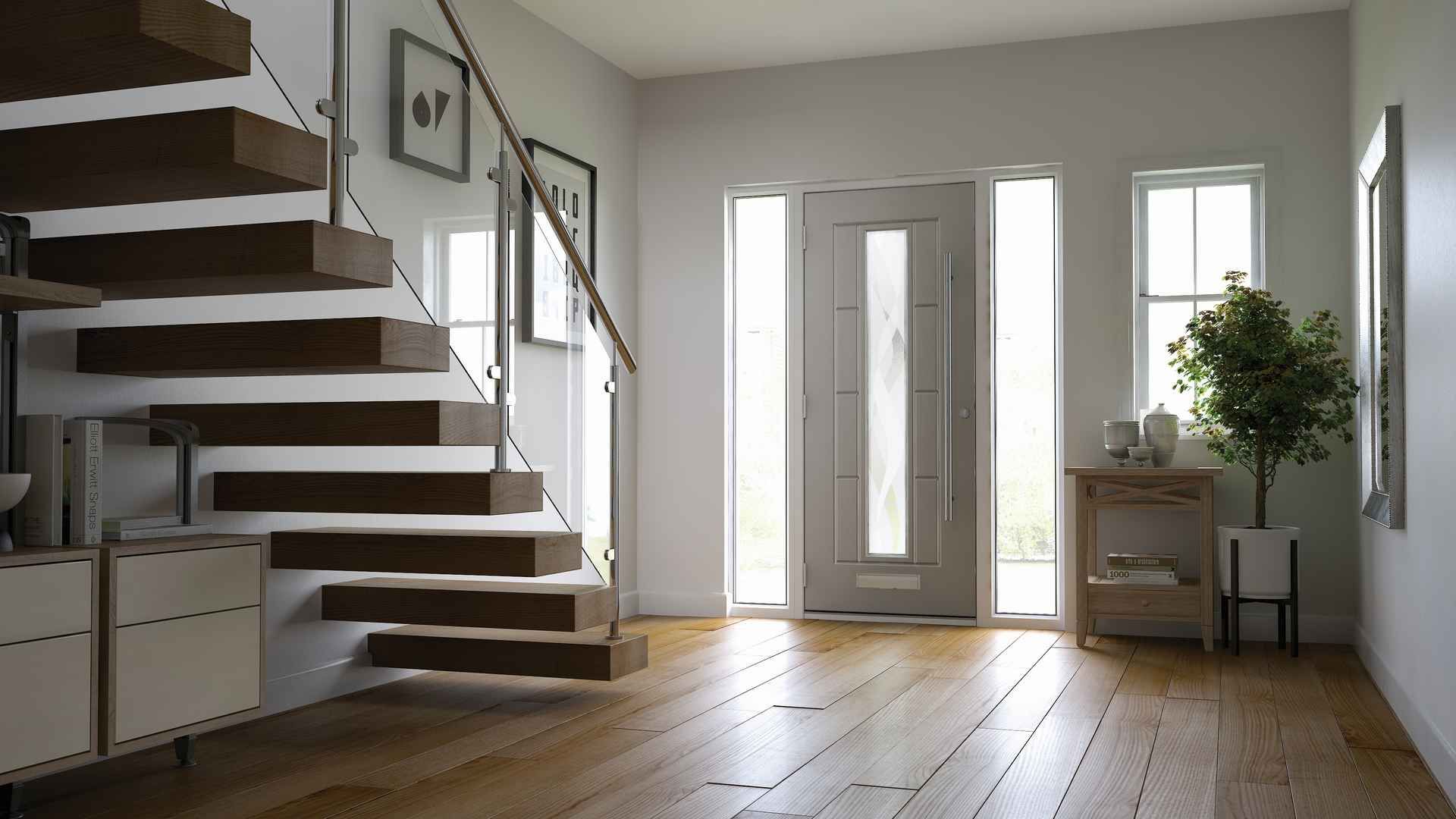 Make an entrance: contemporary front door design for modern living
Your front door is the first thing people see when they approach your home, so you want to ensure it looks its best. If it's looking tired or outdated then it could be time to show it a bit of love, either by sprucing it up or replacing it with a brand-new version.
We've previously written about how to make a cottage-style front door the envy of your neighbours, but this won't suit every property. If you live in a newer home, chances are it has a modern or contemporary front door. What's more, contemporary doors are starting to overtake classic ones in the style stakes, so now is the ideal time to make yours stand out.
What does a contemporary door look like?
It's easy to conjure up images of a traditional door but what characterises a contemporary one? Modern doors are defined by clean lines, on-trend colours and sleek hardware, combined with the latest technology in security and construction. Contemporary style is where beauty and function converge. However, their minimalist aesthetic doesn't mean they're lacking in the wow factor. You can opt for a fashionable colour, oversized door hardware or large panes of glass to create an eye-catching statement.
Typically, contemporary front doors are either solid with a simple feature of linear grooves, or they include glazing. Glazed contemporary doors often feature larger or more numerous panes of glass than you would expect to see on an older door.
Would a contemporary door suit my home?
The contemporary style doesn't work everywhere. If you have a lovely period home, you're better off sticking with a traditional front door, which will complement the look and feel of your property. Take a look at our articles on cottage front doors or stable doors if you need some inspiration.
Contemporary doors look best on newer properties, which have usually been built with the same principles in mind – clean lines and an understated aesthetic. The overall focus with modern design is on functionality, simplicity and form. An exception to this would be converted warehouses or loft-style properties with an industrial aesthetic, which are characterised by an urban, edgy feel. Although these are often older buildings, the simple lines and minimalist design of contemporary front doors make them a good fit for this style.
Whatever the style of your home, it's important to consider what it's made from. Many newer properties have a brick or render facade but applying a 'one size fits all' approach when choosing a front door is tricky territory. For example, you may wish to add some interest to flat, rendered facade by opting for a glazed door over a solid one.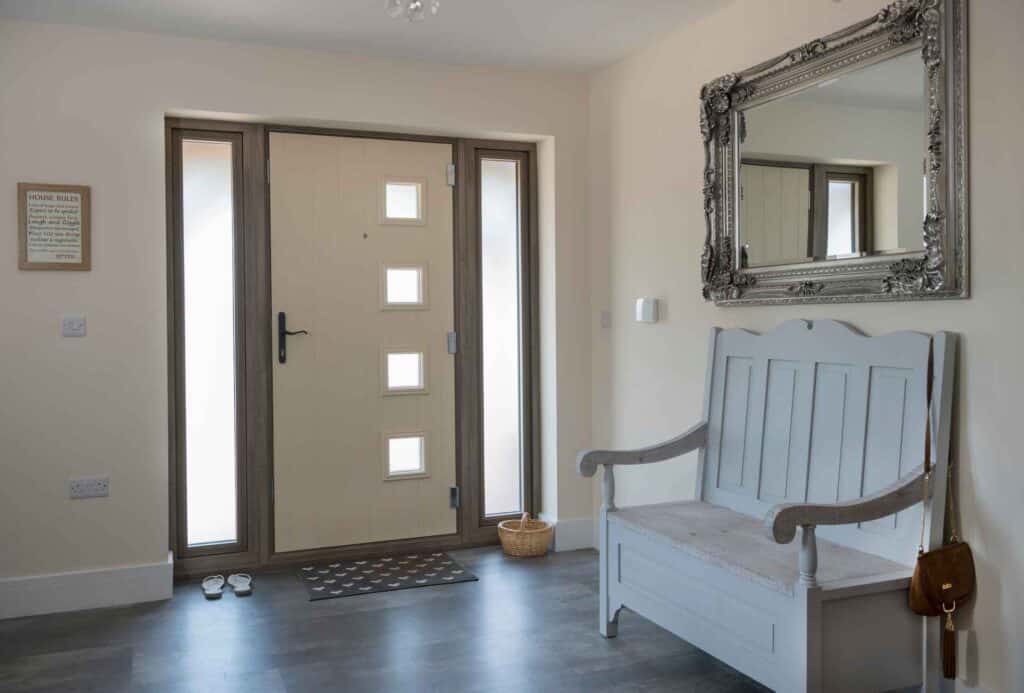 Colour me contemporary
The colour of your front door greatly impacts the overall look and feel of your property, and just giving it a fresh lick of paint works wonders. Although choosing just one colour may seem overwhelming, some shades do work better than others when it comes to contemporary front door designs. These tend to be neutral hues like grey, white or soft wood tones, which give the clean, understated look typical of the contemporary style. 
Dark colours, in particular, are still on-trend, with the likes of Anthracite Grey falling very much within the modern style palette. Grey remains a popular choice for good reason. It complements a range of styles and colour schemes; it provides a great backdrop for personalised door hardware; and it does a better job at hiding wear and tear than lighter colours, making it a low-maintenance option.
White is another great choice for your front door, not least because it's perhaps the most versatile shade out there. It also perfectly embodies the contemporary design philosophy of 'clean and simple', but it can take more work to maintain.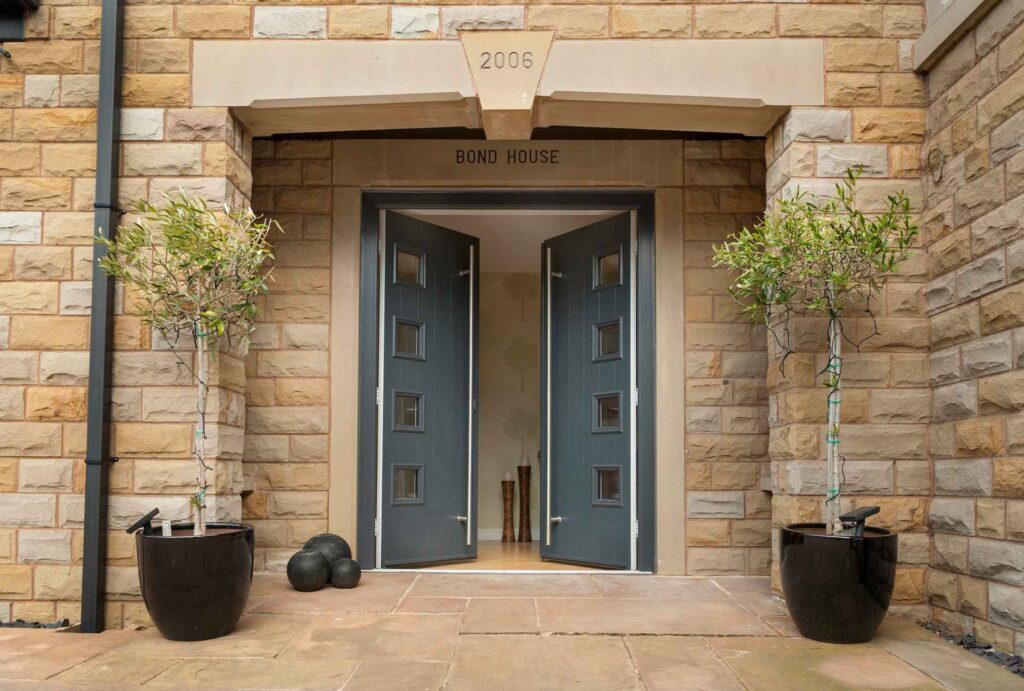 Doors in Anthracite Grey and white will stand out so if you're looking for something more understated, muted shades like French Grey, Painswick and Agate Grey also suit the contemporary style and are increasingly popular. Although bolder colours, like cheery yellows, can work on modern front doors in some circumstances, bear in mind that the contemporary aesthetic is all about subtlety and simplicity. If you're not keen on neutrals, consider a dark blue instead.
Don't forget your door frame – the right choice here can this can transform your entrance. Some people choose a frame in a contrasting colour to make their door really stand out (one popular look is an Anthracite Grey door with a white frame). However, one of the latest trends is to match the colour of the door and frame, creating the illusion of a larger entranceway. This is particularly effective if you've opted for a colour that contrasts with your facade.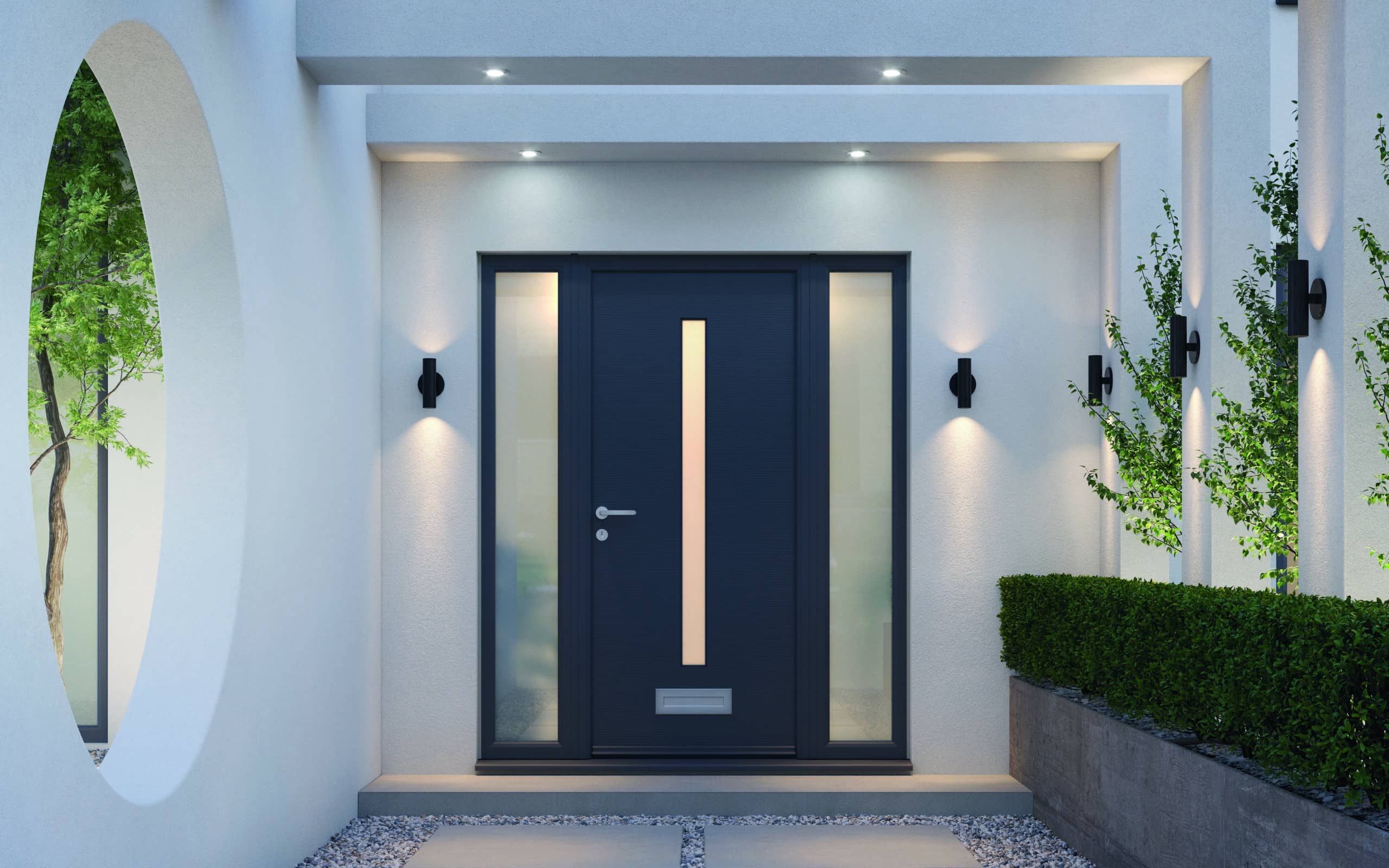 Heart of glass
Glazed contemporary doors are popular as they offer a sleek and modern look. Varying the amount of glass creates a range of effects, from doors with large glass panes that blur the line between indoor and outdoor spaces, to ones that incorporate just enough glass to provide a glimpse into the interior.
So when deciding on including glass in your door, consider what impact you want it to have. Glass lets in light but it also creates the illusion of space, both of which are extremely desirable in a home. A hallway can be a tricky space to light, so one solution is to increase the amount of glass used in your door. Understandably, though, this can raise concerns around privacy and security. 
There's no need to worry, however. Today's glazing technology means you can incorporate as much glass as you like without compromising on privacy or safety. If you live on a busy street, why not consider using obscure glass? This alleviates privacy concerns while still allowing light to enter your home. It also opens up the opportunity to add a decorative touch to your door, through the use of etched or textured panels. A simple sandblasted finish suits the contemporary aesthetic perfectly, and you could even incorporate your house number into the design.
Glazed doors are usually created using tempered glass, which is toughened for extra strength and durability. The doors by Rockdoor come with the added bonus of S-Glaze technology, which seals the glass unit in place and means potential intruders won't be able to pry the glass out. Plus, it improves energy efficiency by keeping drafts out too! For additional peace of mind, laminated glass can be used in almost any residential door, which is a particularly robust security feature.
What if your preferred front door doesn't come with any glass but you'd still like to use it in your entrance? Glazed side panels are a great compromise. Aim for one solid pane of glass to achieve that contemporary look, rather than opting for midrails.
Don't forget the inside
One of the phrases that's often used when talking about front doors is 'kerb appeal'. While it's certainly important that your front door should look fabulous from the street, don't forget that you'll have to view it from inside your home too. That fashionable shade of Anthracite Grey we mentioned earlier looks great in daylight but risks making your hallway feel dark and small. Similarly, your bold stainless steel door handle might look jarring alongside your interior design scheme. So don't think your door has to look identical on both sides – you can always customise the inside surface to suit your home. Choosing classic white is always a safe bet – it keeps the look simple, adaptable and means it won't go out of fashion.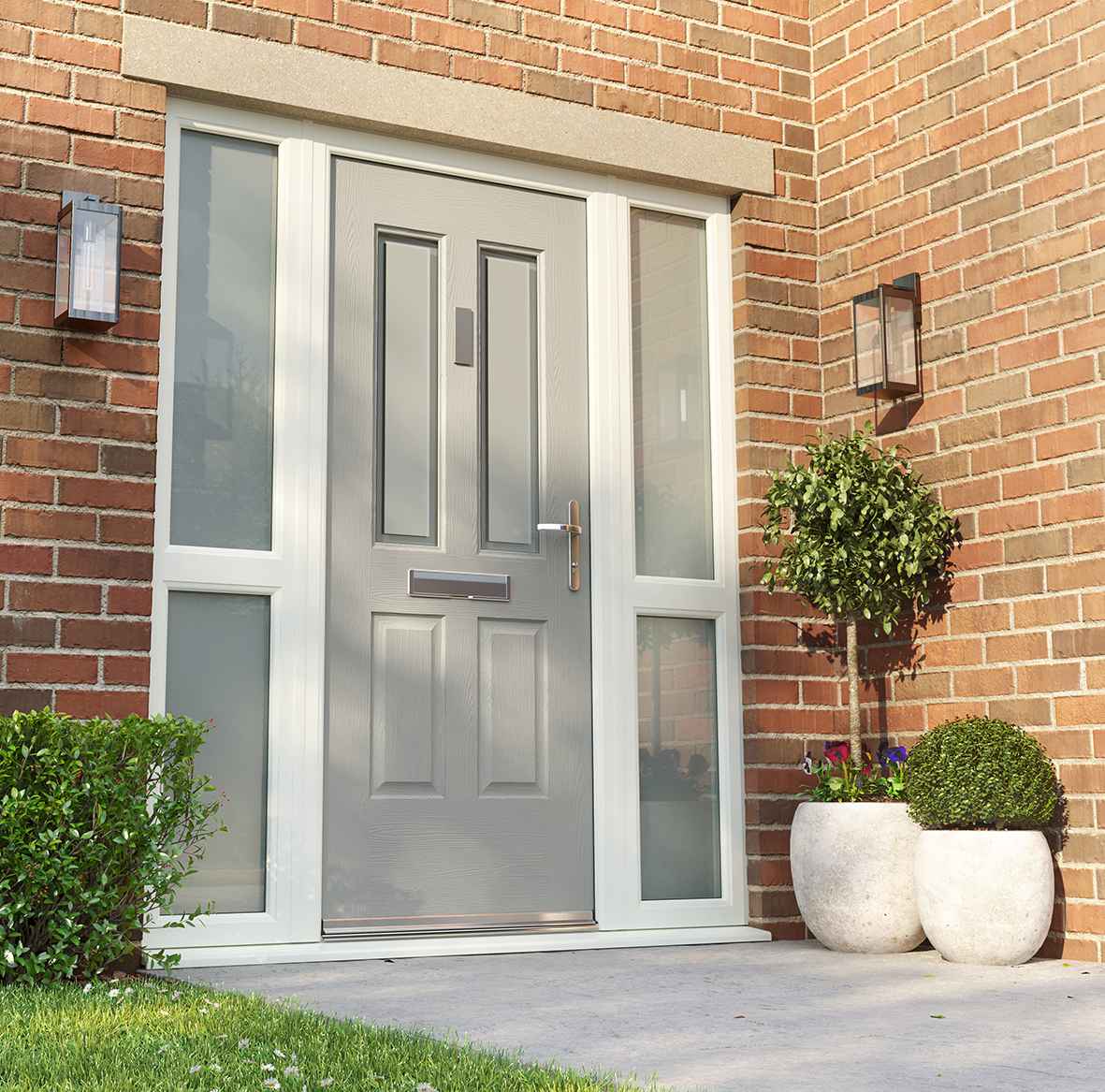 Modern life is stylish
Newer homes sometimes have an underserved reputation for being boring or uninspiring, especially when compared to their period counterparts. However, this is absolutely not the case. They provide an excellent canvas for you to personalise, and they have their own distinctive sense of sophistication. Hopefully we've demonstrated that you have lots of options when it comes to transforming your front door into one that's firmly on-trend. We're happy to answer any questions you may have about choosing a new door or revitalising your current one.