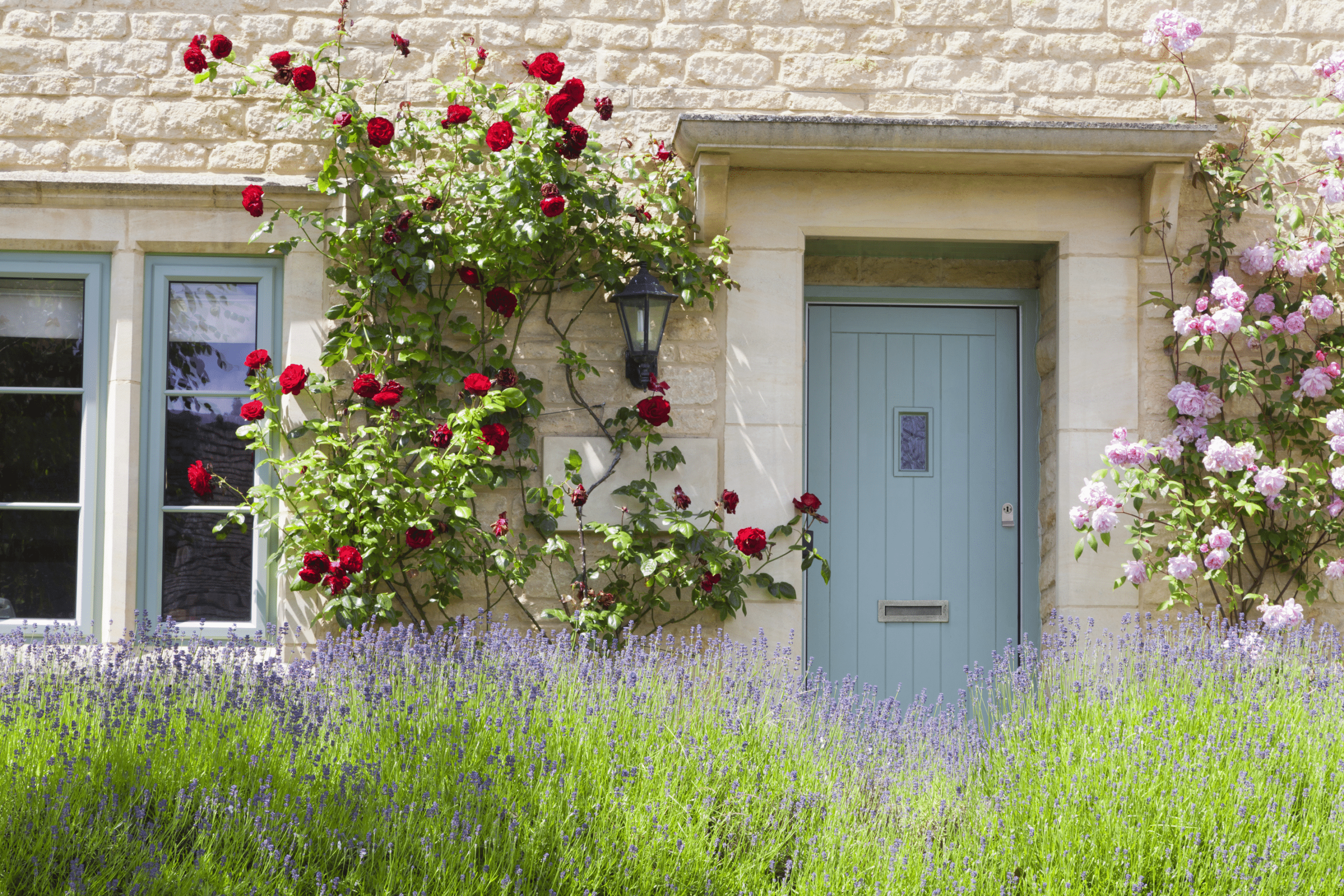 Cottage front doors: design and inspiration
If you're lucky enough to live in a cottage, you'll know it comes with bags of traditional charm. Now's the time of year to really make the most of it! Your front door is one of the first things people notice so you want it to make a great impression. It's also an opportunity to show some of your personality, whilst staying sympathetic to your home's history and traditional appeal. So if your front door needs some TLC, read on to find out how to give it a little lift.
UPDATE YOUR CURRENT DOOR
There are a few things you can do to restore your existing front door. It doesn't have to be a big job and can be gentler on your wallet than a new door.
Painting
Repainting it is an easy win. If your cottage has a timber front door there are a wealth of colours to choose from, so changing things up with a new hue is always a good option.
Soft shades like sage green or duck egg blue are timeless, elegant and really suit country cottages. Other gentle hues like pale pink and lavender suit grey or white stone cottages, with a truly Instagrammable result. Pastels are very on trend, so will help your door stand out without being too bold. On the other hand, if you have a red brick cottage, you can get away with a stronger colour like a glossy yellow, bottle green or royal blue.
Using a colour wheel is a great way of finding the right match. Certain colours can even add value to your property but remember to consider any neighbouring houses before repainting with a new colour. Your front door is a good place to express yourself, but it doesn't exist in isolation.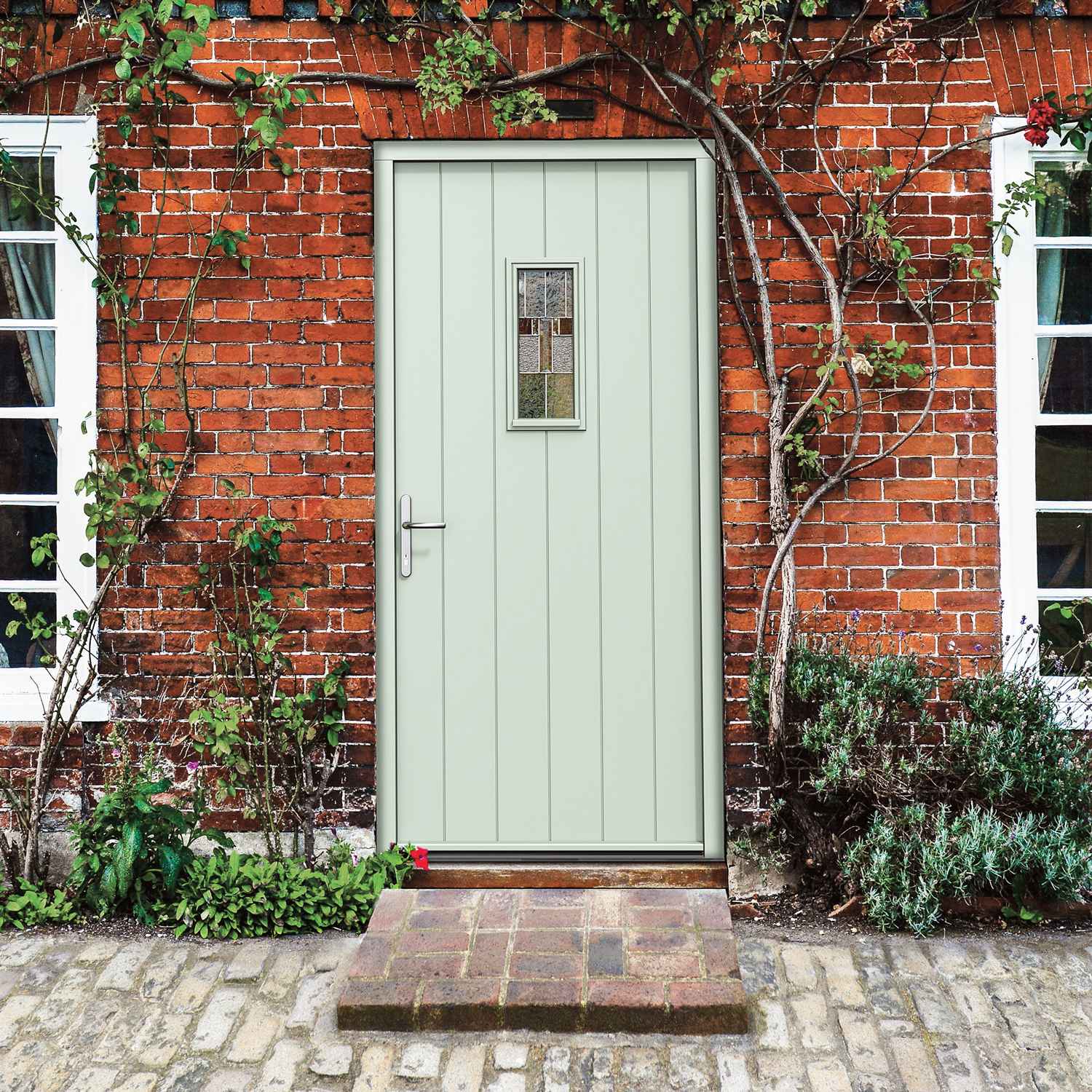 As your door takes a battering from the elements, you need to choose a paint that will protect it and keep it looking great. Check the label to ensure that it's a paint suitable for exteriors. A good gloss or semi-gloss paint is ideal – it's hard-wearing, easier to maintain and the glossy sheen really helps your door stand out. However, bear in mind that gloss paint takes a little more work. Preparation is key to ensuring a great finish. Sand the door first to remove any old paint, create an even surface and give the gloss something to hold on to. Then use a primer before painting to prevent your door from absorbing moisture, especially if you're painting bare wood. Colour-matching your primer to your paint will also achieve a beautiful end result. Look out for all-in-one paint and primer products to make things easier.
Alternatively, there are now some great water-based paints which are more user-friendly than gloss (which is solvent-based). They dry faster than gloss paints, meaning less waiting around between coats, they're more fade-resistant and they're eco-friendly. Even cleaning your brush is easier – you use water instead of chemicals. Water-based paint is a particularly good option if you just want to touch up your door without the hassle of prepping it first.
Don't forget that uPVC can also be painted (with the right type of paint), so if your uPVC door needs freshening up, you have options. Although there aren't as many brands to choose from, you still have the benefit of a wide range of colours including all the on-trend hues, such as Chartwell Green and other pastels.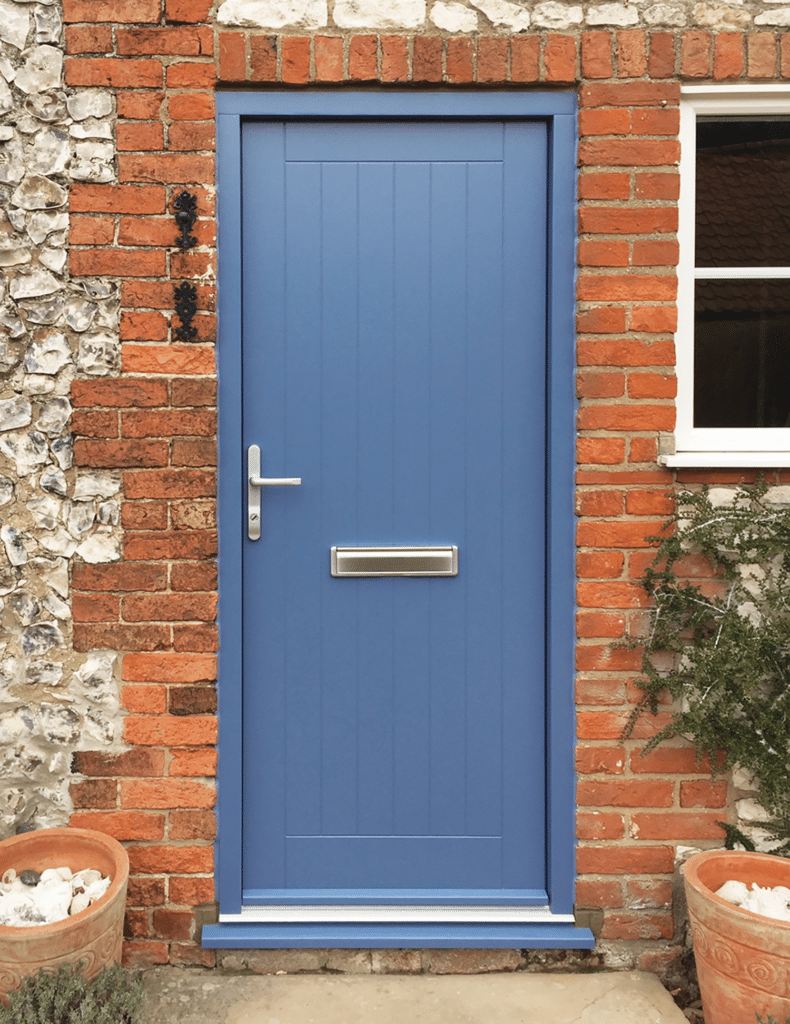 Hardware
To complete the look, consider replacing your door hardware, such as handles, hinges, letterplates and knockers. They add character and authenticity and can be an easy, affordable improvement.
Solid, hand-forged ironmongery in black and pewter is common in older country cottages, often in a Tudor style. So if you want that heritage feel, try rummaging through a reclamation yard, or you might even find an original, historic gem at an antiques market! However, attractive and authentic replications of traditional ironmongery are available from most DIY stores or builders' merchants.
Breathing new life into your old door could be as simple as swapping a door handle for a brass doorknob or adding a distinctive knocker for added personality and period charm. Just make sure all your hardware coordinates and try not to mix materials.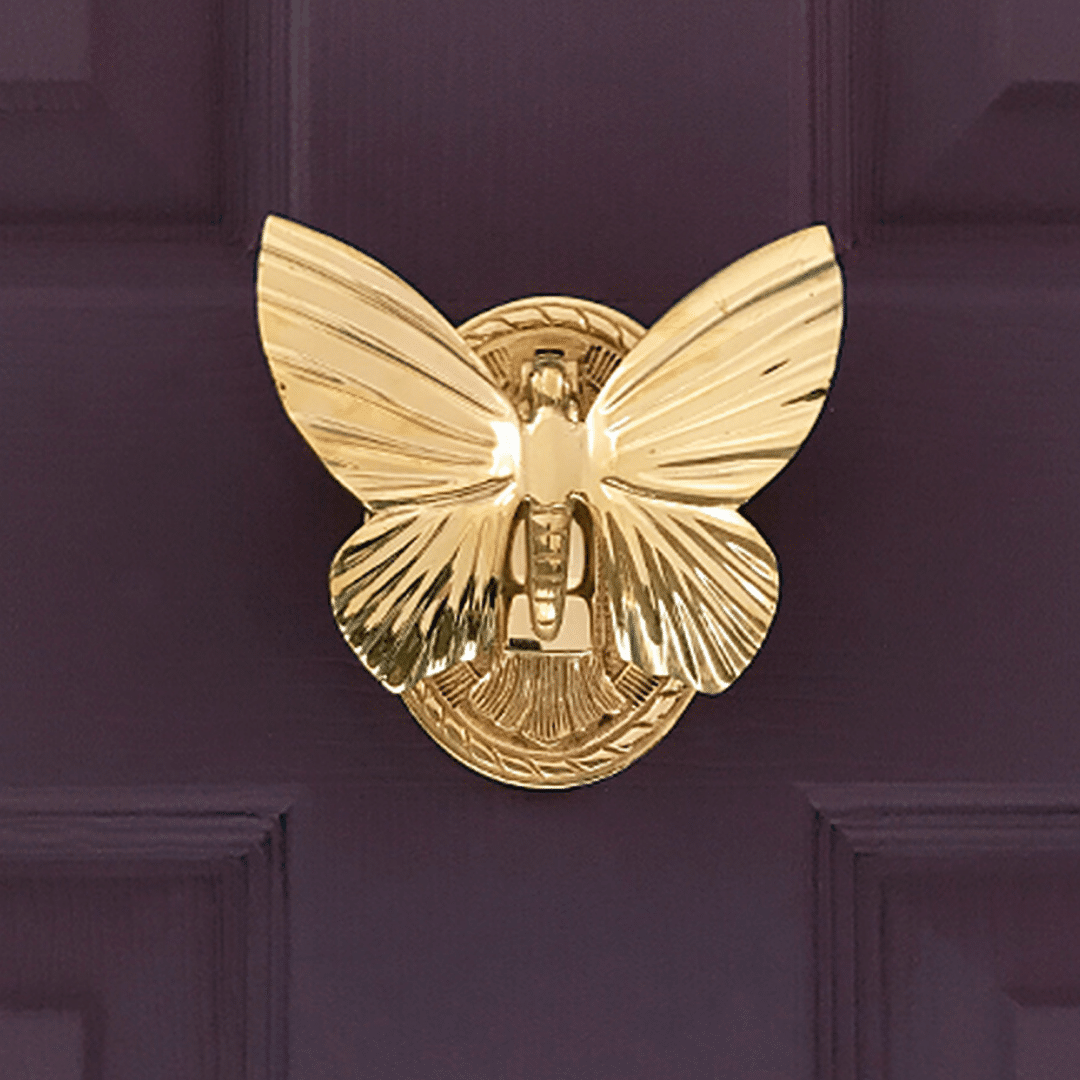 CHOOSE A NEW DOOR
If your door won't last another winter it's best to replace it, which can be a good opportunity to swap an unsuitable door for something in keeping with the cottage style. Again, we recommend checking the age of your property, as not all doors suit all periods. However, owning an older cottage doesn't mean you can't install a modern, energy-efficient, low maintenance door that's still sympathetic to the age of your property.
The history of cottage doors
The earliest cottage doors were plain and purely functional. A 'brace and ledge' design, built from vertical planks of wood in a tongue-and-groove style, were a practical means of keeping the warmth in and the elements out. A central ledge and braces held the doors together, with many divided into two as stable doors. Over time, more decorative panelled doors, such as those in the Georgian and Victorian periods, were introduced. From the mid-19th century, we began to see larger areas of glazing.
However, when choosing a new door remember that cottages were humble properties, built for working people. This is part of their appeal, and a door that's sympathetic to your cottage's character will really look the part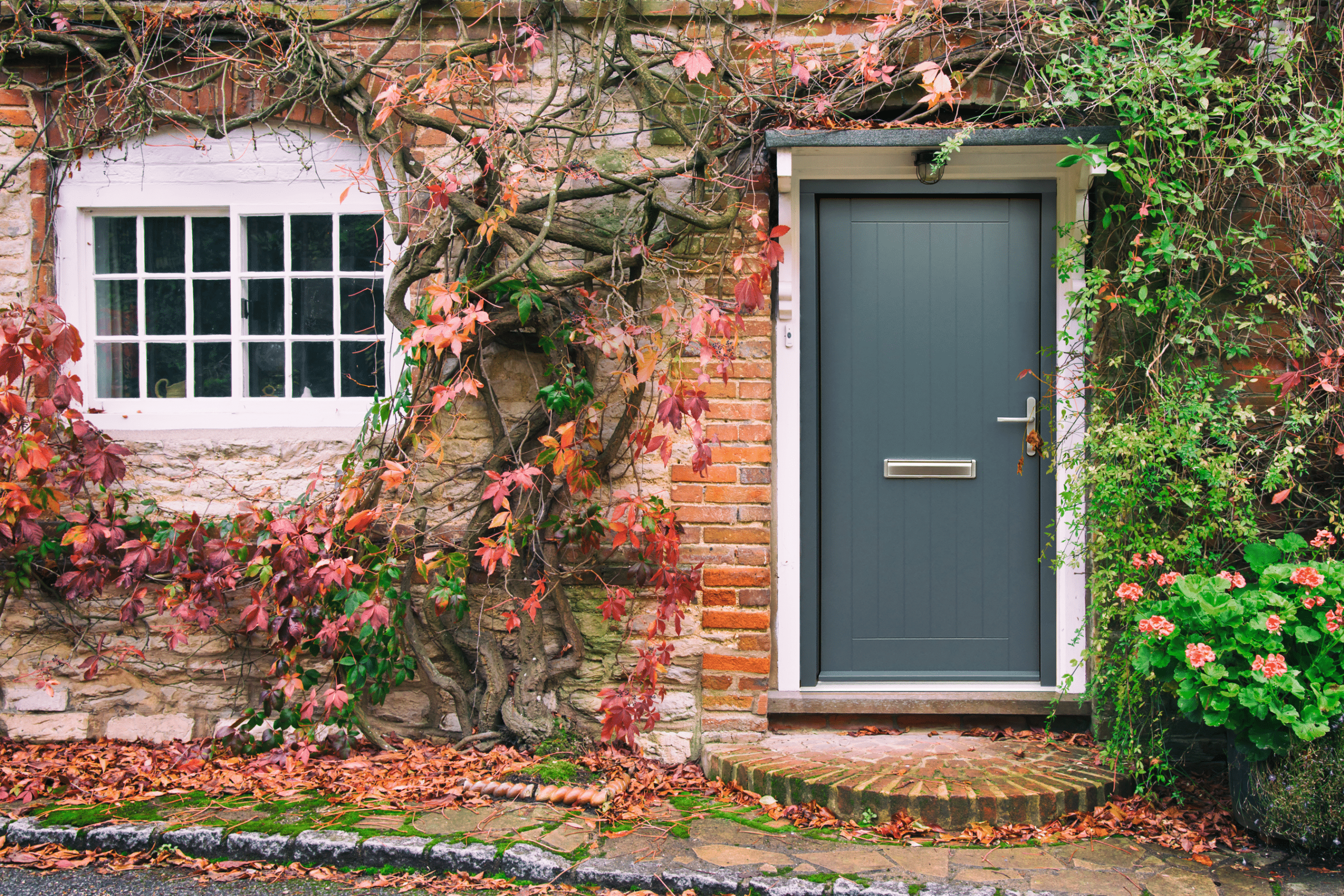 Today's cottage doors: what are your options?
Cottage doors are traditionally timber but you don't have to replace like-for-like.
If you want something low maintenance but with an authentic woodgrain effect, modern composite doors are a good option. We supply doors by Rockdoor and Solidor, each offering stylish designs that work well with cottages. Rockdoor's aptly named 'English Cottage' door comes in 14 colours, is super secure and provides a level of thermal efficiency you don't see with older timber doors. Similarly, the Flint range by Solidor has a style and colour to suit most cottages, including one with diamond-shaped glazing which gives a classic cottage feel. Solidor also offer a range of traditional ironmongery to perfectly complement your period property.
If timber is your preferred option, we offer beautiful, low maintenance timber doors by Scotdoor. Scotdoors combine Scandinavian technology with authentic British designs, perfect for cottages. You can choose from the traditional tongue-and-groove look or styles suitable for 20th century cottages, with a range of glazing and colours. Plus, the doors are handcrafted and made from 100% sustainably sourced timber.
Stable doors are an increasingly popular choice and can complete the heritage look on certain cottages. They come with a wealth of rustic charm and practical benefits. You can keep the bottom half of the door closed while leaving the top open, getting all the joy of fresh air and natural light while keeping pets and young children safe indoors. Read our article on stable doors for more information.
Searching for a reclaimed door can be an option for those who like a challenge and can ensure you're replacing your door with something appropriate. However, finding the right door can be time consuming, potentially expensive and you risk sacrificing the convenience and energy efficiency that comes with a modern door.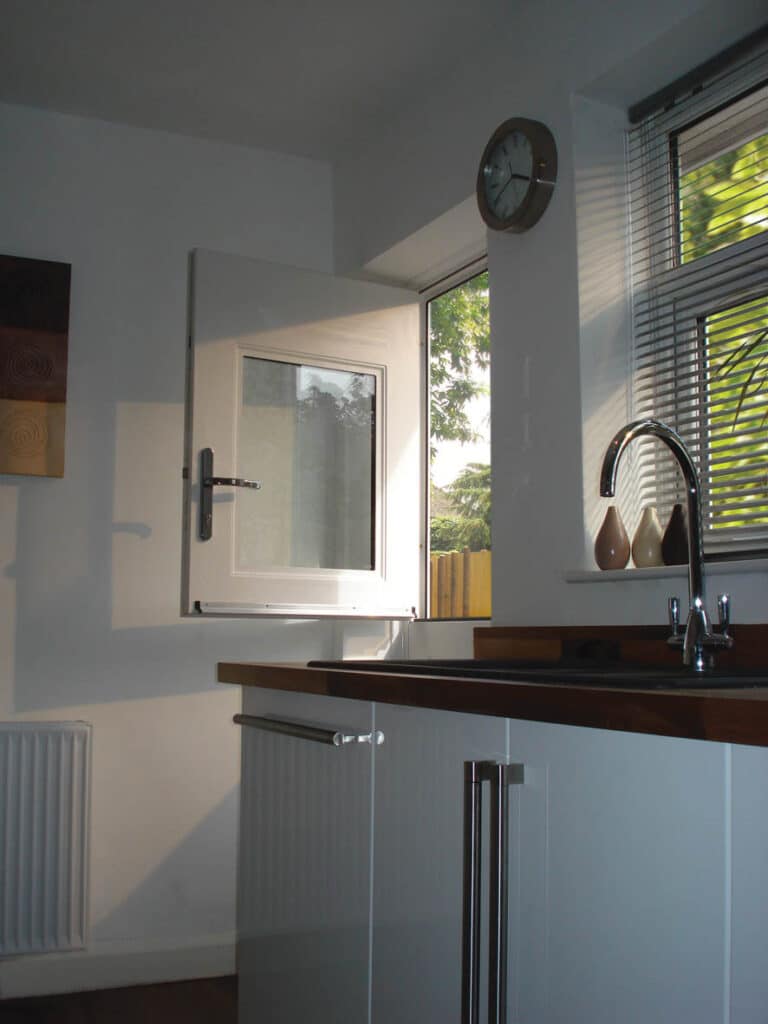 DECORATING YOUR COTTAGE DOOR
Once you get the basics of your front door sorted, you'll want to keep it looking fabulous. There's no need to limit the decorations to Christmas; there are loads of ways to make your front door stand out all year round.
One of the best ways of doing this is with potted plants. Use oversized planters if your cottage is larger or small potted plants for a a smaller space. You can also exchange the plants for flowers during the spring and summer, so things stay looking fresh – in every sense of the word. Hanging baskets provide a 'vertical' element, maximising a smaller space. Coordinate the look by choosing blooms that complement your paintwork.
Some great plants for front entrances include climbing roses, wisteria, jasmine or petunias. Boxwood topiary is also a lovely addition, especially as it can be shaped to look decorative and copes with the chilly British weather. Avoid anything that could be toxic to animals, such as tulips, foxgloves or hyacinths.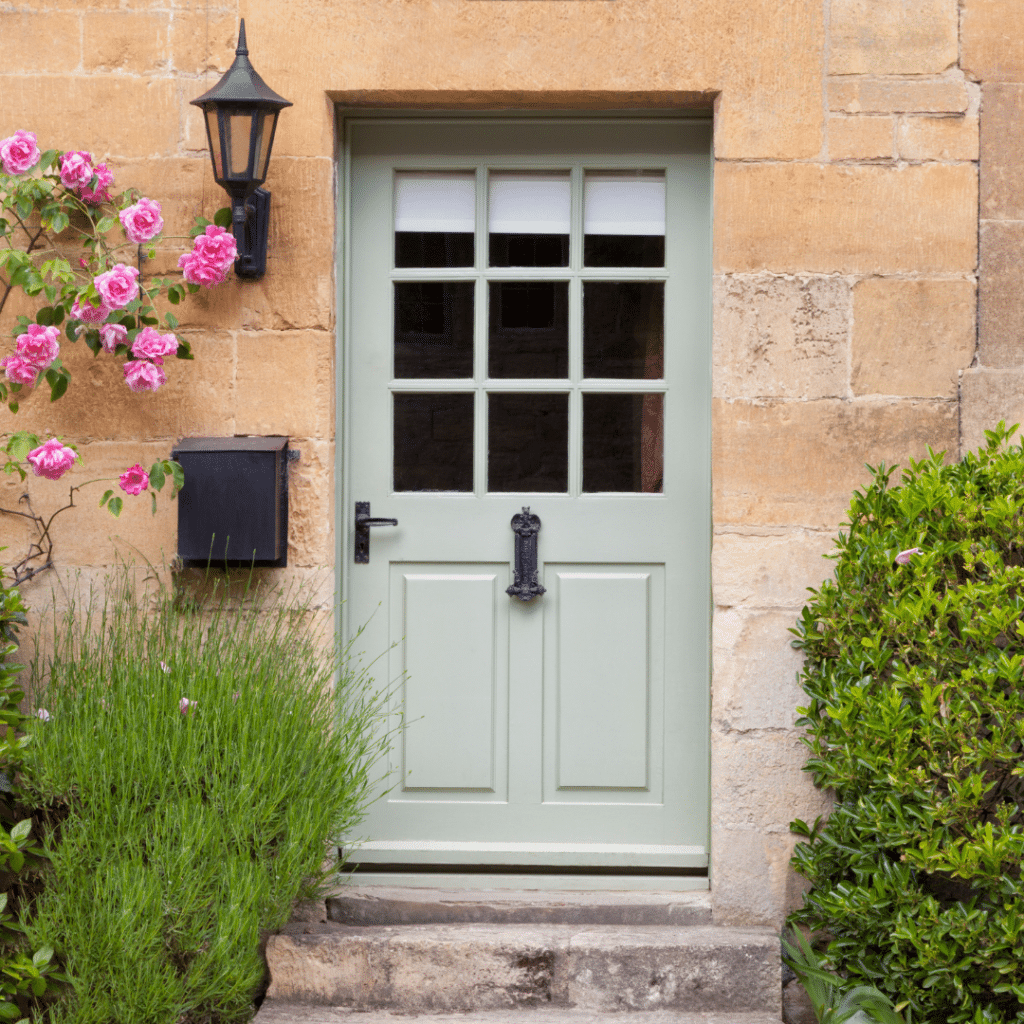 There are other ways to show off your door, even if you don't have green fingers. Be inspired by the seasons and decorate your doorway according to the time of year, efor example, with painted eggs at Easter or a wreath of dried wheat and fallen leaves during autumn. Choosing natural materials over plastic also champions sustainability.
A new doormat is a simple and affordable way to spruce up your entranceway, and can show some of your personality. Choose tough natural materials like coir or jute to ensure it can take the inevitable wear and tear. 'Doormat layering' is also a popular technique. This is where you place a doormat on top of a larger rug with unique, colourful results.
We hope this article has inspired you. Don't forget to check if you live in a listed building or heritage area before starting any work on your door, as you may need to conform with local authority regulations. Our friendly team are on hand to answer any questions you have about this, as well as talk you through options for a new door.