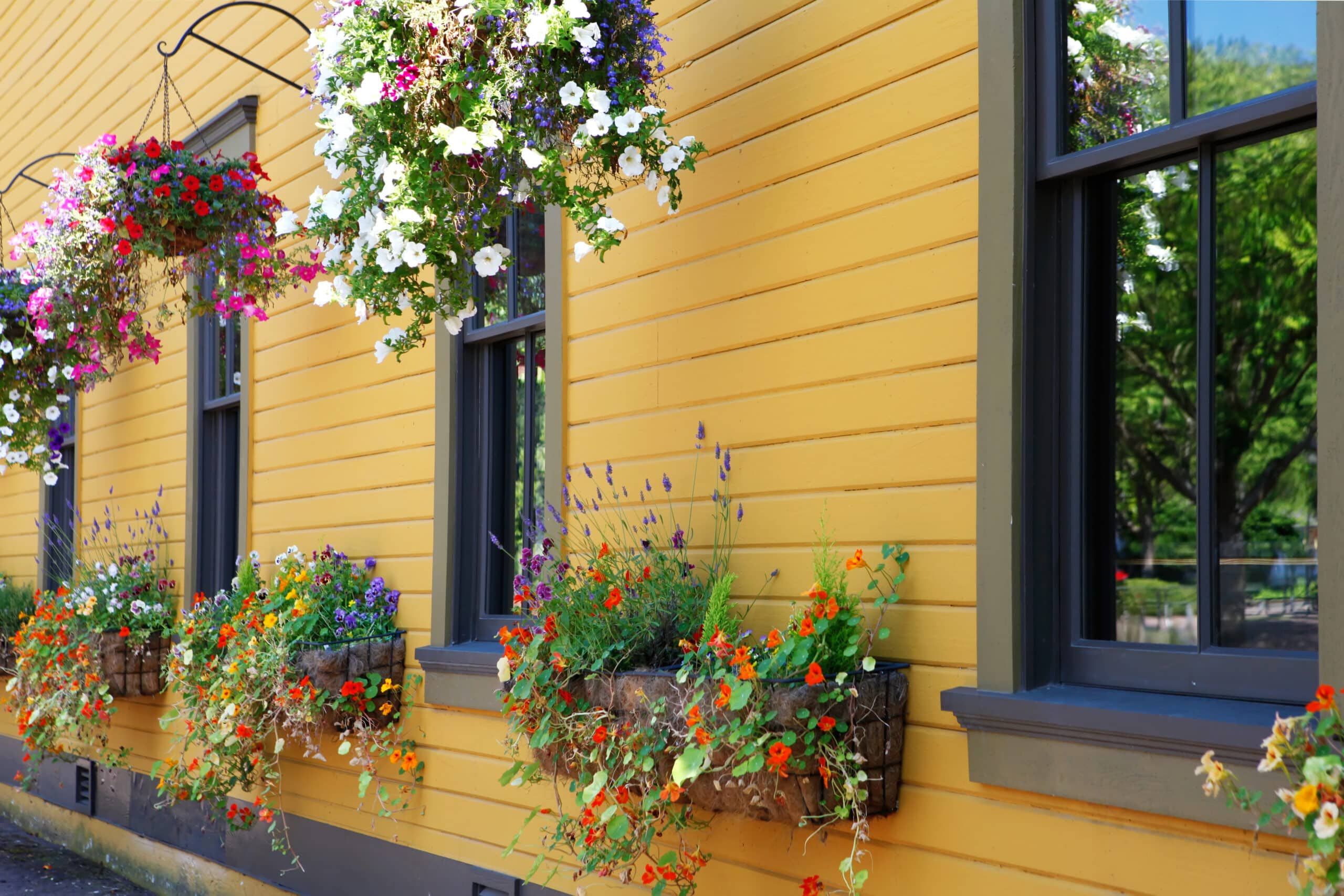 Window boxes, feature florals and creating an impactful entrance to your property
Anyone who's scrolled through Instagram during spring and summer will know that a home's beautiful front entrance is guaranteed to catch the eye and put a smile on someone's face. Your front garden and façade are the first thing people see before they enter your home. So, a lovely and well-maintained exterior helps create a warm welcome and sets the tone for the rest of your property.
It's not necessary to spend lots of time or money on adding some flourish to your facade. You can use florals and greenery to easily bring the wow factor to your front entrance. Here's how…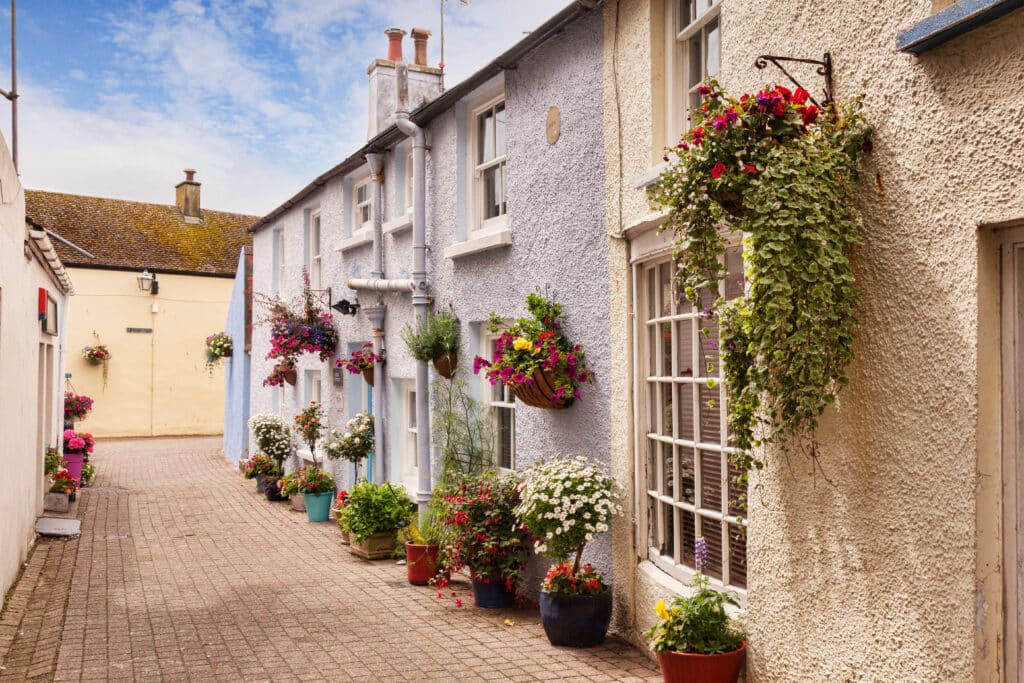 Hanging gardens
Fortunately, you don't need a front garden to create a beautiful floral display outside your entrance. The facade of your home is a blank canvas that you can decorate with hanging baskets, window boxes or climbing plants. This is especially the case if you don't like the look of your property – a harsh exterior can be softened or hidden by the addition of greenery.
Window boxes and hanging baskets are guaranteed to boost your home's kerb appeal and brighten up your outside space. Window boxes, in particular, also enhance the view from inside your home by providing a flower-filled frame for the outside world. However, you also need to consider practicalities, such as how easily you can reach them (you can buy self-watering window boxes if needs be). Do you want year-round blooms? What direction does your home face? Will the contents eventually block your view? These things will affect what you should plant.
When deciding on florals, it's always best to start by looking at your property. Choosing colours that complement the tones of your house is an easy way to create a striking, coordinated aesthetic. Matching your blooms to the colour of your door or window frames will add a bold pop of colour to your home, ensuring they'll be noticed from the street. Similarly flower or foliage colours that work with your home's building materials will create an impact, such as orange tones if your home is made from brick.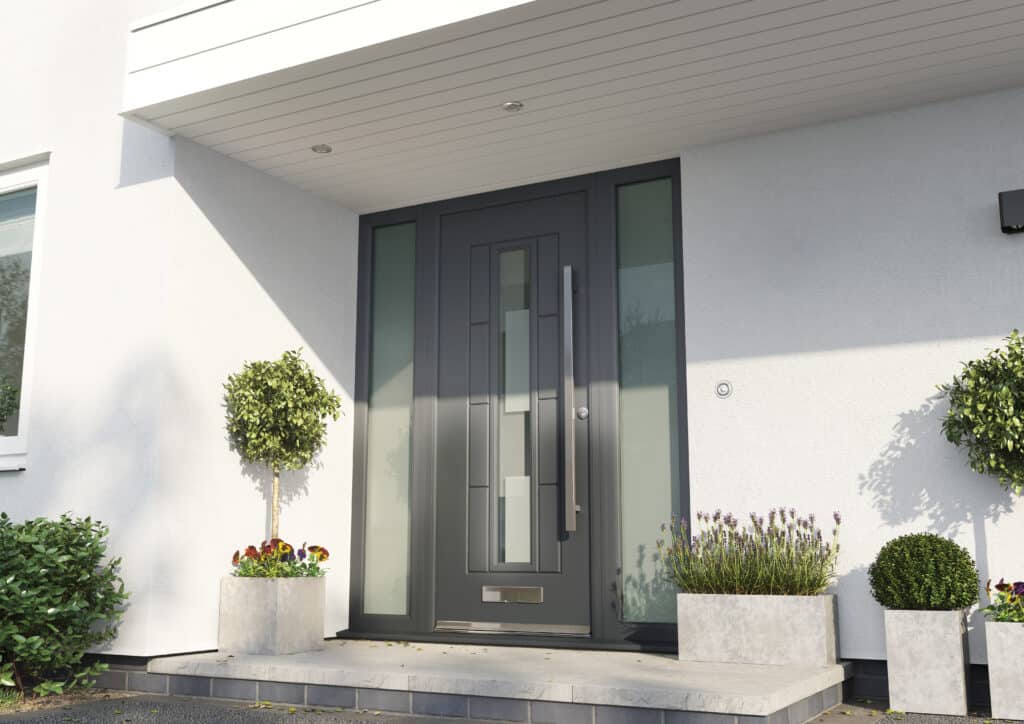 Annuals, such as bright petunias, are generally more high maintenance but will add a cheerful touch to your home all year round, whereas perennial geraniums or honeysuckle work beautifully in areas that get lots of sun. If your home is north-facing or sees more shade than sun, opt for fuchsias or begonias. Include some trailing plants like ivy to soften the edges of your container and give your home a dreamy, romantic look or opt for a wire hanging basket with a fibre liner to create a stunning 'flower globe' effect.
However, there's more to 'hanging gardens' than just their visual effect. They can tantalise all the senses, so why not plant a selection of herbs, like basil, lavender, or thyme. You not only get the benefit of their lovely scent; you can also pick your own when you're cooking – much more enjoyable than a trip to the supermarket.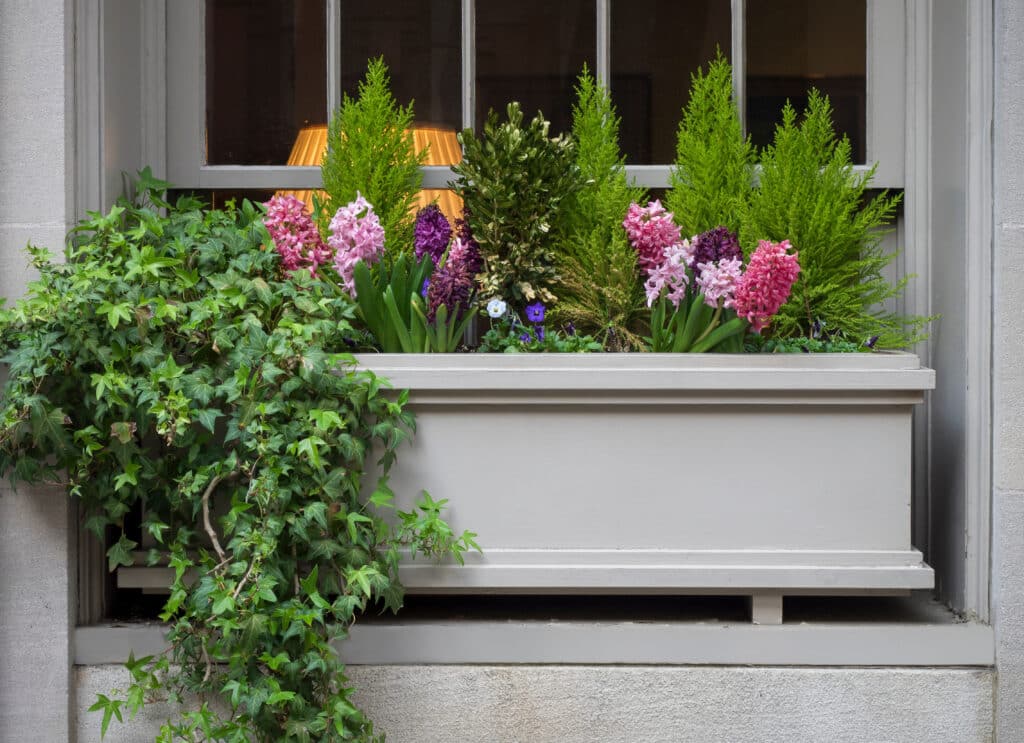 If money is tight or you want a distinctive look, you can create hanging baskets or window boxes from all sorts of recycled items, such as galvanised metal tins or buckets, wooden pallets, or even old drawers. Alternatively, you can upcycle a plain window box by covering it with twigs for a rustic feel or creating a pattern with strips of painted wood.
Climbing plants are a pretty way to add interest to your home but it's essential to choose them wisely. Self-clinging plants, like ivy or climbing hydrangeas, will eventually find their way into your gutters and even your mortar, causing substantial damage to your property. Therefore, it's best to stick to plants that need support from a trellis, such as wisteria, clematis, or roses. Wisteria, in particular, has become an iconic trend – there's a reason #wisteriahysteria takes over Instagram every single year. Its stunning lilac flowers bring a wealth of colour and scent.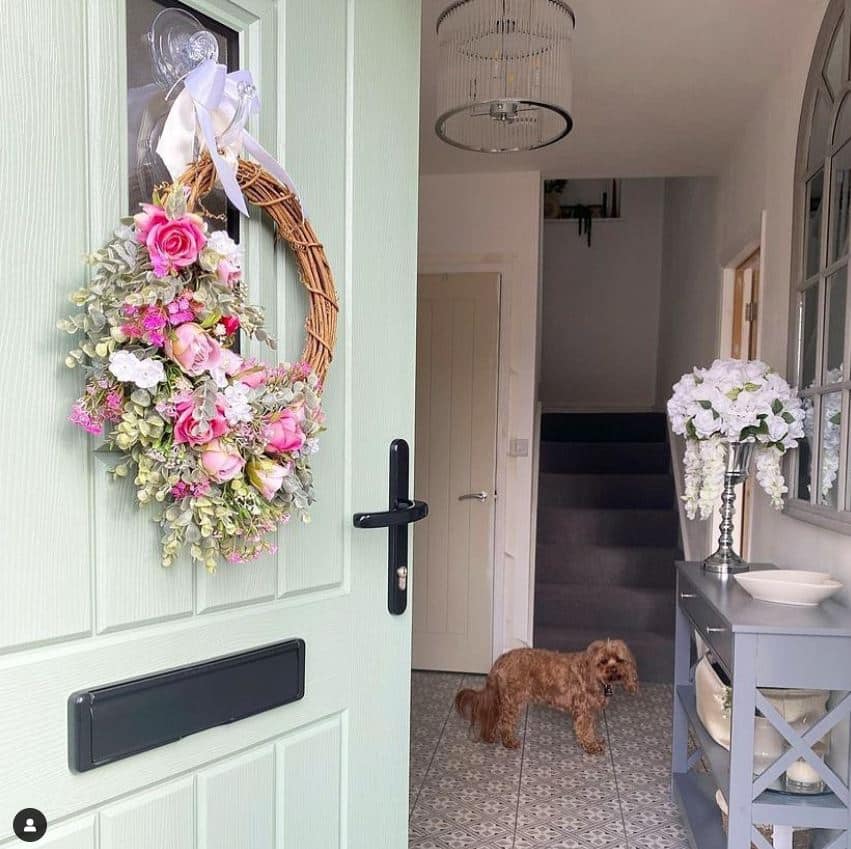 A front door to be adored
Don't forget your front door when it comes to creating a memorable entrance. Wreaths aren't just for Christmas anymore. Why not keep your front door looking fresh with a wreath for every season? It's easy to make your own and you can incorporate foraged materials like feathers, leaves or herbs. Check out our article on how to create your own wreath and how this can be a meditative process. If a wreath isn't for you, you could hang a basket from your front door and fill it with cheerful blooms, depending on the time of year.
Cottages and other period properties can be further enhanced by training a climbing plant to create a natural arch over the front door. Who wouldn't want to come home every day to be greeted by an archway of roses and what visitor wouldn't be charmed? This 'organic' porch also makes for a pretty shelter when you're looking for your keys or umbrella on a rainy day.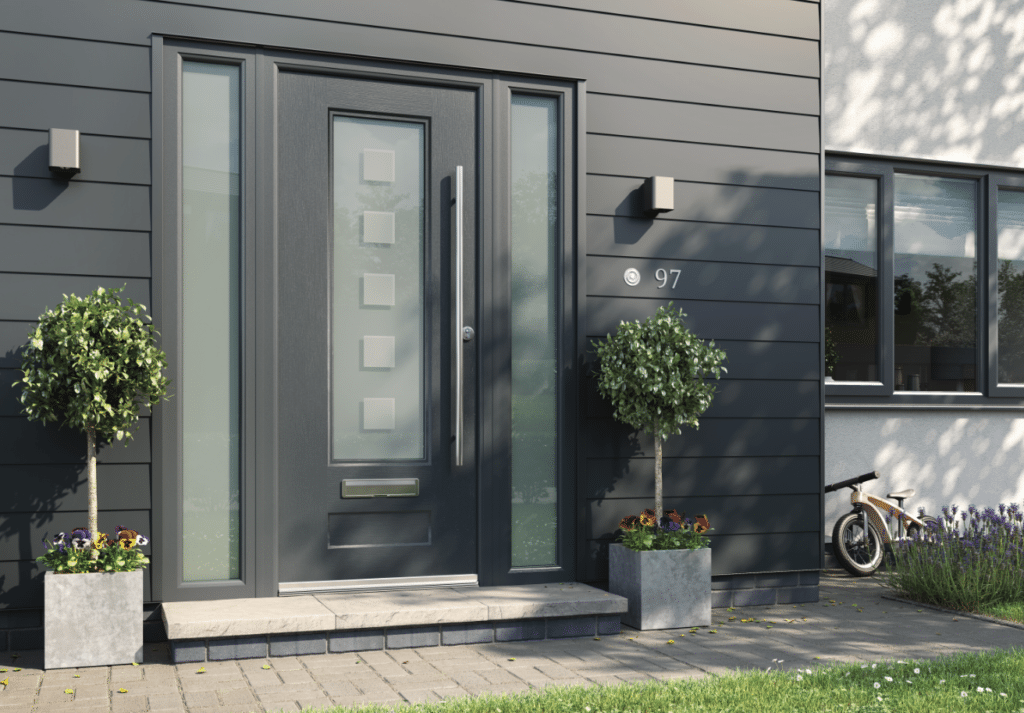 Alternatively, you can frame your door with a pair of feature planters. It's amazing how many plants can be grown in pots and other containers. The Royal Horticultural Society suggests planting petunias or nicotiana for summer colour, replacing them with pansies in the autumn or evergreen shrubs for year-round vibrancy. Aromatic bay trees, lush dwarf conifers or even lemon trees, which can simply be brought inside during colder months, can give your entrance a touch of sophistication. Even shady doorways don't have to miss out, as you can plant a selection of ferns – such as hart's tongue or soft shield – in pots. You can even recycle or upcycle containers to use as planters – almost anything can be used, from old sinks to large olive oil tins, creating an interesting feature out of the pots themselves.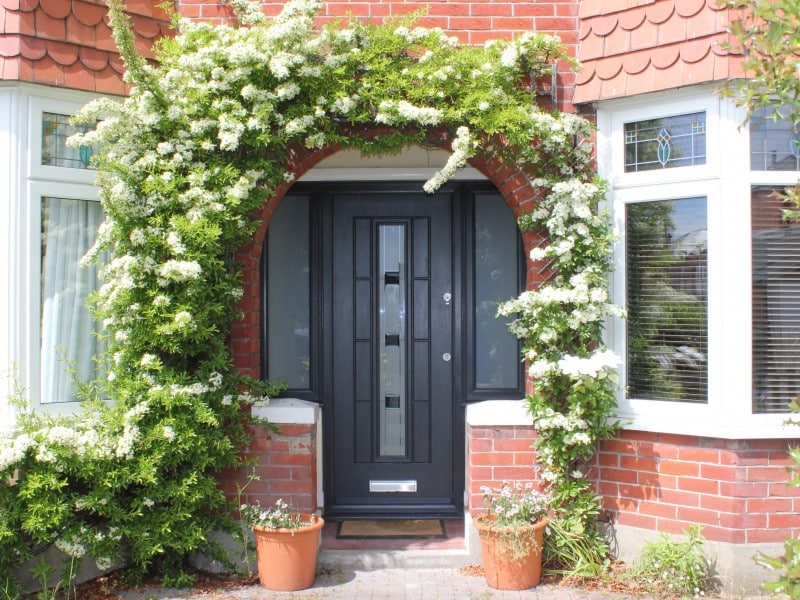 A fabulous front garden
If you're lucky enough to have a front garden, it's worth spending just a little time maintaining it. There are lots of ways to create immediate impact and maximise space, while adding value to your property. It doesn't matter if your front garden is tiny, you can still transform it into a beautiful space through your use of flowers and plants. A flower-filled front garden also means a home and food for wildlife.
As with window boxes and hanging baskets, coordinating with the colours of your home is a good rule of thumb. However, the style of your property is also important. The warmth and character of period homes, including cottages, lends itself well to more informal planting which incorporates a mix of colours. Think foxgloves, phlox, lupins, or honeysuckle. Rambling rather than rigid. Imperfect rather than immaculate. Conversely, the clean lines of contemporary properties suit symmetry. Topiary trees and shrubs work well in these situations, such as shaped box, yew, or bay. Architectural plants and grasses like bamboo, agapanthus, carex, or red-hot poker plants also suit the simplicity and structure of modern homes.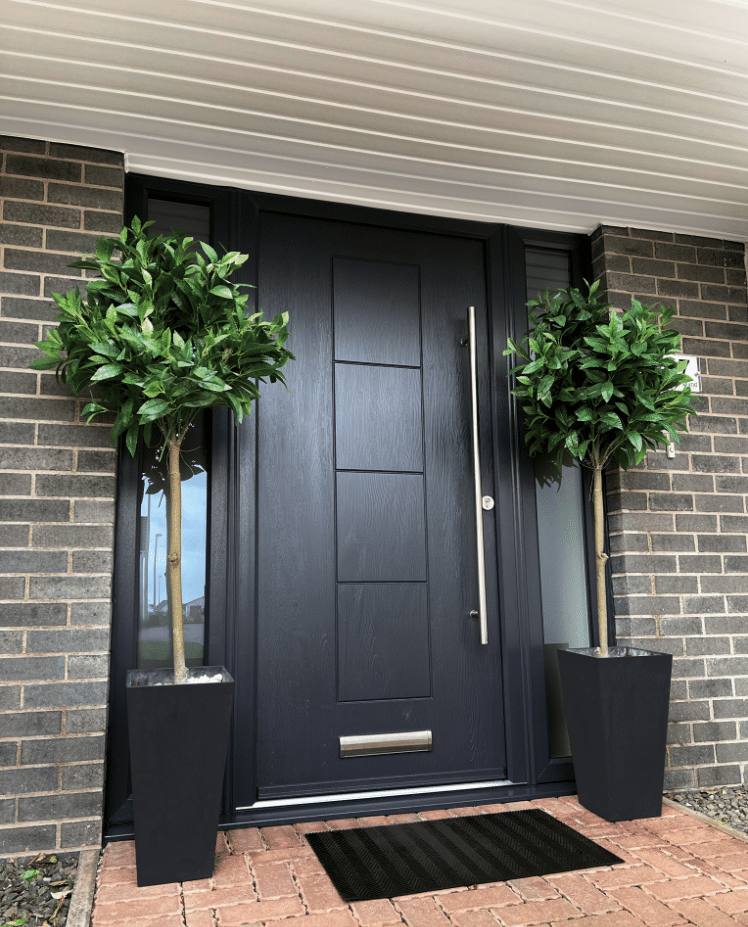 An inviting entrance
With only a little effort, you can transform your front entrance from 'meh' to 'marvellous'. Florals and greenery create a big impact with minimal fuss, which makes them ideal for sprucing up your home. What's more, you can choose from a wealth of low maintenance plants and flowers, so you'll never run out of inspiration.