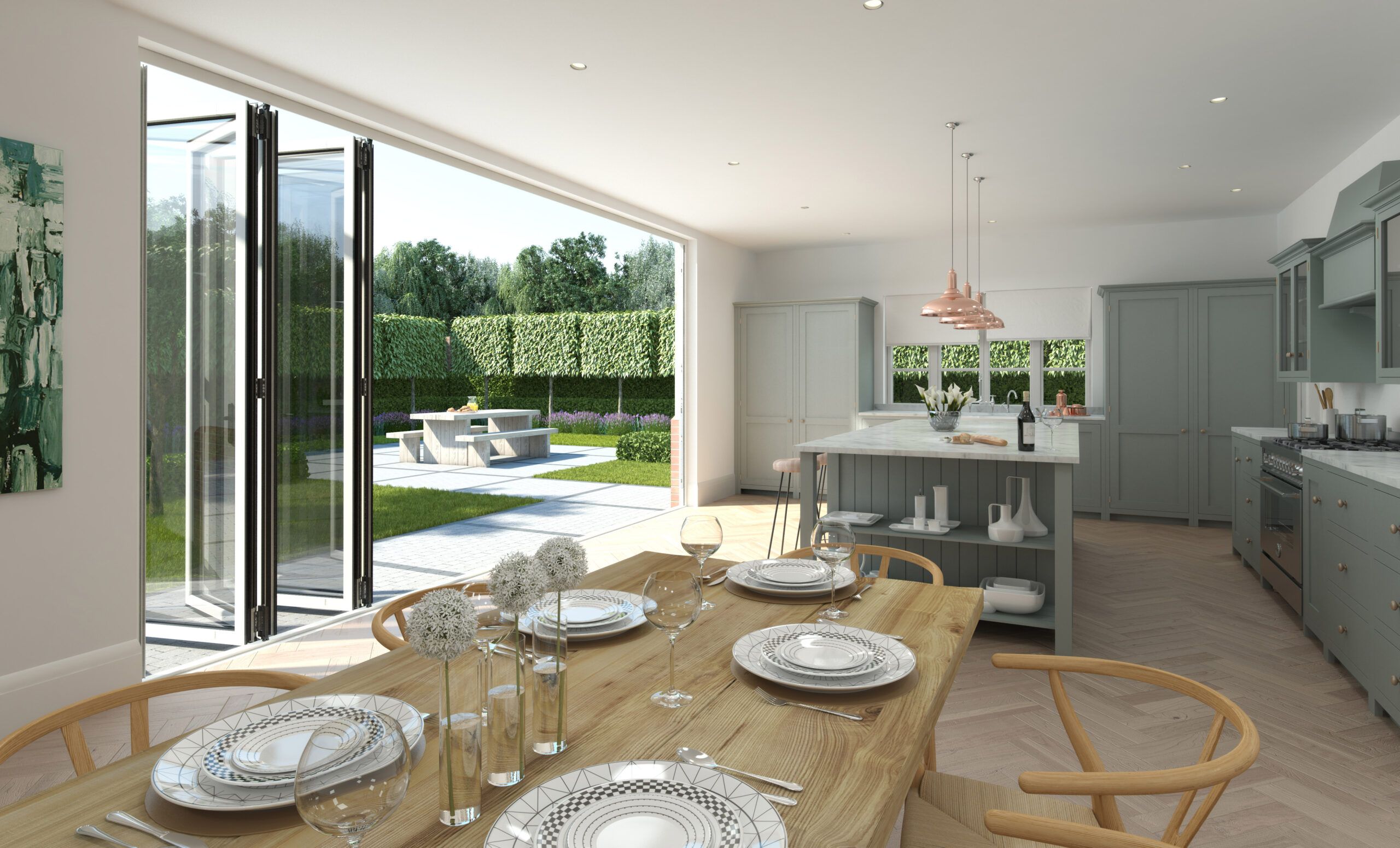 Patio doors: embrace summer living
Summer's coming! As the days grow longer and the weather improves, bring the sun and fresh air into your home with a patio door. Patio doors open up your home, increase the amount of space and light, and remove the boundary between inside and out. Spent hours getting your garden summer ready? Patio doors are a great way to show it off and make it feel like an extension of your interior. Bought a new BBQ? Patio doors make summer entertaining a breeze.
We offer three main options: bifold doors, French doors and sliding patio doors. Each one comes with its own benefits, so read on to find out which door is right for you.
Bifold doors
A stable door is made up of two halves, meaning the top and bottom can open independently of each other. They're traditionally associated with working farms as a way of keeping livestock inside while still allowing them to enjoy fresh air and outdoor views. Starting in the Netherlands, stable doors began to transition from farm outbuildings to the farmhouse itself during the 17th century, helping keep loose a
Bifold doors are made from a series of panels that fold up like a concertina instead of swinging open. The panels are hinged together and slide and fold simultaneously as you open the door.
The beauty of bifold doors is that they can fit into large spaces (up to 6m), so suit large entranceways or if you want to open an entire wall. Their folding design opens up as much as 90% of the doorway, which brings the added benefit of being able to enjoy sweeping views from the comfort of your home, and an abundance of natural light. They also come with an optional flush threshold to seamlessly blend inside and outside.
One advantage of bifold doors is their flexible configuration. We can install up to eight, easy to operate panels that you can open as much or as little as you like – which is handy when dealing with the unpredictable British weather! And if you're installing them in a large space and don't fancy all the folding and unfolding, you can include a 'traffic door'. This operates as a standard door, for easier access. Bifold doors can also stack inside or outside, left or right, with an option for middle opening and a combination of doors on each side, offering truly flexible living!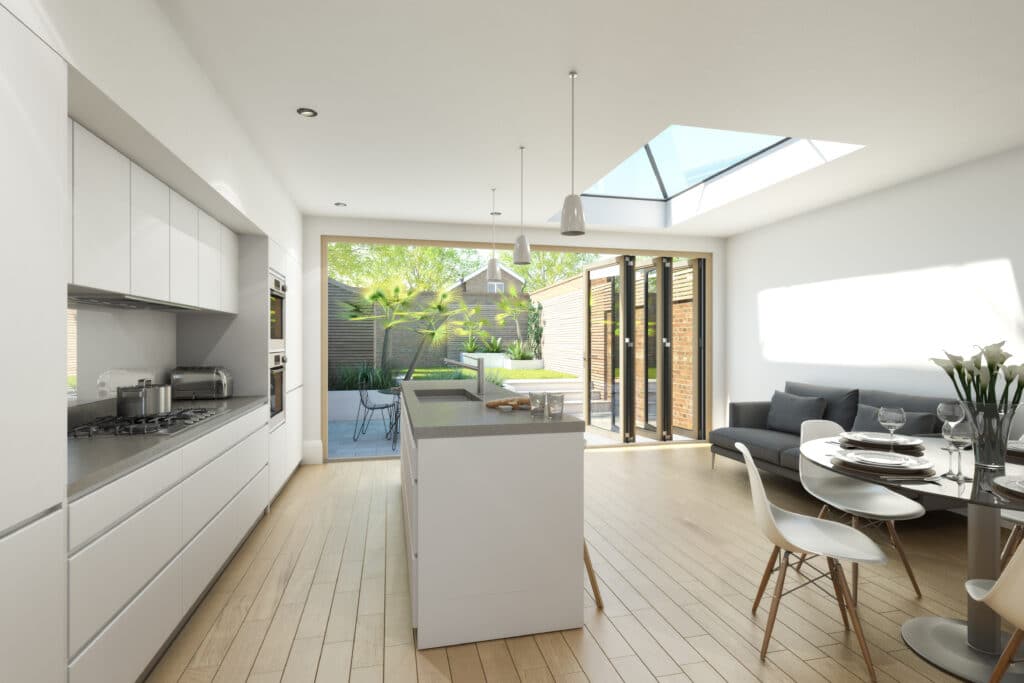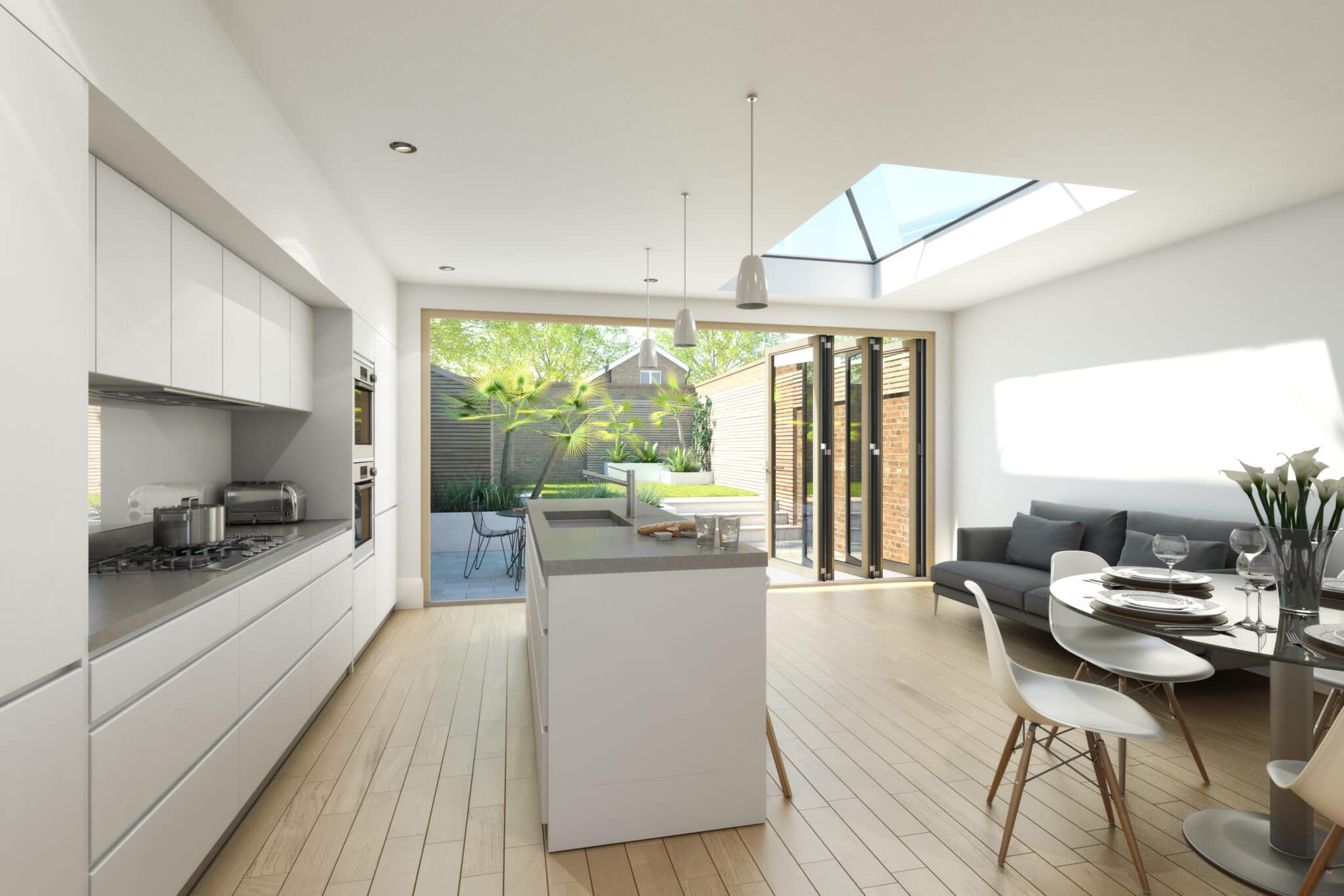 We supply bifold doors in aluminium, giving them an extra stylish look and feel. Aluminium's inherent strength supports larger panes of glass, with slimmer frames and sightlines. This is a particular bonus when it comes to bifolds, which have more frame in their construction. On top of this, aluminium is secure, low maintenance and long-lasting, and doesn't warp or rot. When it comes to colour, the standards are black, grey or white. However, aluminium can be powder coated to any number in the RAL colour system, although this can bump up the price.
uPVC bifold doors provide an alternative to aluminium, but we don't recommend this option. uPVC frames tend to expand in hot weather, making it difficult or sometimes impossible to close the door . This is because the doors expand but the frame doesn't, so you have to wait for the doors to return to their usual size before you can close them. The last thing anyone wants is a service callout when they're trying to lock up after a relaxed al fresco dinner.
Bifold doors aren't suitable for everyone, however. Stacked panels take up space when fully open so if you live somewhere with limited room, a bifold door may not be practical. If you choose to replace a whole wall – and don't include a traffic door – it can be time consuming to fully open and close the doors. The multiple panels also mean more frame in your line of sight.
French doors
French doors are hinged swing doors, usually fitted as a pair with glazed panels. Originating in France during the 17th century, their time-tested design has tons of traditional appeal. During summer days, you can throw them wide open to extend your living area and allow easy access to outdoors.
As well as providing light and fresh air, French doors can add value. They're a classic, elegant addition to your home, that'll inspire 'design envy' in your friends. Plus, their adaptability means they suit a wide range of properties. They can be fully or partially glazed, with period options such as Georgian bars, square or diamond lead, and can open inwards or outwards depending on your needs.
French doors aren't suitable for wider openings, as the doors need space to swing open. If your room is small or has large items of furniture in the way, this might not be the best option for you. Openings wider than 2m will need fixed side panels on one or both sides of the doors to support the hinges with the additional weight. We also recommend that you include a hook and eye device to secure the open doors to the exterior walls. This will prevent them from slamming in the wind.
We supply glazed French doors in both aluminium and uPVC, as well as composite French doors by Rockdoor and Solidor. All of these options mean you benefit from long-lasting, low maintenance doors suited to modern living. We also offer timber alternative French doors by The Residence Collection Handcrafted with thermally efficient, durable and low-maintenance materials, they authentically replicate traditional timber designs, ideal for period properties or if you want to recreate a classic look without the hassle that comes with maintaining wooden frames. They're available in finishes from matte black to silvered oak, and we can include matching side panels for larger openings.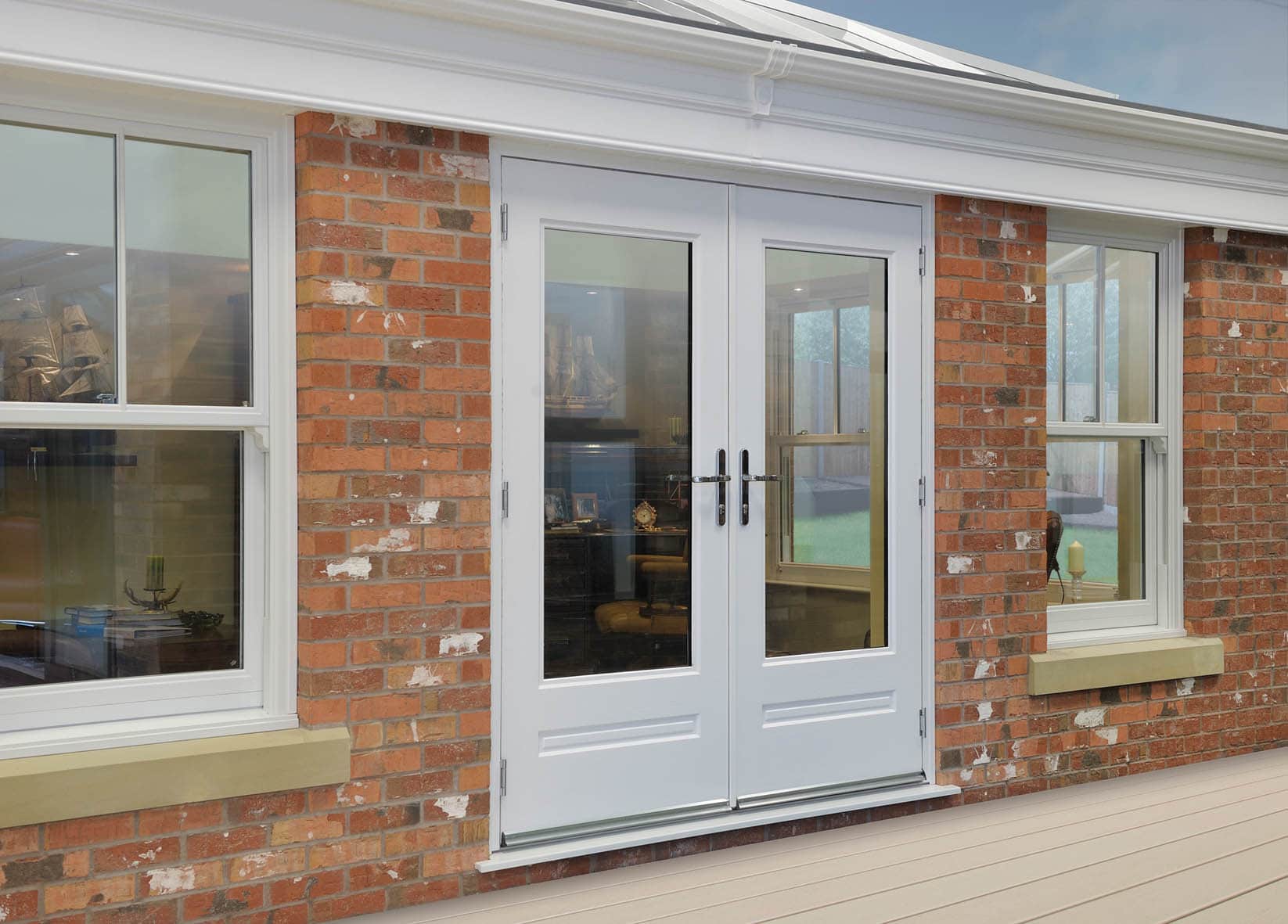 Sliding patio doors
Sliding patio doors slide open and close horizontally along a track. They're made of two or more large glass panels which are opened by sliding one panel behind the other. Like bifold and French doors, the large area of glass affords plenty of light and an expansive feeling of space. Their low threshold helps dissolve the boundary between your home and your outdoor space, as well as providing easy accessibility.
The sliding mechanism means that these doors are ideal for smaller spaces, as there's no need to accommodate a swing door or stacked bifold panels. The extra-large glass panels and minimal frames give you uninterrupted views and easy access to the outside. A sliding patio door can be great for the extra wow factor, especially if you replace an entire wall.
Sliding patio doors are simple to operate and can be opened as much or as little as you like. They also suit a range of property types, although their style may not always work in period buildings. The design of sliding patio doors means that only half of the entrance can open, with one panel always remaining in place.
We supply sliding patio doors in uPVC and aluminium. uPVC finishes include black, white, grey, cream plus woodgrain finishes like rosewood and oak. Standard aluminium finishes are black, white and grey but they can be powder coated to any RAL number (bear in mind the extra cost for this). Aluminium sliding patio doors come with a slim yet strong frame, which allows for a larger glazed area. While the frame to glass ratio is slightly higher with uPVC frames, streamlined designs and strong frames still support large panes of glass. However, out of the two materials uPVC is a more cost-effective option.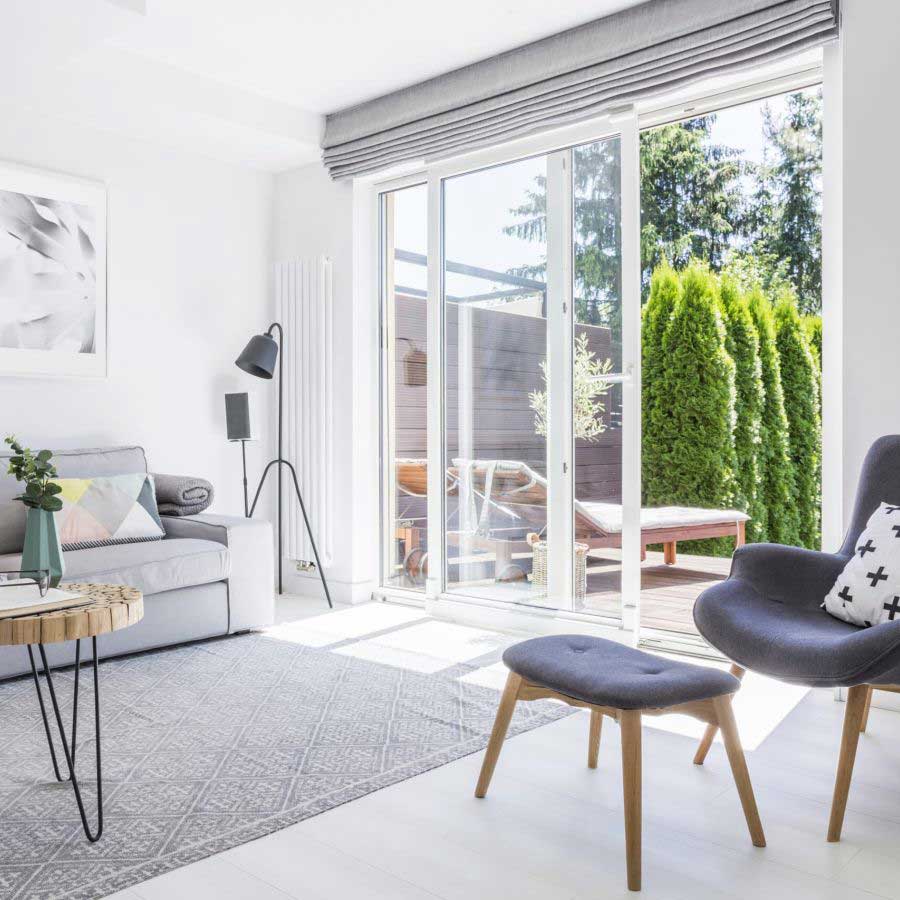 Swap out a window for a space-changing door
For all these options, it's possible to transform your existing windows into a doorway. It's done by removing the brickwork below the window, known as a 'brick out'. This is a service we offer and is a great way of accommodating a new patio door.
No compromise on security or energy efficiency
You may be concerned that patio doors aren't as secure as other designs, or that they're not as energy efficient, because of the amount of glass involved. This is not the case. The inclusion of a multipoint locking system and laminated glass as standard means that you can enjoy peace of mind. In fact, our sliding patio doors are Police Approved. A professional installation by one of our experienced teams also helps ensure that your new doors will be safe and secure.
New design developments have made these doors more energy efficient than ever. SAS aluminium bifold doors come with a thermal break, which helps prevent condensation and retain heat. And the French doors by Rockdoor, for example, not only come with exceptional thermal performance, they are reinforced for extra security – so all boxes are ticked. You also have the option of triple glazing, which helps keep the elements out and the warmth in. Our team will be more than happy to talk you through your choices and answer any questions.
These doors all have one thing in common – they improve quality of life. Garden parties, BBQs, Easter egg hunts with the kids… These things are all even more enjoyable when you can open up the space and nip in and out as you please. When we're blessed with a sunny day, you can throw open the doors to let the sunshine and fresh air into your home. The extra space and natural light are real mood boosters (even in the winter). Al fresco dining, doing the gardening with the radio on in the kitchen, being able to let your pet wander in and out as often as they please, or just staying cool on a hot day – the options we've covered helps with all these things and more.
Get in touch with our friendly team today for a chat about how we can help 'level up' your home with one of these brilliant doors.