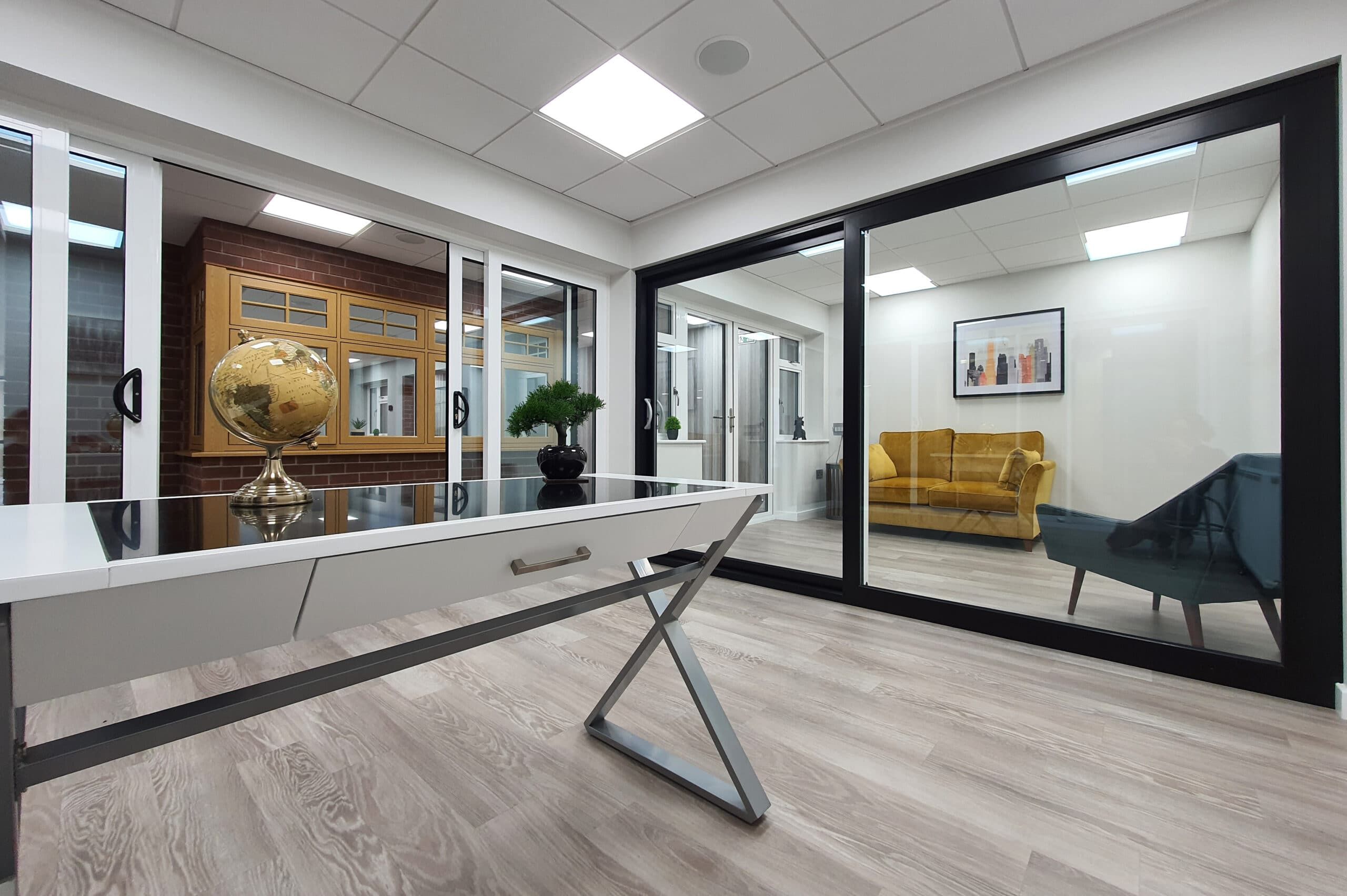 Welcome to our state of the art showroom
In this era of online shopping, you might question why you'd need to visit a showroom when you can simply order something from your sofa with the click of a mouse. And while the thought of buying a new set of uPVC windows from the comfort of your own home is great, there's no substitute for being able to see products in person. New glazing is a big investment, so you want to make sure you choose something that's right for you and your home.
This is why factoring a trip to our showroom into your renovation plans is a great idea. It plays host to a huge range of products, including over 60 composite doors by top brands like Rockdoor and Solidor, four sets of aluminium bifold doors, and Kömmerling uPVC windows and doors. You really will be spoiled for choice – especially as our showroom is one of the biggest in the country.
Our entire collection is on display so you won't have to guess what anything looks like. It's an excellent opportunity for you to see all our products up close, test them out and discover what sizes work best for your space. You'll get to see the different options available, the range of colours and finishes, opening configurations and security features. You might even get some new inspiration for your home too.
We created our showroom to feel like a real home, so you'll be able to get an idea of what your new glazing will look like in situ. Check out our timber alternative windows by The Residence Collection while relaxing on one of the comfy 'living room' sofas. Feel what it's like to step through our stylish aluminium sliding patio doors or our classic uPVC French doors. There's room after room full of ideas for you to explore. But we also want you to feel as comfortable as you do in your own home. Our showroom is distinctive not just for its size and range but also for its warm, relaxed atmosphere.
Part of that comes from our friendly staff, who you'll get to meet in person. We have a team of experts ready to offer advice and answer your questions – but we promise we won't follow you around or put the hard sell on you. We understand that investing in new glazing can be a big decision and that big decisions shouldn't be rushed. We want to help you make an informed choice about your home improvement project, not make a quick sale. So feel free to browse at your leisure and take as much time as you need, safe in the knowledge that you won't be ambushed by any pushy salespeople.
If you fancy a sneak preview of our showroom or you're not able to visit in person, take a look at our virtual, interactive showroom tour on our website.
Our address and opening times can be found here. We can't wait to welcome you and have a chat about your home improvement plans.