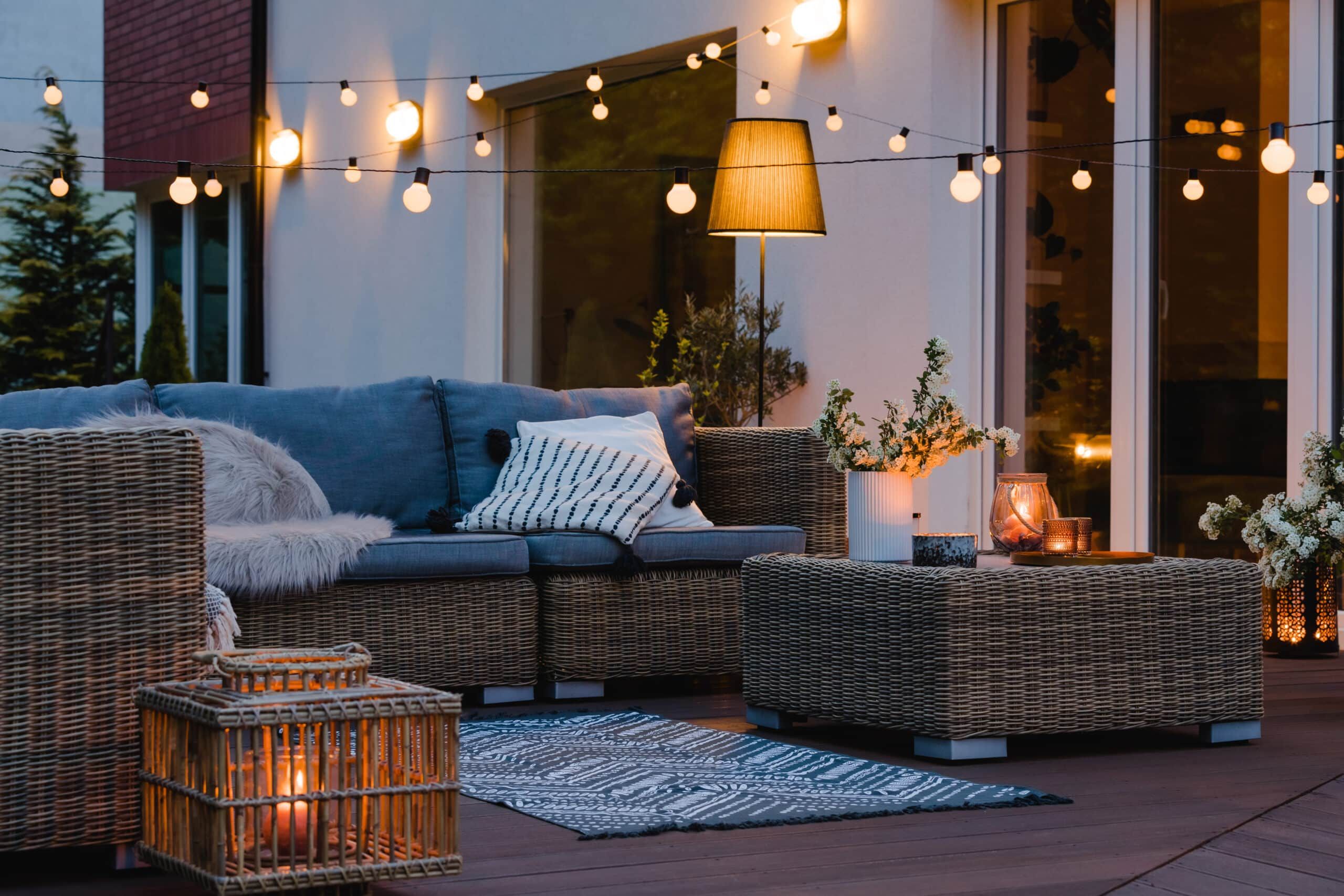 How to create your dream patio
A patio is more than just outdoor space. It has enormous potential to become the beautiful bespoke haven you've always dreamed of. It's a place to relax, to entertain, to soak up the sun. It can seamlessly extend your living area. It can be low maintenance or it can be an ongoing project, with almost endless potential for new ideas. It can even add value to your property.
Thanks to modern patio door solutions, it's easier than ever to blur the boundary between indoor and out. This gives your outdoor space the same design potential as your interior – so the sky's the limit when it comes to crafting your dream patio. Incorporating elements of indoor spaces such as lighting, soft furnishings and comfortable seating, as well as standard patio features like lush plants and stylish paving, all help to create outside space which is a harmonious extension of your home. We've shared a few ideas to help inspire you.
GETTING THE BASICS RIGHT
Before you start buying foliage or furniture, take a few minutes to think about how your patio functions. Is it somewhere for entertaining and socialising? Is it your own quiet retreat from the world? Or is it a bit of both? No matter what you do with your patio, don't forget the importance of planning your space accordingly.
If you love al fresco dining, arranging dining furniture within close proximity of your kitchen means you can quickly transfer food to the table. If you want to catch some rays or read the morning papers in the shade, take note of where the light falls so you can place chairs or loungers in the best spot. Think about how you'd like movement to flow and ensure you leave enough space for people to circulate. You don't want to walk into a large table or place a chair within tipping distance of a water feature!
Patio doors that open directly onto your outside space make it easier to move inside and out, as well as highlighting your patio's initial visual impact. Sliding patio doors can maximise your space, especially if you live in a smaller property, as they don't need room to swing open. Similarly, consider your window placement when arranging any patio furniture, especially if they open outwards. You want to spend time enjoying your patio, not rearranging it.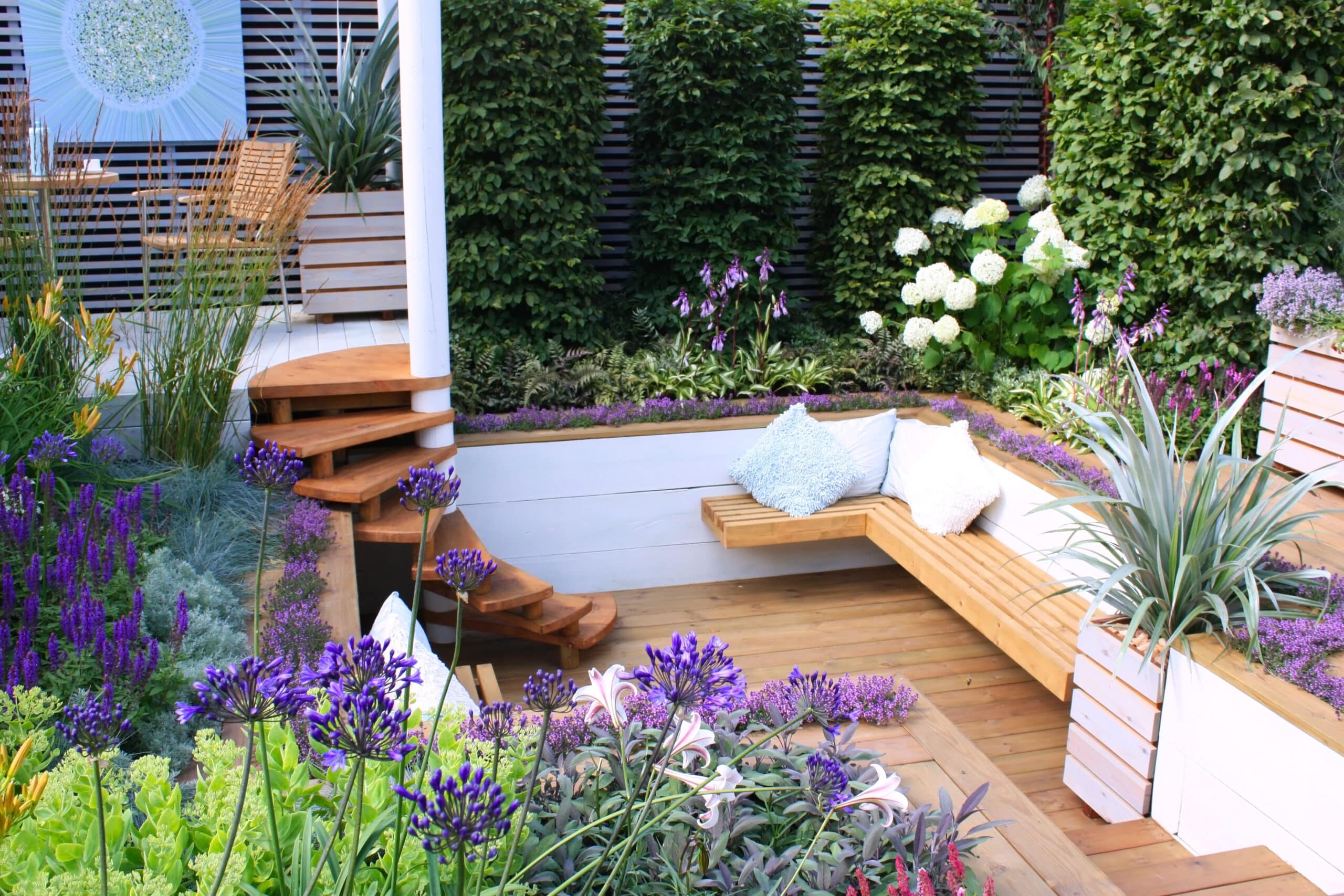 PAVING THE WAY
Natural stone is perhaps the most popular patio flooring option and for good reason. It ages well and each slab has its own character, bringing a pleasing variety of tones and textures. Its rustic style means it's perfect for traditional homes but it has a classic aesthetic that suits a range of properties. Natural stone is ideal if you live in a busy household or have young children, as its robust and textured composition means it's hard-wearing and less slippery than other surfaces.
For a more cost effective and lower maintenance alternative to natural stone, try concrete. This is a surprisingly versatile option, which can provide a clean, modern look or effectively recreate heritage slabs. Like natural stone, concrete is hard wearing so it's great if you'll be doing lots of entertaining on your patio. Bear in mind that it can be prone to weathering and water damage over time.
A softer alternative to paving is wooden decking, which can also work in harmony with any surrounding foliage. Unstained wood will complement the rustic aesthetic but there are plenty of paint options if you'd prefer a splash of colour. Consider finishing the look with a railing dressed with climbing plants to create a secluded oasis, perfect for escaping with a good book and glass of wine.
If you're looking for something a bit different, don't rule out woodchips. They're affordable, easy to work with and sustainable. Maybe you'd like to quickly disguise an area you don't like or you have a lot of space to cover but you're short on time and funds? Perhaps you want something soft on the ground for your young children? Or you want to mark informal trails around your patio? Woodchips are ideal for these situations and they require less maintenance, so you get to spend more time enjoying your patio.
Whatever flooring option you decide on, make sure it complements the outside of your home. Tying it in with the look and feel of your windows and doors, for example, pairing slate flooring with dark aluminium frames, will ensure an eye-catching result.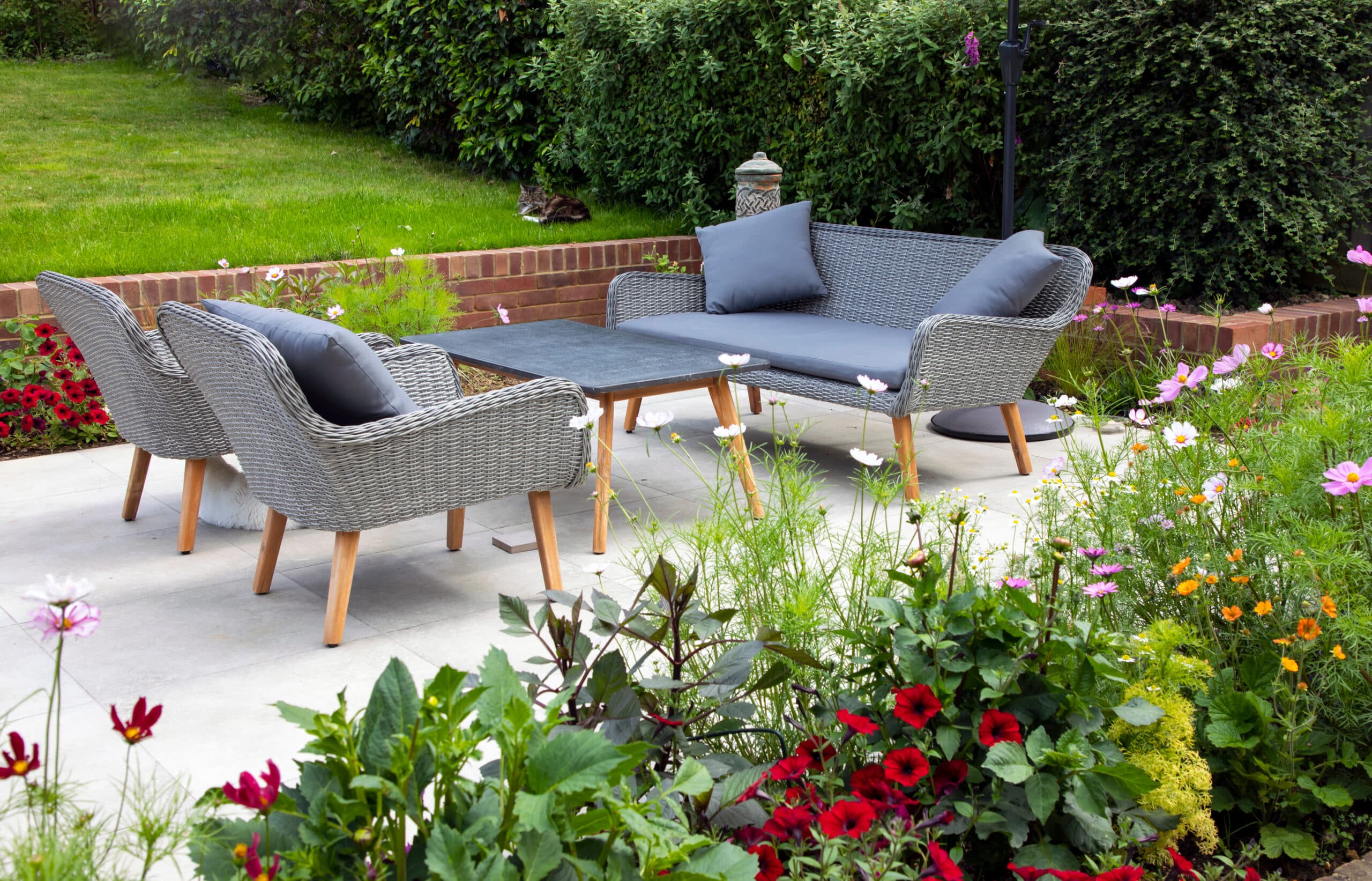 PLANT HAPPINESS
No patio is complete without foliage. It brings your space to life – literally. Using flower beds to soften the hard edges of your patio is a good place to start. But don't stop there; a patio is a great opportunity for you to get creative with plants and show some of your personality.
Big leaf plants, like paperplant, can create a lush, jungle aesthetic while silver-leafed plants like lavender have a Mediterranean feel. The Mediterranean look can be further enhanced by olive trees or rosemary bushes in terracotta pots, making you feel like you're at a Tuscan villa without even leaving your home. And don't underestimate the power of scent when it comes to recreating that holiday vibe – incorporating fragrant blooms like jasmine, lavender or honeysuckle can instantly transport you to sunny evenings abroad, as well as bring a dreamy atmosphere to your patio.
If your kitchen opens out onto your patio then fresh herbs are a beautiful and practical addition. They bring their own unique beauty and scents to your patio but that's only the beginning. Imagine walking just a few steps out of your kitchen to gather fresh herbs while you're cooking or snipping off a few sprigs to add to your cocktail. You can even grow tomatoes or strawberries in pots on your patio. Beats a last minute trip to the supermarket any day!
If your patio is on the smaller side, try adding a vertical 'living wall'. It won't eat into your floor space but still creates a lovely, leafy atmosphere, as well as improving air quality, reducing noise and attracting wildlife. It also helps your patio feel like a private retreat away from the hustle and bustle of the outside world, making this a great solution if you live in a busy area. Similarly, using climbing plants, such as roses or wisteria, to frame doors or windows is a great way of bringing that all-important touch of nature to a small, inner city patio.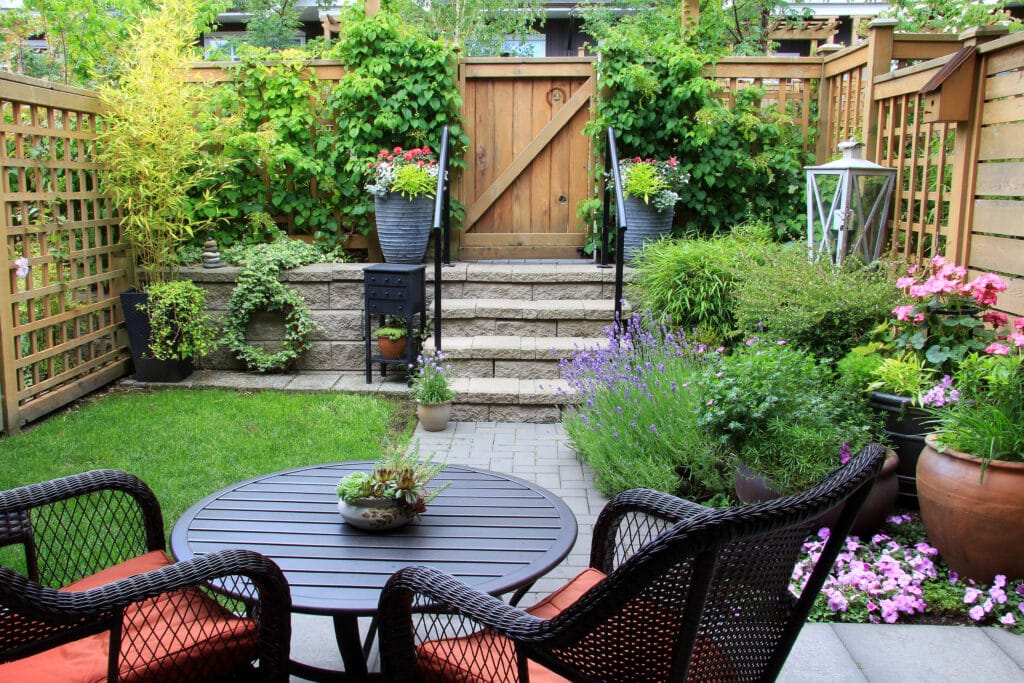 THAT'S ENTERTAINMENT
When it comes to al fresco dining, the days of sitting on plastic chairs around a tiny BBQ are long gone. If you're blessed with a spacious patio, you can add a garden table and chairs large enough to host all your friends and family to a dedicated 'dining area'. You could even install an outdoor kitchen, complete with a pizza oven or bar, for entertainment with the 'wow factor'. Use the idea of zoning to create a separate 'living area' with beanbags or a squishy sofa for relaxing with a drink once you've eaten.
If space is limited, consider furniture which combines several functions, such as a garden sofa set with an extendable height riser table, allowing your patio to easily transition from daytime coffee spot to evening dining area. Alternatively, collapsible or nesting furniture sets can maximise your patio space while still allowing you to host friends or family for a bite to eat.
No patio is complete without mood lighting – and you don't want to abandon the al fresco lifestyle as soon as it gets dark. Festoon – or string – lights create a pretty, romantic ambiance and their versatility means they can suit almost any patio setting. Weave them around a trellis or drape multiple strands overhead for an enchanting effect. Colourful paper lanterns or glass hurricane lanterns dotted around your outside space can also transform your patio into a magical retreat after dark, perfect for evening cocktails with friends, a dinner party to remember or a romantic night in.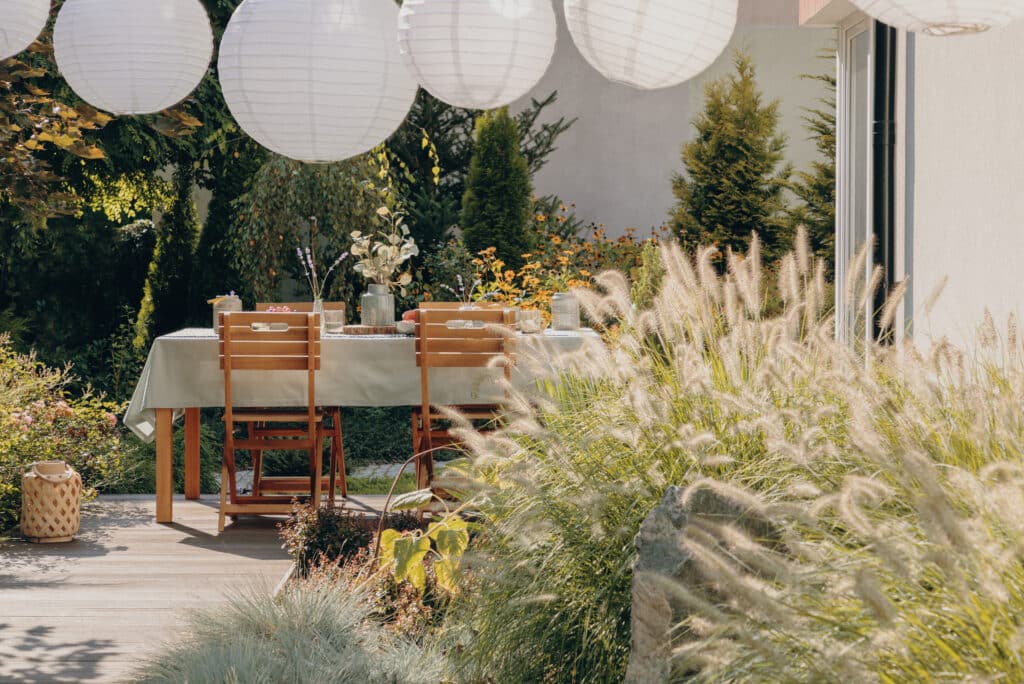 EMBRACE THE ELEMENTS
A popular patio feature is a wood-burning fire pit, with its comforting smoky scents. Family and friends can mingle around it in the evenings when the temperature starts to drop, making it a stunning focus for social gatherings. Fire pits are perhaps the ultimate in cosy patio living and you even can find ones to suit smaller spaces. Think toasting marshmallows with the kids or curling up in a soft blanket watching the flames flickering during a quiet night in.
At the opposite end of the elemental spectrum, a water feature can turn your patio into a tranquil oasis, especially if you live in a noisy area. The gentle sound of running water can help to minimise noise from traffic or neighbours. Water features bring a zen-like quality to your patio, making it a peaceful spot to relax with a G&T or cup of tea after a stressful day.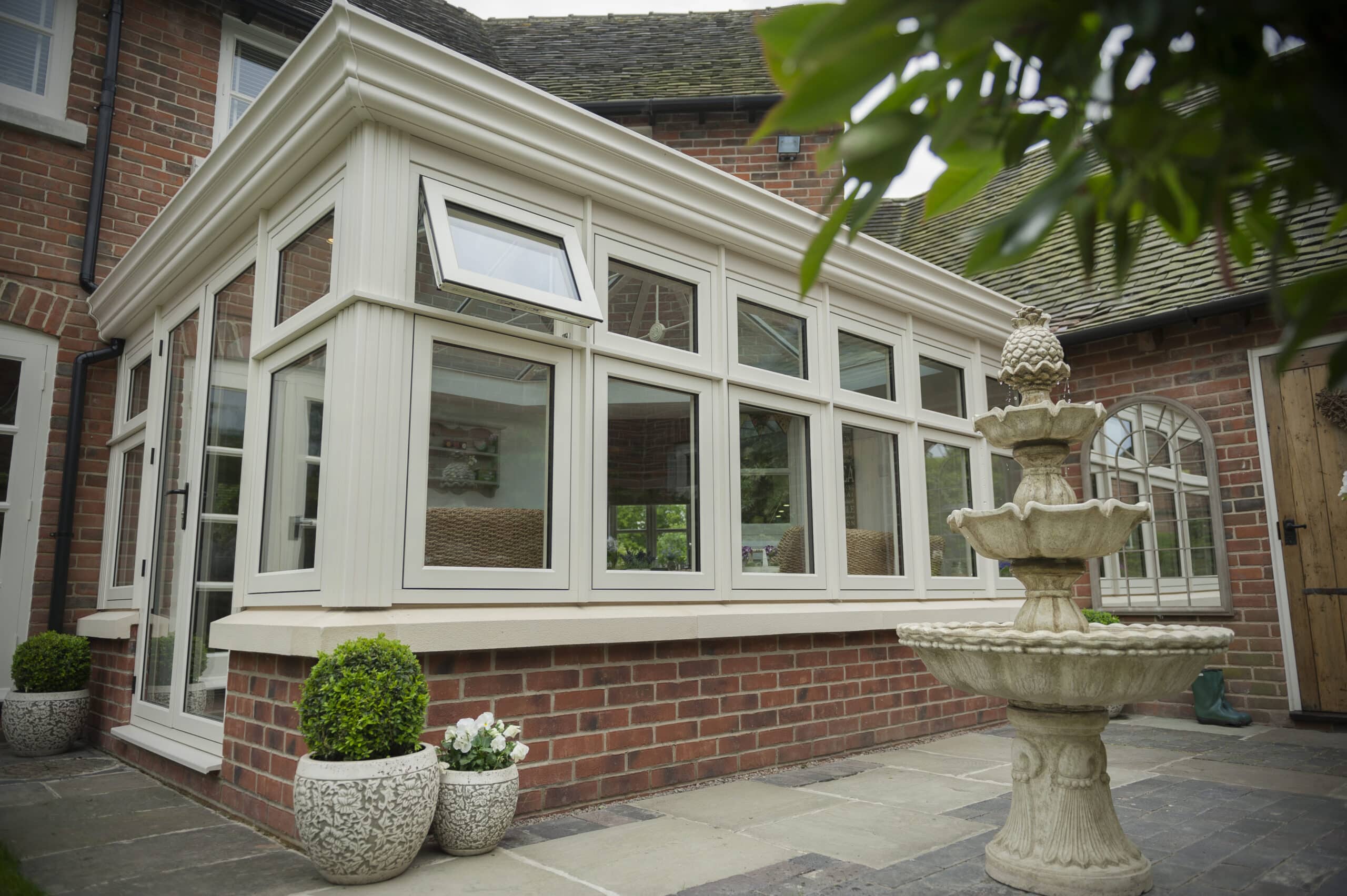 GETTING COSY
You can make your patio even more inviting by adding soft furnishings, cushions and throws. Designing your patio in the same way as you do your living room, factoring in colours and texture, will help create a cosy and welcoming space. A cocoon chair full of blankets and throw pillows or outdoor beanbags scattered around the floor will give you a snug place to curl up with your favourite book. Use a selection of outdoor rugs to add softness underfoot. These can help break up the space, while layering textures and colours with other soft furnishings can enhance that cosy feeling.
Of course, we all know how unpredictable the weather in the UK is, which is just one reason why a pergola is such a good idea. It provides an escape from unexpected showers or shelter from the sun. It's also a focal point for patio decor ideas, such as a 'living canopy'. This is where you wrap your pergola with foliage and climbing plants to create an organic covering, offering shade and privacy. Choose flowering climbers and vines, such as honeysuckle or clematis, for a verdant space that will be full of colour and perfume.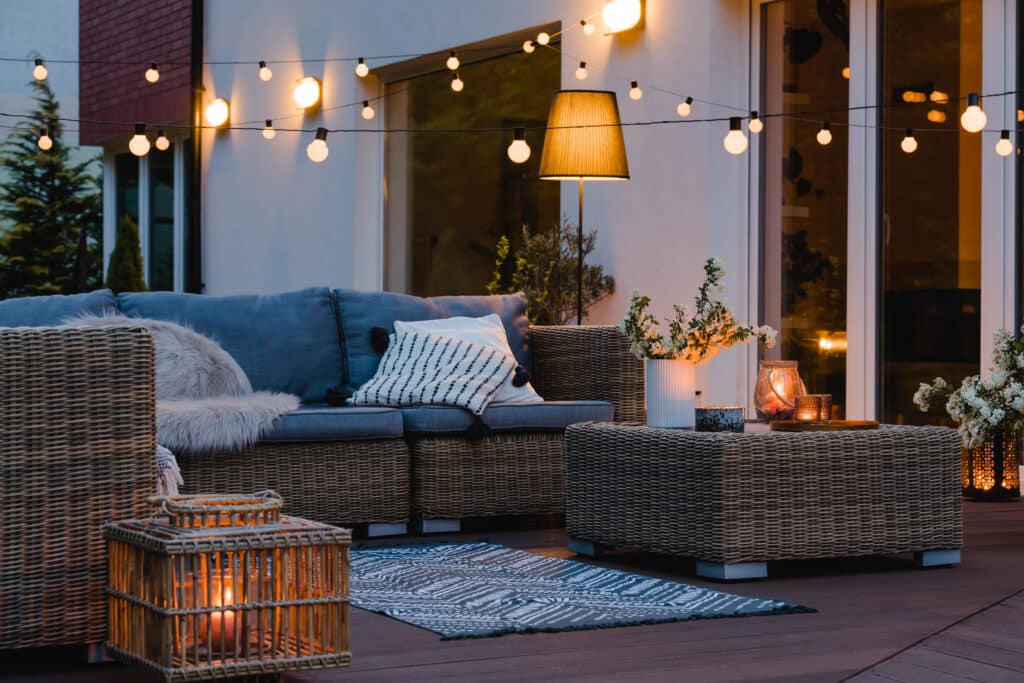 THE POSSIBILITIES ARE ENDLESS
A patio will almost certainly improve your quality of life. No matter how large or small it is, whether you use it for entertaining friends and family or as your personal retreat, it's never been easier to create your dream patio. There are so many design alternatives that the possibilities really are endless – the ideas we've shared are just the tip of the iceberg. And if you need a helping hand finding the right windows or doors to complement your new patio, reach out to our friendly team who will be happy to advise you.