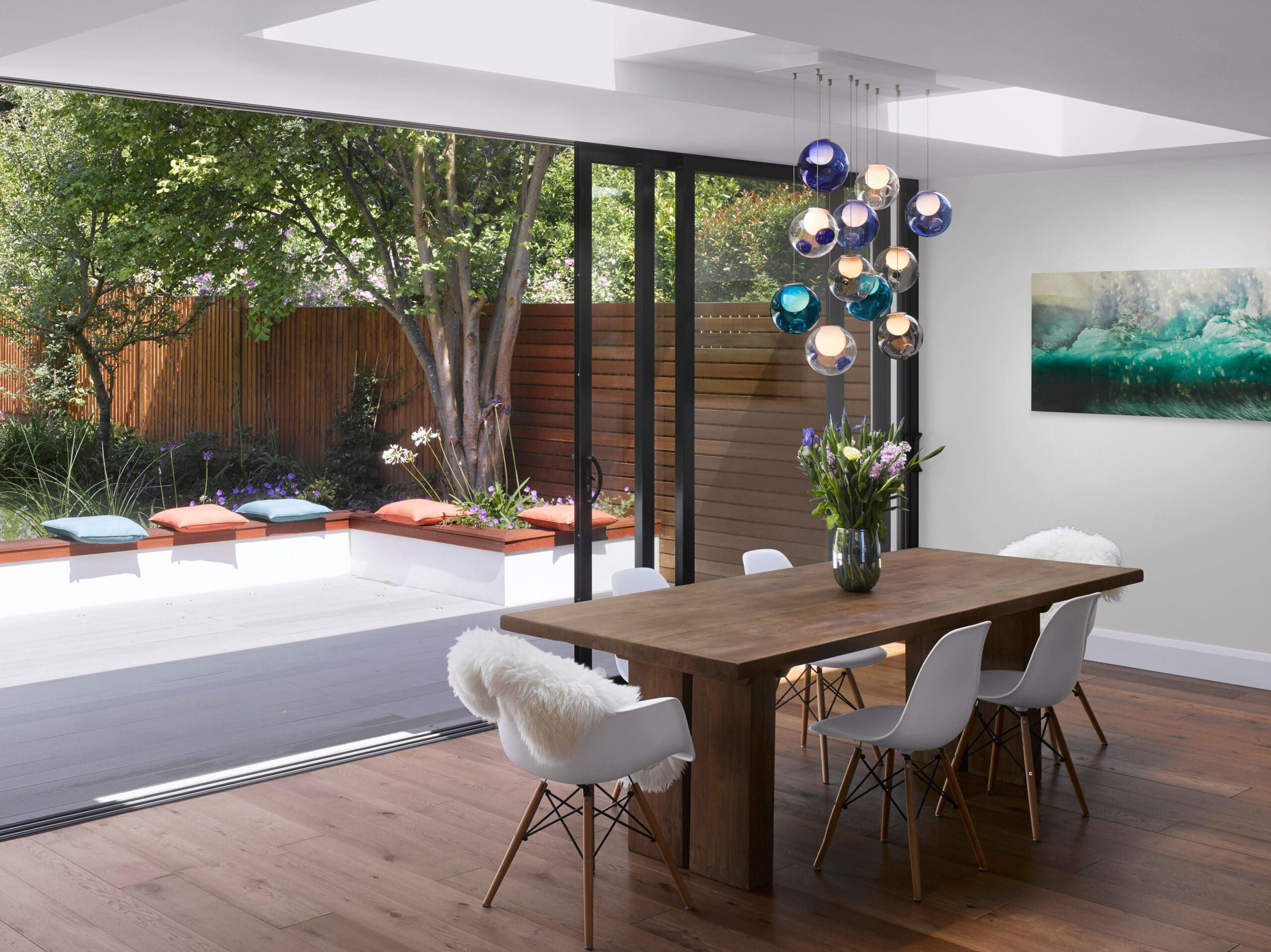 Biophilic Design
You may have heard the term 'Biophilic Design'. Or perhaps 'bringing the outside in', an on-trend – and perhaps overused – design phrase.
But each expression refers to more than opening the curtains and reviving that pot plant. We're talking about biophilia, an important concept within residential design and one which has your wellbeing in mind. We're talking about creating space, introducing light and blending your interior and outdoor spaces.
In this edition of our fortnightly blog, we guide you through the leafy world of Biophilic Design. We look at some accessible home improvements you can make (under Permitted Development) to give you more space and light. And we compare three main door systems falling under biophilic home improvements, so you can decide what's right for your home.
What is Biophilic Design?
We introduced this architectural and design concept in our most recent blog. It's founded on our intuitive attraction to nature, its processes and imagery. Biophilic Design also draws on the physical and mental health benefits associated with the natural environment.
That natural light is good for us is well documented. It helps us absorb vitamin D, improves cognitive function and other holistic bodily health benefits including disease prevention, improves our sleep and mental health.
Biophilic Design introduces natural light, and those qualities of nature which improve our experience of the world, into our built environment. Space, access to greenery and views of the outside are all facilitated by Biophilic Design. Connecting your interior space to nature in this way engenders calm, healing, creativity and reduces stress in our fast-paced, urbanised world.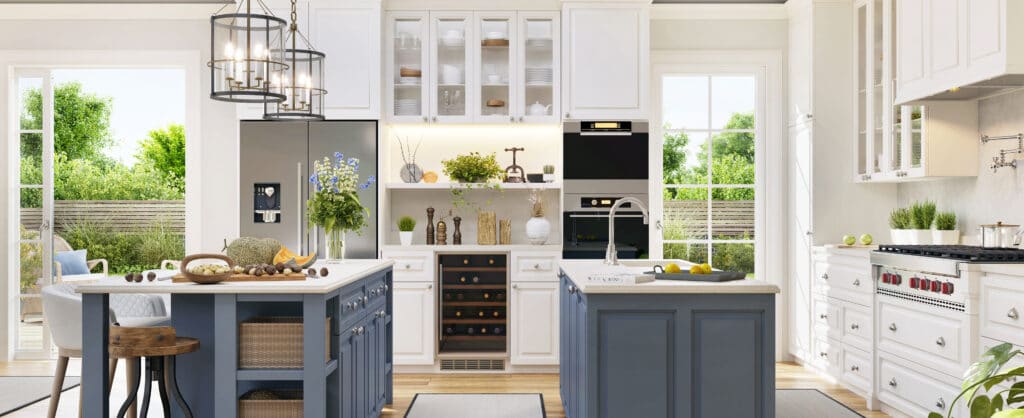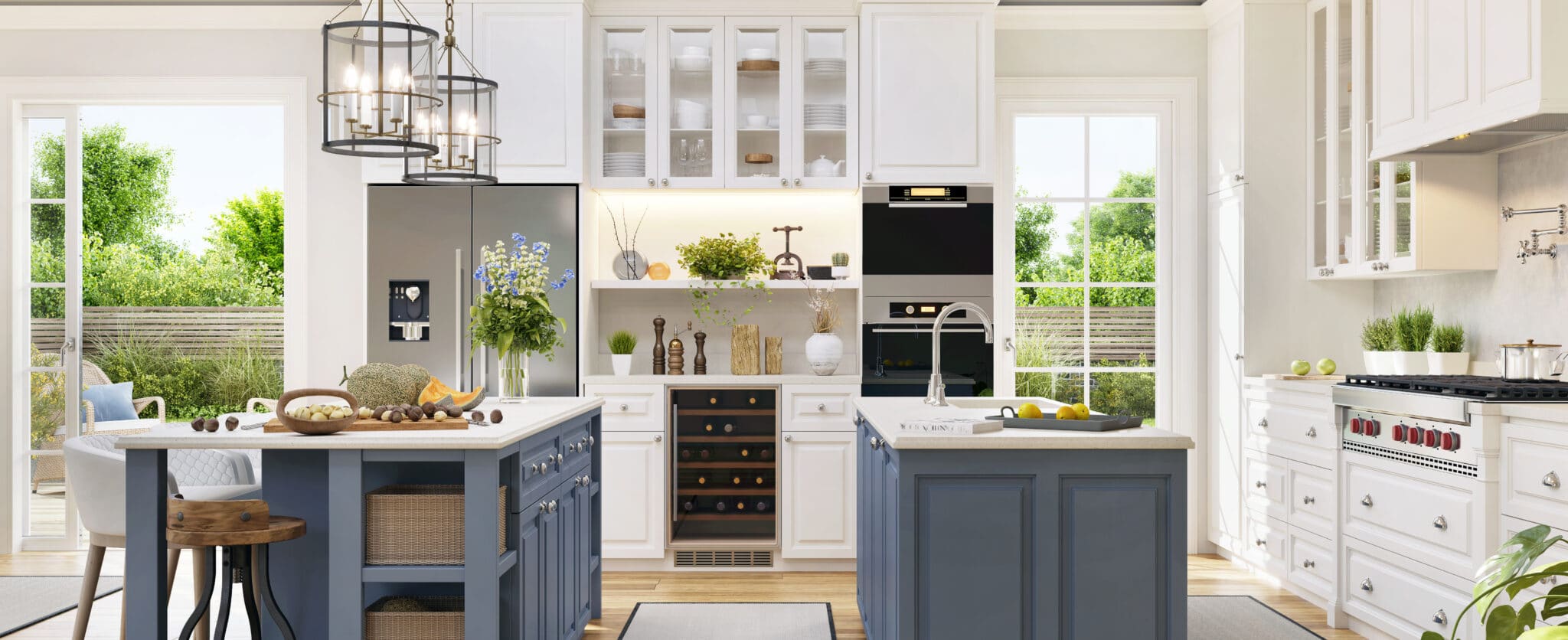 Applying Biophilic Design to your home (without planning permission)
A variety of accessible home improvement options fall under Permitted Development. Start here and you could be creating space and light in your home – and adding to its value – without formal, lengthy planning permission.
(Check for any special conditions attached to your property, e.g. listed properties, or restrictions within green belt and Areas of Natural Beauty. We'll be covering this topic in February).
Internal remodelling
If your plans don't extend the overall footprint of your property then an internal remodel is a great place to start. Use your living space efficiently – and create more – with an open plan living area. If budget allows, try integrating smaller, little used rooms into one blended space. Introducing more light may be as simple as redesigning/restyling your windows and doors.
When designing your remodel , why not think big and consider glazed walls and door systems, giving natural light and unobstructed views. Beautiful all year, glazing comes into its own during Spring and Summer, when doors can remain open and your interior and exterior are completely blended. Al fresco dining anyone?
Use doors to open up spaces, not close them
If you want doors which merge inside and outside, and allow uninterrupted views of your outdoor space, there are three mainstream options available to you: aluminium bifolds, French doors and sliding patio doors.
Below is a comparison of the three, with some useful points to consider when choosing which door is best for your space.
Aluminium bifold doors
Aluminium bifold doors are a flexible, durable design favourite. Their visually pleasing stacking formation, sleek profile and low threshold marry style with expansive, uninterrupted views.
When open, aluminium bifolds facilitate an entirely open space, with unrestricted access outside and in. With a flush threshold, incorporating both cill and track, inside and outside blend seamlessly.
Flexible configurations allow up to 8 doors, including one traffic door (which operates as a standard hinged door). Doors can stack inside or outside, to the left or right, depending on your available space. You can also opt for a middle opening, with a combination of doors on each side.
When considering aluminium bifold doors, think about your use of space around the door and what, if any, you can lose to stacked bifolds.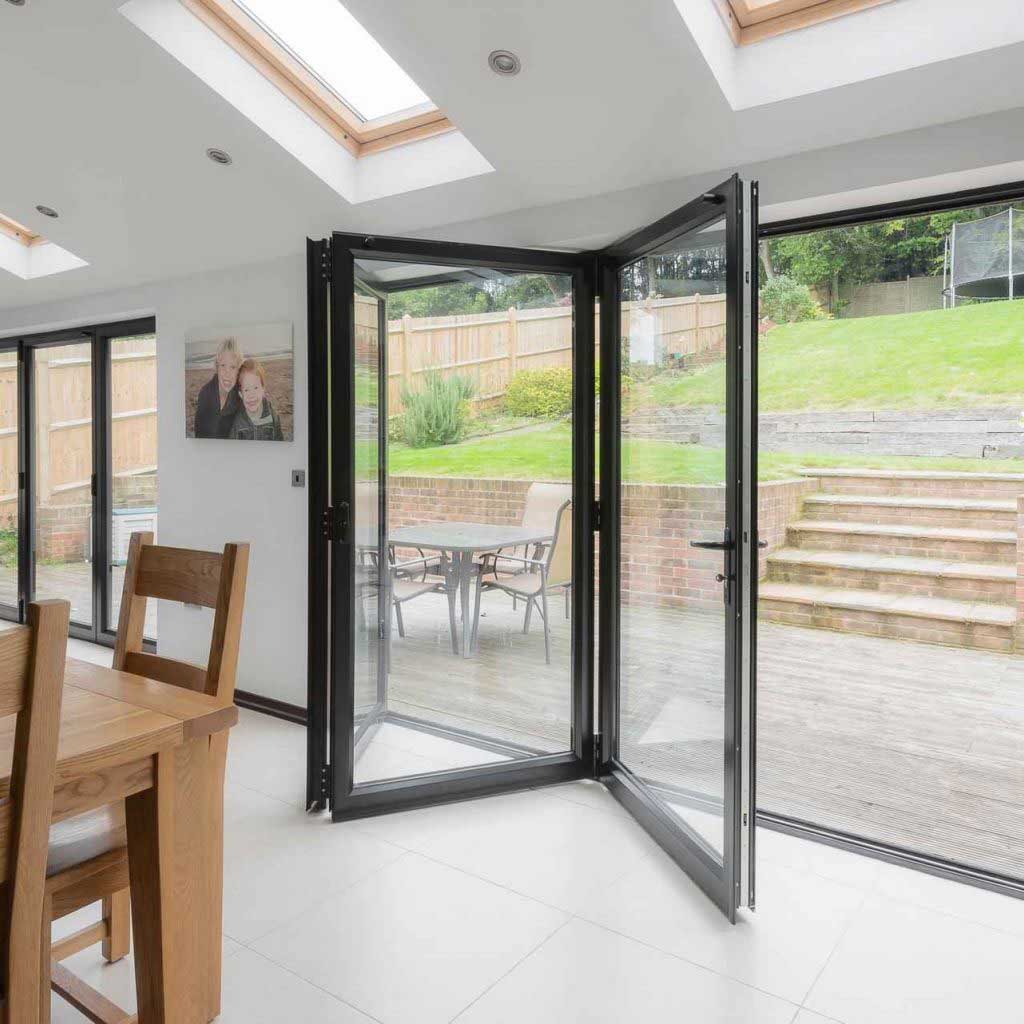 French doors
A traditional but timeless look, French doors are a versatile solution for today's homes. You have flexibility when configuring your French doors. Depending on your use of space your doors can be configured to open inwards or outwards. The 'master' or main traffic door can be installed on the left or the right, again depending on how you plan to use your space.
French doors are available in uPVC, aluminium or as composite doors and come in a range of attractive colours. Glass designs and attractive door furniture will tie your doors into your overall interior scheme.
If your aperture permits, opt for fully glazed sidelights to enjoy a larger, unobstructed view and greater sense of space.
As with bifold doors, consider the loss of space when the doors are open and secured, inside or out, and make sure it works for you.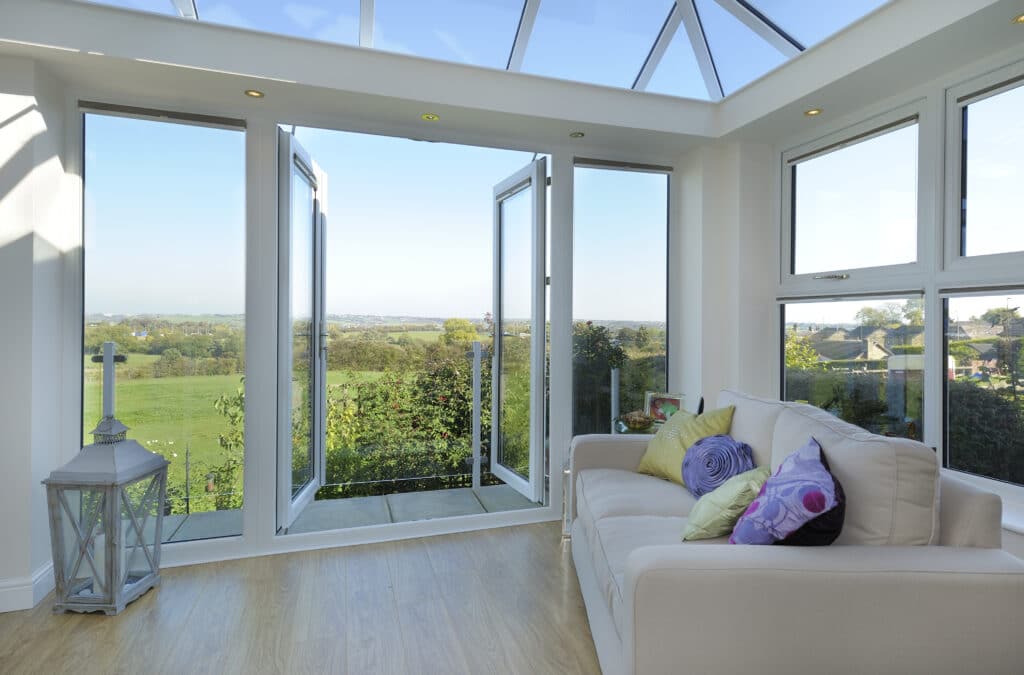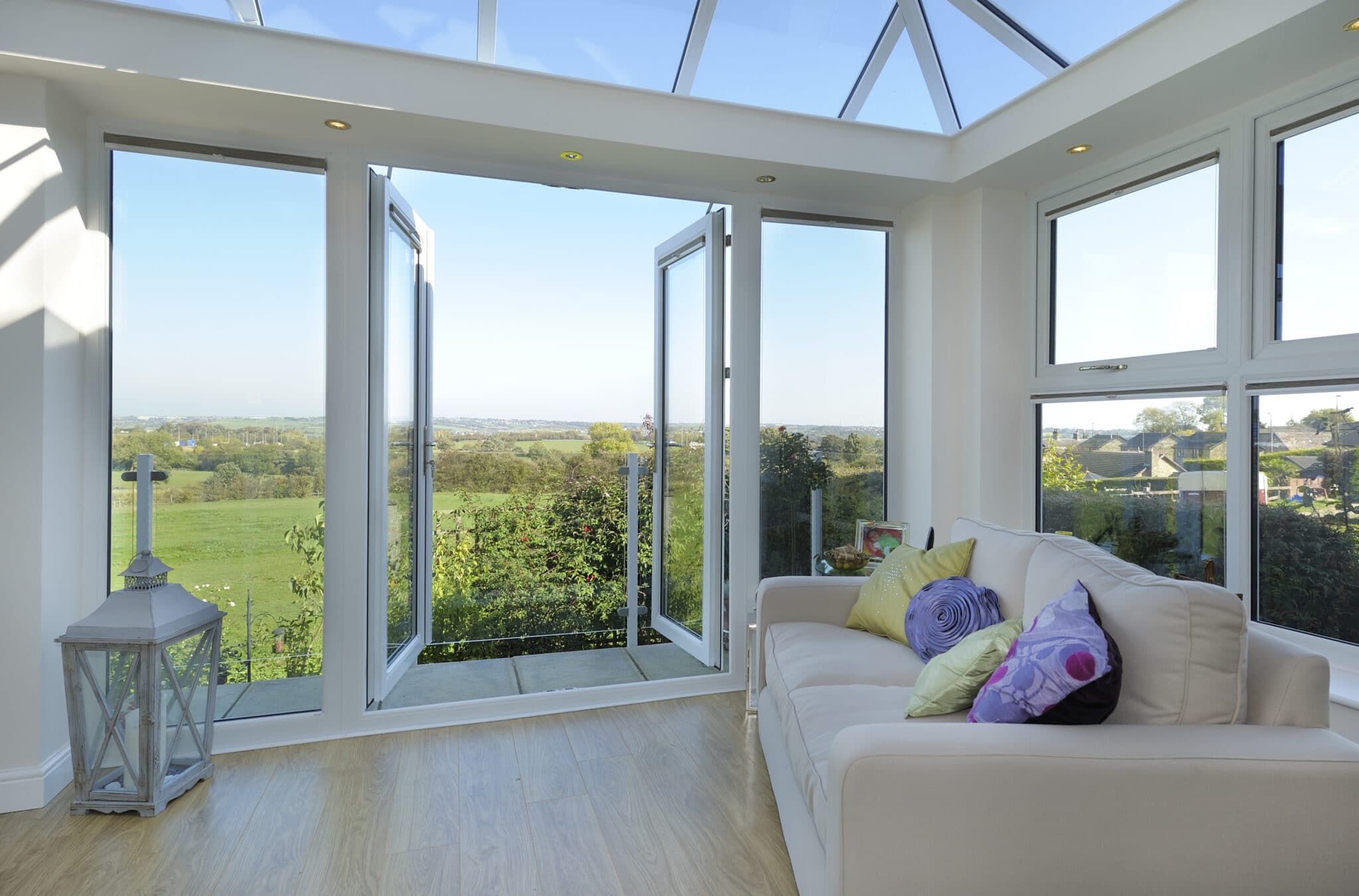 Sliding patio doors
Sliding patio doors are a popular and accessible choice. Although a familiar look, with the right execution, sliding doors can transform and even modernise your space.
As the fully glazed door slides along a track, sliding patio doors are a popular space-saving alternative to French doors. As one pane of glass is fixed, the opening for traffic is limited to the sliding half.
uPVC and aluminium frame systems are a low maintenance, durable and thermally efficient solution. uPVC frames are available in a range of colours and finishes, and aluminium can be powder coated to almost any RAL.

Claim back the outside
If you don't have views or an outdoor space giving you scope to extend, there are other ways of bringing the outside in.
Courtyards and interior gardens
A clever way of introducing natural light, fresh air and a sense of space is by building a courtyard or indoor garden into your remodel. This may be possible when integrating smaller, little used rooms into an open plan living space and is especially attractive when fully glazed.
Balconies
Second story balconies are a perfect example of claiming back outdoor space to enjoy expansive views. (Check the guidelines around permitted elevations).
Roof lights and lanterns
If extending or remodelling isn't an option, consider installing roof lights or on a bigger scale, roof lanterns. The sense of connection to the sky engenders a true sense of space and of course, your interior will be flooded with natural light.
For all of these options, please check the guidelines for Permitted Development for any caveat affecting your property, the location of the proposed improvement and any specific materials required: https://www.planningportal.co.uk/info/200130/common_projects/17/extensions.
Living interiors
If you're not ready for knocking down walls -and fair enough – you can bring the outside in without costly and disruptive works.
Connect your home with the natural world through furnishings, materials and indoor greenery. The Biophilia trend in interiors really took hold last year and in 2020 is set to evolve into even more nature-focussed and mindful living.
Organic shapes and natural motifs, from delicate florals to bold and outlandish jungle greenery, proliferate across interior textiles, wall coverings and accessories. Sustainability, product origins and physical interactions with natural materials are at the forefront of interior and product design.
Repeating colours and natural materials appearing outside your home within your interior is a creative way of blending the two.
One trend continuing into 2020 is lush, indoor foliage and succulents and 'living walls' (we're excited about this one). Living walls range from large scale, 'other worldly' installations to inventive vertical gardens and interior wall fixtures, perfect for homes with little to no outdoor space.
Indoor plants improve air quality and circulation, no matter how small, and connect us with the outdoors at all times of the day. Given several of us have black thumbs, we're excited about the fighting chance of an indoor garden that succulents give us. We might even try a living wall.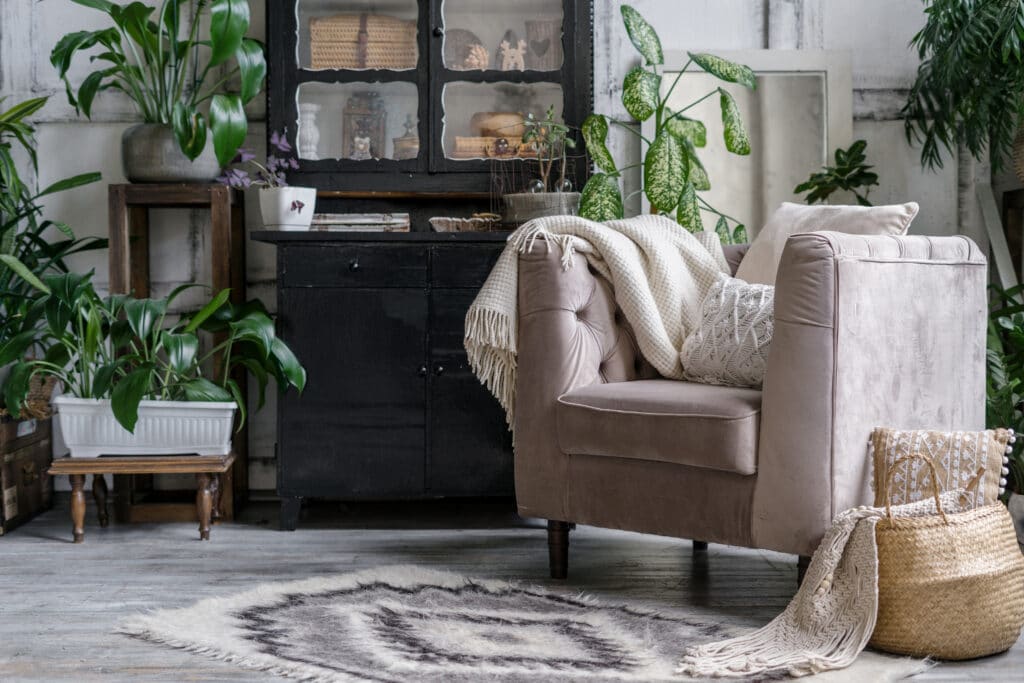 A small point about value
There's no doubt that extending your home – or remodelling the interior to improve space and introduce light – adds value. This is always good to know, obviously if you're planning to sell.
But for this topic we've focussed on value of a non-monetary kind, those rewarding qualities which exist outside our doors and we don't get enough of in our urban spaces.
During these early months of 2020, why not start thinking of changes you can make to your home which enrich your lifestyle in this way. Oh and that bring the outside in.
Check out our range of bifolds, French doors and sliding doors here!