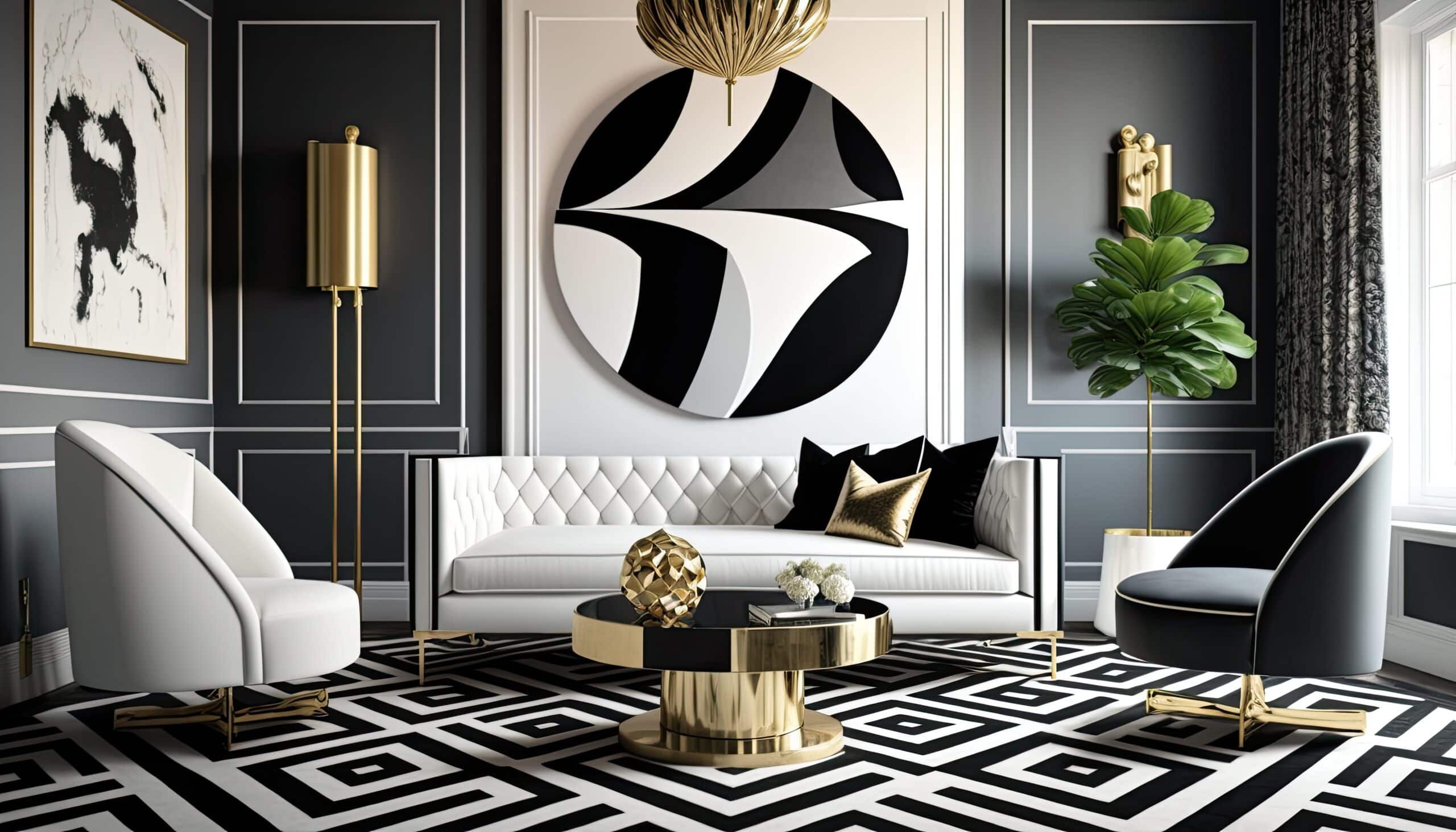 Rediscovering elegance: the timeless allure of Art Deco door design
Art Deco evokes a certain kind of glamour. The 1920s and '30s were an age of decadence, cutting edge technology, cocktails, and jazz. This was also an era of creativity and optimism. Wouldn't it be great to hop into a time machine and soak up the sophistication of the Roaring '20s? Fortunately, we don't need science fiction to experience the world of Art Deco. This timeless style can easily be incorporated into your own home, starting with your doors. 
Read on to learn the key elements of Art Deco door design and how you can use them to bring a touch of Jazz Age elegance to your home.
What is Art Deco?
Art Deco is an abbreviation of Arts Décoratifs, a style of art and design originating in France. The Art Deco period itself can be broadly divided into two halves: traditional French Art Deco, followed by 'Streamline Moderne' in the 1930s. The earlier French style is summed up by the over-the-top, glitzy world of The Great Gatsby. Following the Great Depression, Art Deco evolved into the subtle, aerodynamic and industrialised style of Streamline Moderne, which reflected a growing trend for simplicity and practicality.
The era saw a wide range of artistic movements, such as Cubism, Futurism, and the Ballet Russes, all of which influenced Art Deco. It was also an age of exploration and discovery, so the aesthetics of the Far East, India, and the Middle East also informed Art Deco style. If Art Deco had a tagline, it would have been 'go big or go home'. Everything was brighter, bigger, and more dazzling than before.
Perfect symmetry
Symmetry was a fundamental principle of Art Deco design, but it was more than simply an aesthetic choice. Symmetrical designs conveyed a sense of order and equilibrium, which was highly desired following the chaos of war. As well as symmetrical patterns, Art Deco doors tend to make use of sidelights and fanlights. Sidelights are narrow, vertical windows placed on either side of a door, while fanlights are horizontal windows above the door. These elements were often decorated with geometric patterns.
One of the most iconic Art Deco designs is the sunburst and this works really well on a door. The sunburst can make a creative insert for a glazed door, either vertically or as a horizontal panel within your door, or as a fanlight above the door. It's particularly effective if you have double doors and can pair two vertical sunburst patterns in perfect symmetry to really bring the 'wow factor'.
Knock knock
It's no surprise that Art Deco door furniture is very decorative, characterised by lavish use of materials and meticulous craftsmanship. Materials such as brass, chrome, and nickel were often used, thanks to their elegant and polished appearance. Fine craftsmanship is another hallmark of the Art Deco era, so door furnishings showcased the beauty of these materials and the technical skill of the artisans.
If you're looking to add a touch of Art Deco glamour to your door, consider changing up your door furniture for a quick win. Art Deco door furniture drew inspiration from a variety of sources, such as ancient Egypt (Tutankhamun's tomb was discovered in 1922, which sparked a fascination with Egyptian motifs), Cubism, and new forms of transportation technology. Look for door knockers or knobs featuring hieroglyphic patterns, angular, asymmetrical designs, or streamlined, curved forms.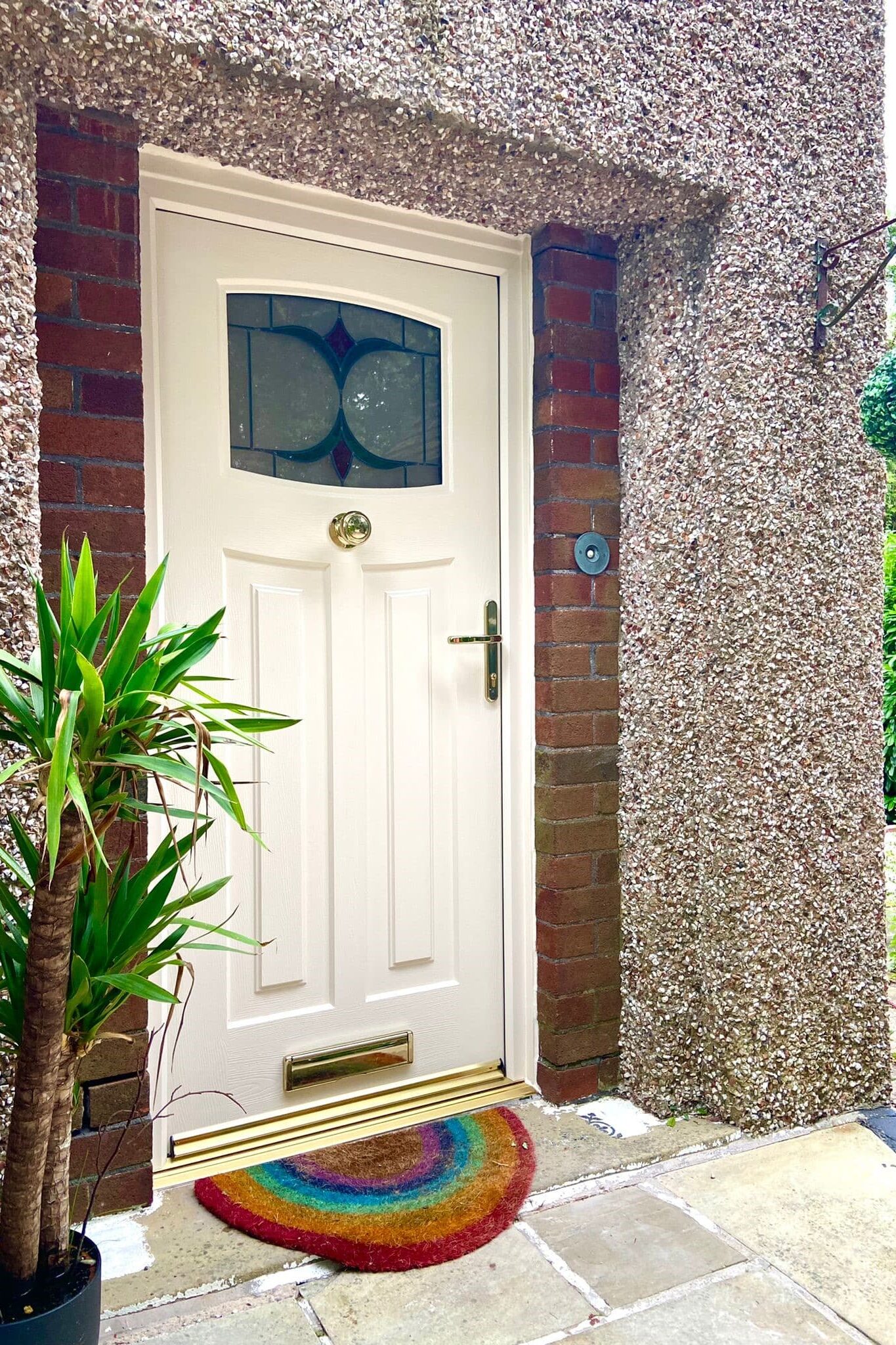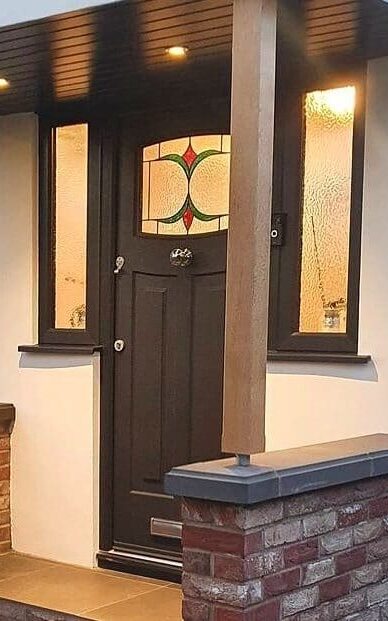 The colour of Art Deco
The Art Deco colour palette evokes a sense of opulence, glamour, and modernity. It was a striking departure from the past, reflecting the societal shift towards the modern. Deep, rich colours such as royal blue, emerald, green, ruby red, and golden yellow became hallmarks of Art Deco design, exuding a sense of luxury and elegance. The most popular colour combination, of course, was classic black and white – sophisticated yet dramatic.
Art Deco doors typically featured a vibrant palette that made a strong statement. Gold, silver and chrome accents were frequently incorporated through door hardware, adding a touch of glamour to the overall design. These bold colours not only create visual interest but also bring a sense of excess and excitement.
As the Art Deco era progressed, the use of colour evolved. In the 1930s a more subdued and pastel palette began to emerge, influenced by the onset of the Great Depression and a growing desire for simplicity and practicality. Pastel shades like soft pinks, pale blues, and mint green started to appear in Art Deco designs, often in combination with the more traditional bold colours. Painting your door frame in a contrasting colour to the door itself can achieve a similar effect. Otherwise, pastel tones are definitely seeing a resurgence at the moment, and you can easily find doors in suitable shades.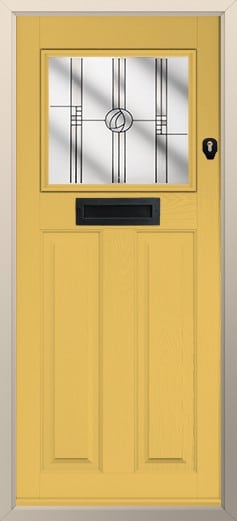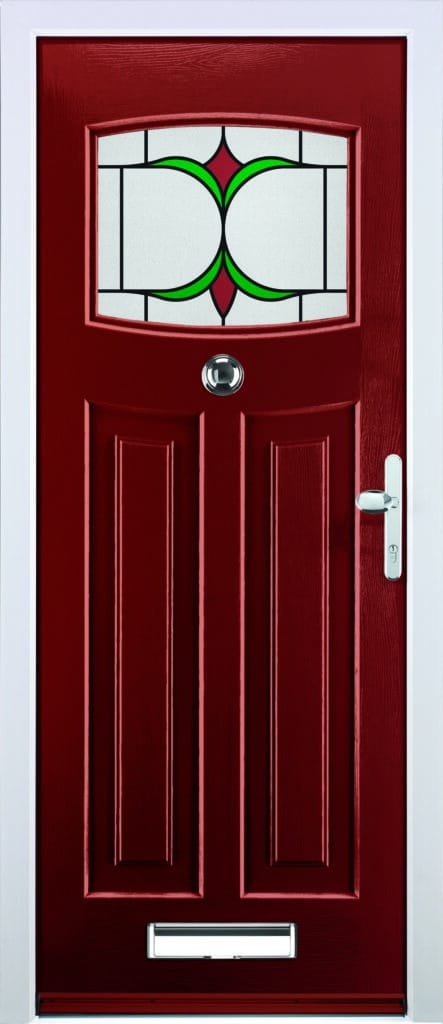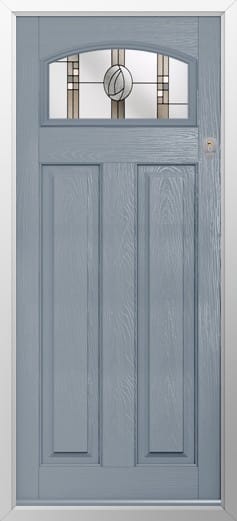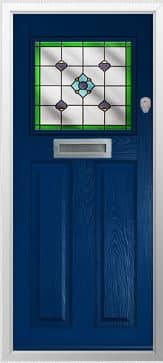 Putting on the glitz
Art Deco interior design schemes suit almost any setting and there are several easy ways to help your home feel more Roaring '20s than 2020s. Focus on beautiful materials, luxurious furnishings, mirrored surfaces, bold colours, and geometric patterns.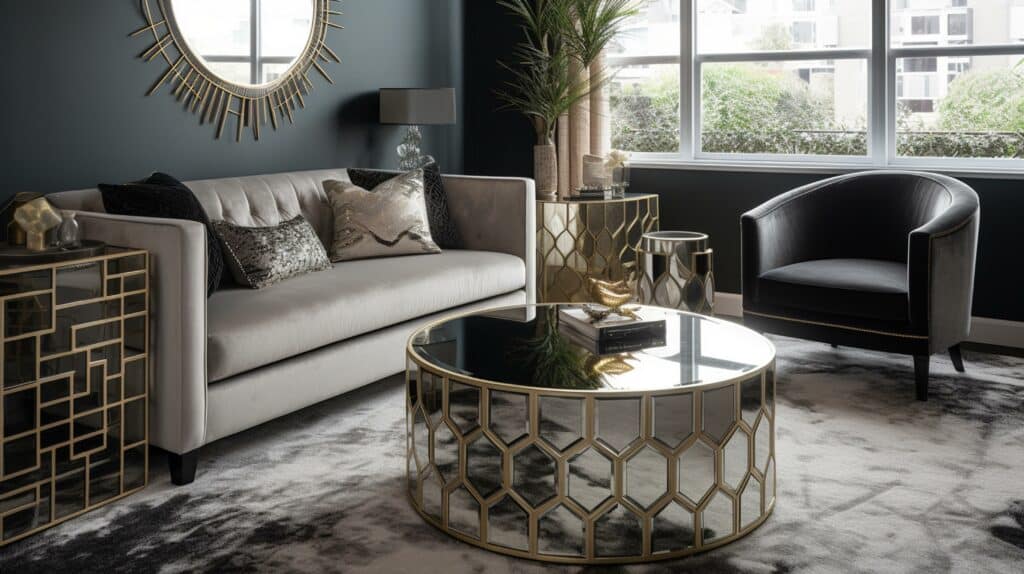 Look for materials that are glossy and reflective to bring a touch of everyday glamour. Silver, stainless steel, or chrome give any room an elegant and luxurious feel, and they can be easily incorporated. Think glass topped coffee tables, chrome lamps, a lacquered sideboard, or an abstract glass vase. Turn a corner of your living room into a mini speakeasy with a mirrored drinks trolley, glass decanters and a cocktail shaker. Even your floors can get in on the act. There are few things more sophisticated than polished parquet flooring or black and white tiles (which also tick the 'geometric' box). These can instantly jazz up a tired hallway or bathroom.
Make the most of soft furnishings to bring the Art Deco 'wow factor' to a room. Animal prints became popular in the 1920s, thanks to an interest in safari holidays, so go wild with a zebra or leopard print rug. Alternatively, a few velvet throw cushions or even a leather pouffe can add a decadent note. Consider incorporating bold Art Deco patterns by using wallpaper to create a feature wall. Maximalist prints paired with clean, streamlined Art Deco furniture are a match made in heaven.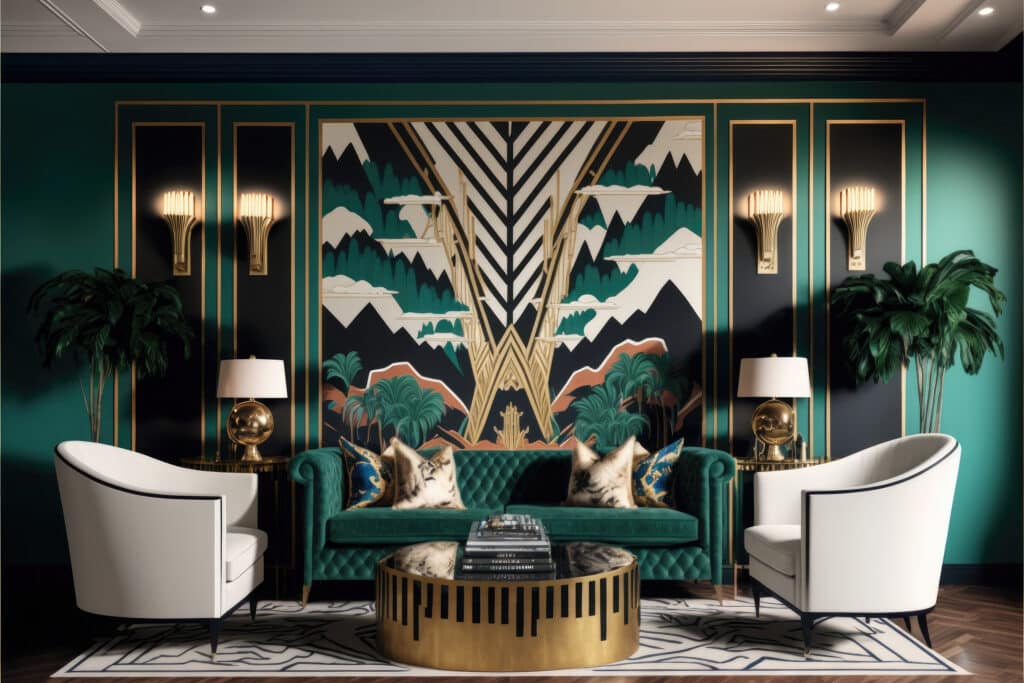 A doorway to the past
Art Deco doors are not just functional; they are gateways to another era, one that symbolises extravagance, innovation, and optimism. The enduring legacy of Art Deco is a testament to the amount of skill and flair that went into its designs. The promise of the brighter future that Art Deco conjures is something that never goes out of fashion.