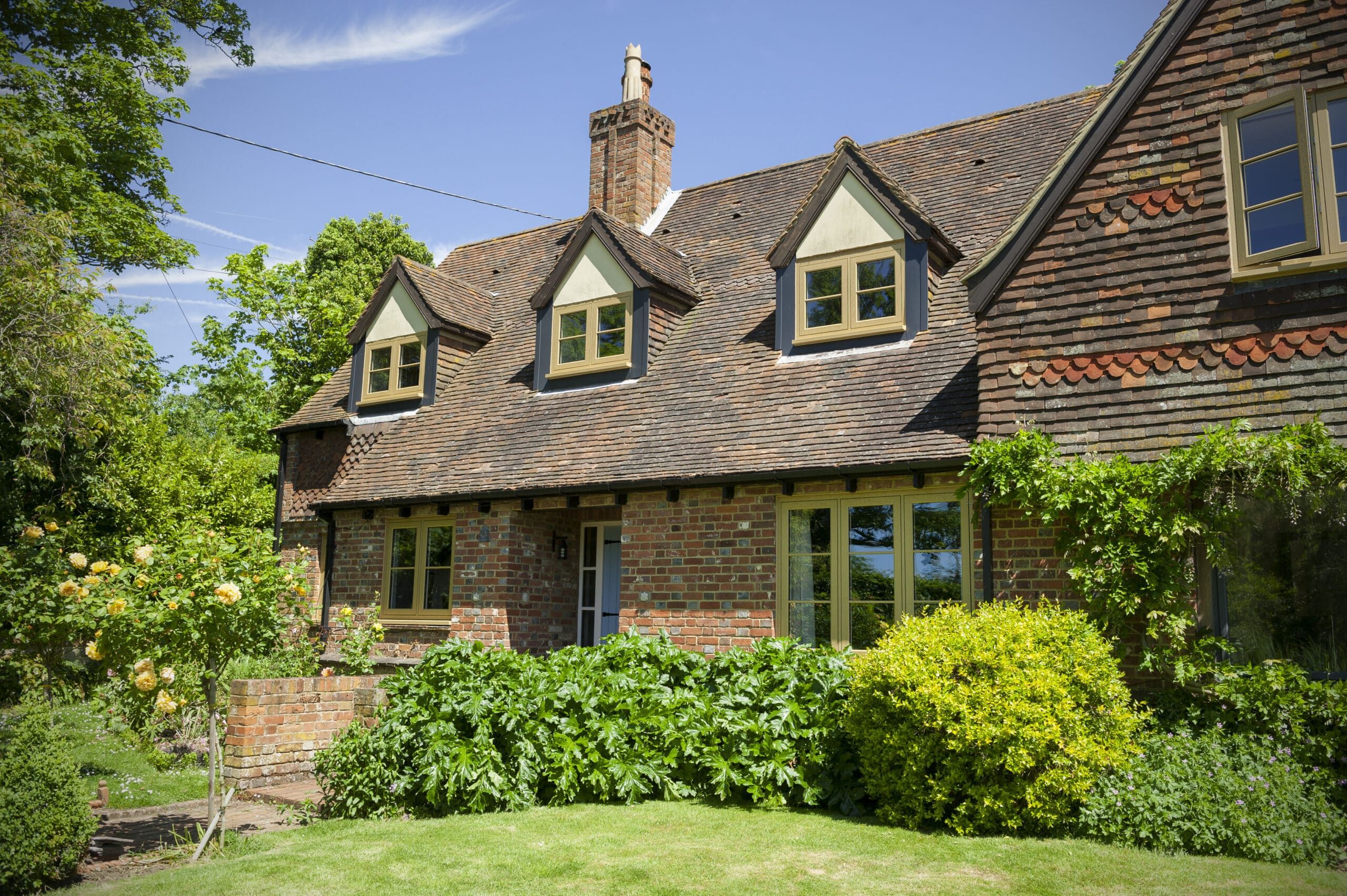 First impressions: how to boost your home's kerb appeal
When it comes to your home, first impressions really do count. If the outside of your property is well-kept, it sends a positive message to visitors and potential buyers (and gives you a boost too). This is known as 'kerb appeal' – the qualities that make a building look attractive from the street.
Fortunately, improving your home's kerb appeal doesn't have to be a big or expensive job. There are lots of different ways you can spruce up your home's exterior, from quick wins that can be done in a few hours to more extensive projects. Read on for some suggestions on how to boost your home's kerb appeal.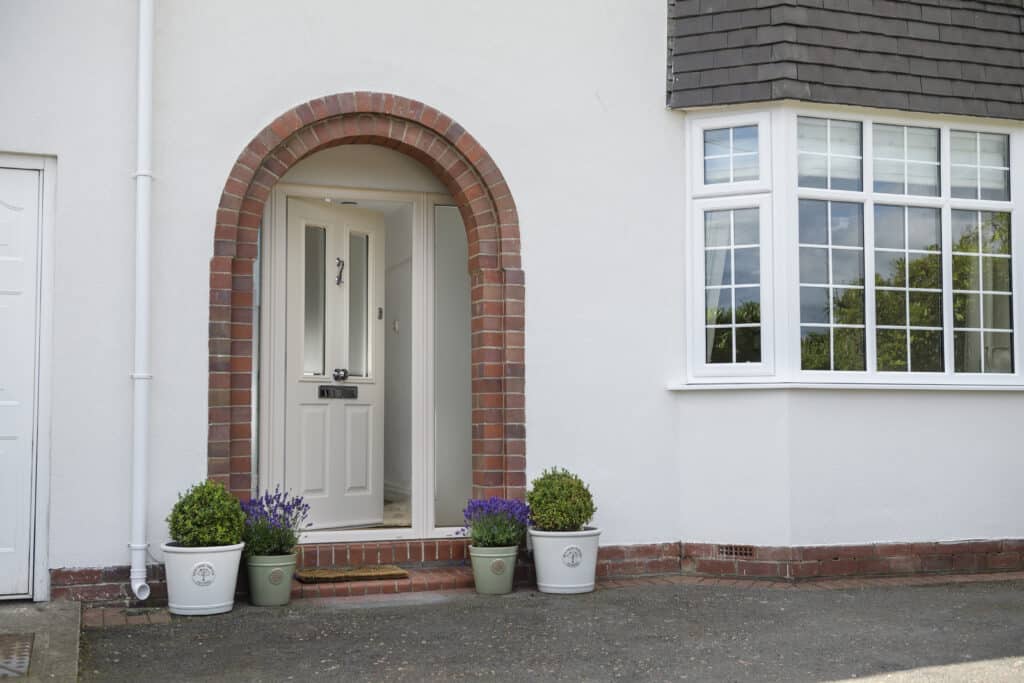 MAKE AN ENTRANCE: FRESHEN UP YOUR FRONT DOOR
An easy and affordable way to help your front door look fabulous is to treat yourself to a new doormat. You can find ones in hardwearing natural materials suitable for outside use. Consider incorporating natural materials into your entranceway in other ways too, for example, wreaths aren't just for Christmas! Look for ones made from dried florals or wheat for an elegant, sustainable way to decorate all year round.
Positioning potted trees or plants either side of your door is a low-maintenance option with a big impact. Choose something classic like olive trees or branch out with potted palms. Alternatively, climbing plants like wisteria or honeysuckle will frame your doorway, especially if outside space is limited. They'll not only transform your facade into something worthy of Instagram, you can enjoy their beautiful scent every time you come and go.
Updating your door hardware is another quick win. Swap out an old letterbox or replace your house numbers with ones that are full of character. Upgrade your door handle to an elegant doorknob or distinctive knocker – rummage through antique shops or reclamation yards for a vintage piece that'll make a memorable impression.
WELCOMING WINDOWS
One of the easiest ways to help your windows stand out is to simply give them a good clean. Unwashed windows slowly become dull over time. A thin layer of grime is hard to see but it has a considerable impact, including reflecting the light more dimly. Having crystal-clear windows will ensure they get noticed, especially if you add some brightly coloured window boxes to help show them off.
Your window treatment provides another opportunity to display your personality and there are plenty of drapery options to help you do this. Did you know you can get almost any design printed onto a Roman blind? This is a great way of creating something that's truly unique. If you'd prefer something more classic, try the pared back elegance of a traditional shutter or use generously proportioned fabric drapes to introduce texture and create a sense of luxury.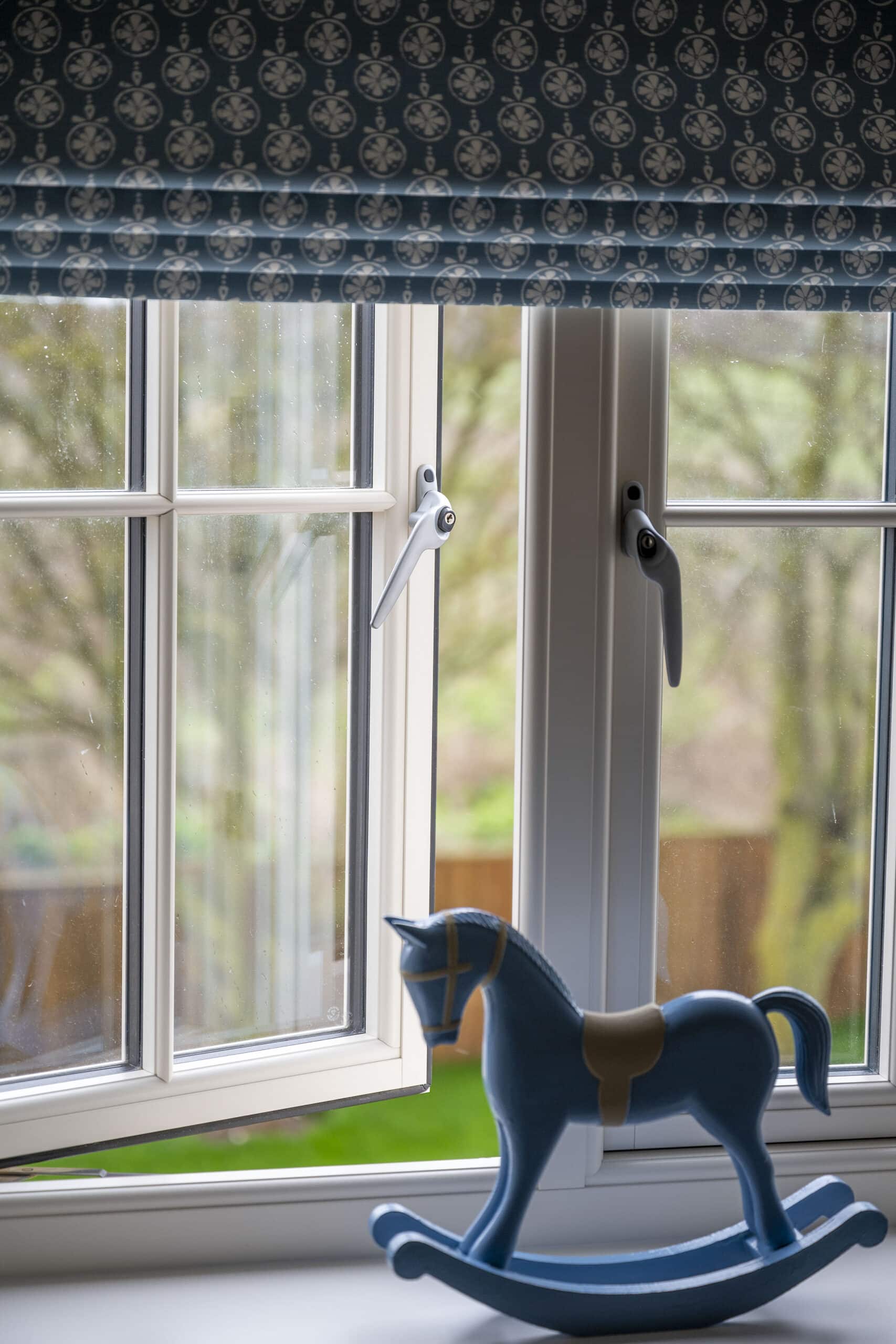 ON THE RIGHT PATH
Your driveway or front path introduces your property to visitors and onlookers. Different materials and how they are laid can create a huge variety of effects, each with their own charm and personality. The secret to choosing paving that will perfectly complement your home is to pick a shade that's already present in your property.
Natural stone is robust with a timeless and sophisticated quality. Granite is another great option, thanks to its durability and the unique patterns that naturally occur. If your budget allows, cobblestones create a driveway or pathway full of character and rural charm. They not only look beautiful, they're also extremely long-lasting. Cobblestones are ideal for period properties as they complement older brickwork and weathered wood.
Gravel and crushed stone are the most affordable options and come with the added benefit of alerting you to unwanted guests. They can be high maintenance but if you love the look, it's possible to install a resin driveway which has the appearance of gravel without the hassle. Modern homes look particularly great with bold split face paving stones or by mixing shades of slabs to create an eye-catching, contemporary look.
If you have a narrow front garden, tiles are a stylish and practical way of marking out the approach to your front door. Carrying the tiles through into your hallway or porch can blur the boundary between inside and out, creating the illusion of more space.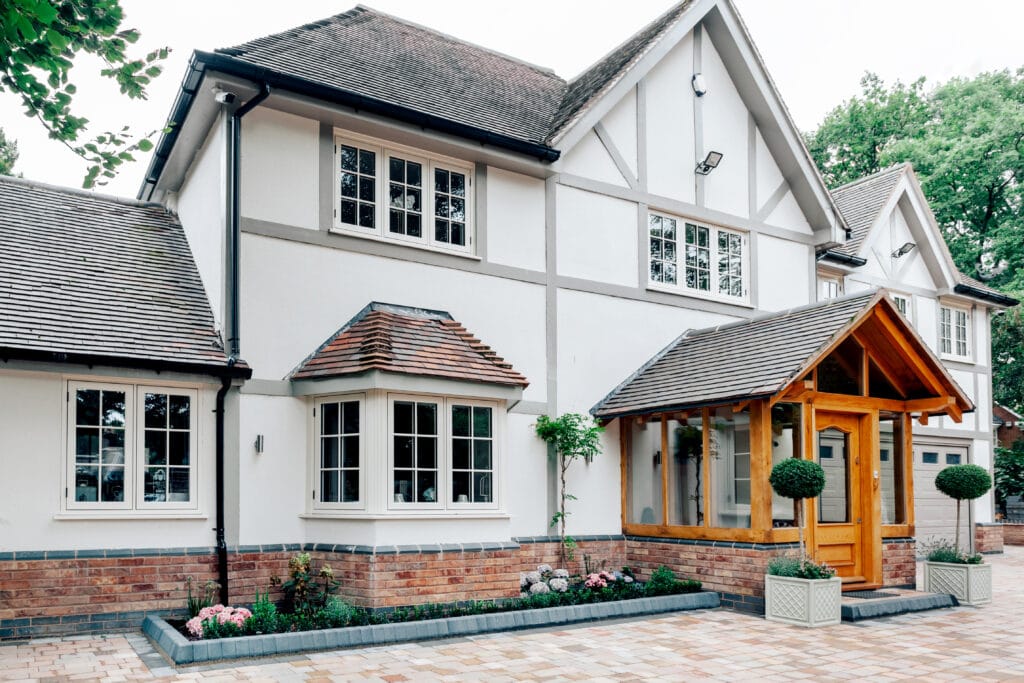 THROUGH THE GARDEN GATE
A gorgeous gate puts the finishing touches on your outside space. Once again, a simple lick of paint can come to the rescue and painting your gate the same colour as your front door creates a smart impression. Similarly, matching the colour of your gate to bold blooms in your garden brightens it up in an instant.
Wrought iron gates are classic and allow tantalising glimpses of your home and garden, creating a sense of anticipation about what's ahead. However, if you want to make a truly beautiful statement, try combining a gate with an arch and grow climbing plants around it. This softens the lines and adds colour and scent, so you feel like you're stepping into another world.
NOTHING SECRET ABOUT THIS GARDEN
A well-maintained, flower-filled front garden adds to the overall look of your neighbourhood and makes a home for wildlife. Even a small space is full of opportunities to create colour and interest.
So many plants can be grown in containers, making it easy to mix, match and move things around, depending on the seasons. This also means you can create an inviting ambience, even if your outdoor space is completely paved over. In winter, plant something like miniature cyclamen or sweet box which can be swapped later in the year for snowdrops or netted iris.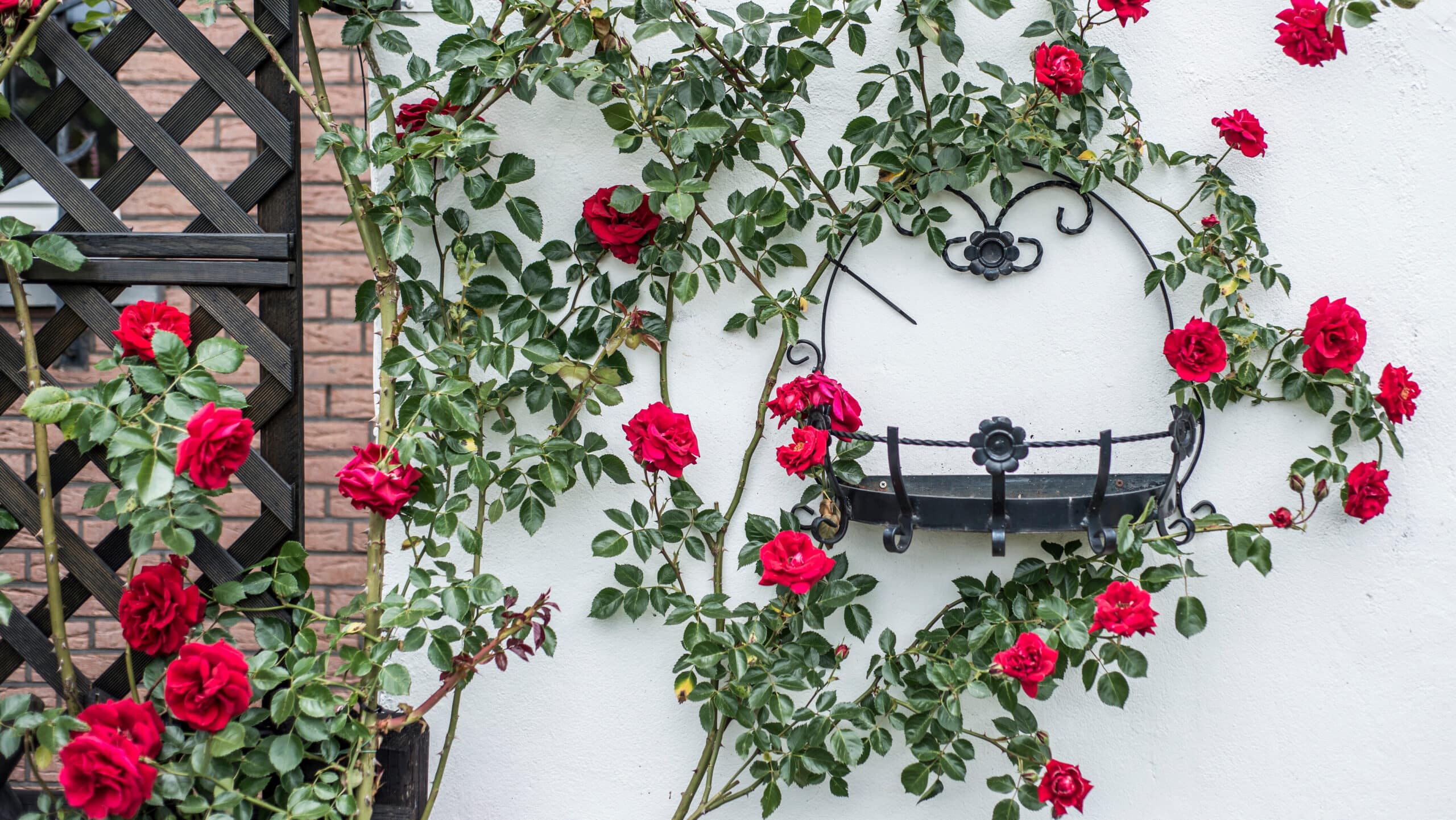 Walls offer great planting opportunities, especially if space is limited. A climbing rose is a cottage garden favourite, enhancing a pretty property or helping to disguise less-than-attractive architectural features. Clematis and wisteria have sweetly scented flowers or plant Virginia creeper or Boston ivy for an autumnal palette. These plants can frame a doorway or wrap around your porch for colour and texture. Hanging baskets with colourful blooms, like fuchsias or geraniums, are another great way of cheering up your walls.
In urban gardens, bins and recycling containers are often one of the first things people can see. But these important elements of everyday life don't have to be unsightly. It's easy to hide them away in an attractive box unit and decorate the top with potted plants, transforming the space into another opportunity to elevate your kerb appeal.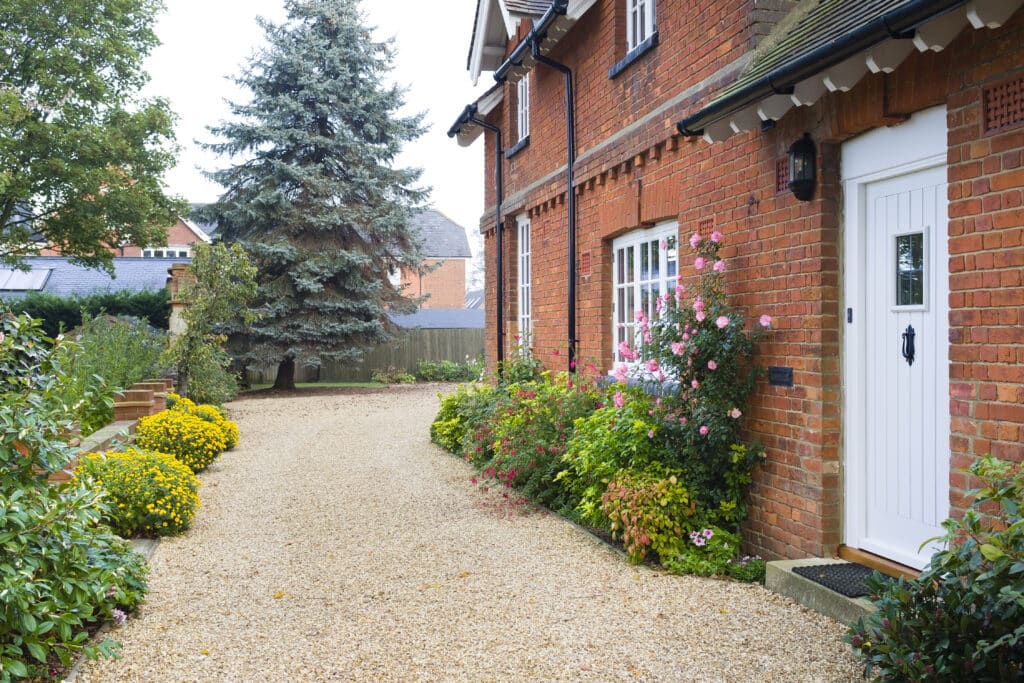 LIGHTING THE WAY
Lighting can literally highlight the work you've done to improve your home's kerb appeal and even enhance it. When it comes to selecting a style, think about your home's architectural features and the colours used throughout your property. And these days you can choose from a range of energy-efficient yet impactful solar lighting options.
Using lighting to guide visitors to your home is one of the more magical ways to incorporate this feature. It creates a warm welcome, as well as helping to avoid any unfortunate surprises en route. If you have trees or shrubs bordering your path or drive, use uplights to turn them into way markers or wrap them in fairy lights for an otherworldly atmosphere. Or string festoon lighting along the approach to create a cheerful ambience. If you'd prefer a more understated style, the clean lines of simple post lights or metallic bollards are elegant and perfect for contemporary homes.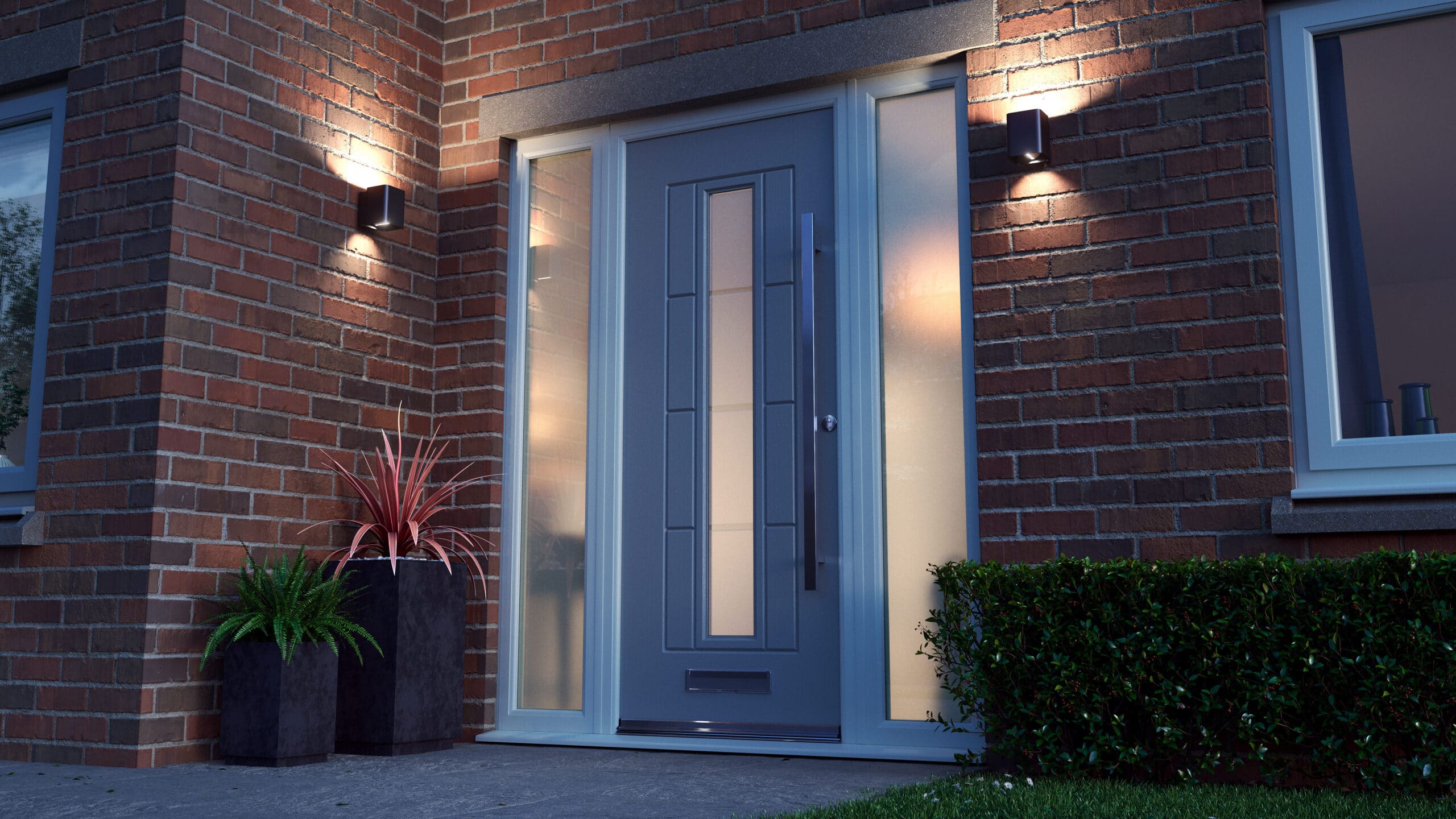 A FACADE TO FEEL PROUD OF
It really is easy to boost your home's kerb appeal. And while a stylish exterior can impress your friends and neighbours, as well as adding value to your property, many of these suggestions bring considerable lifestyle benefits with them. You're guaranteed to smile every time you look at your fabulous facade, which is a huge bonus in itself. But these changes also encourage you to make the most of your space, either socialising with family or friends or as a refuge from the stresses of everyday life.
If you have any questions about how you can spruce up your home, including fitting new doors and windows, our team will be happy to advise you. Feel free to get in touch with any questions you may have.