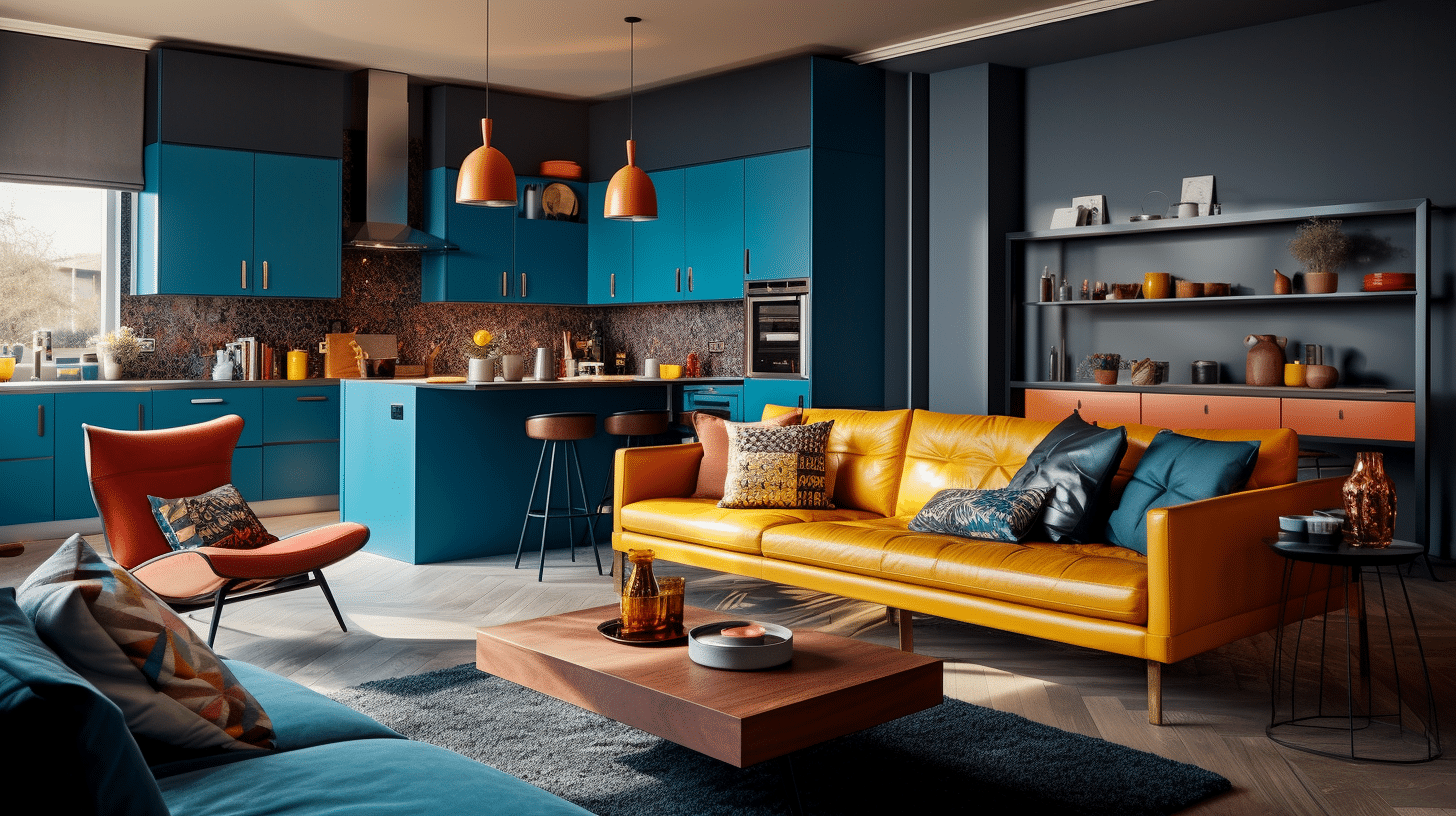 Creating a sociable home for autumn and the festive season
A home is more than simply a place to eat, sleep, and relax; it's where human connections are forged. As the chillier months set in, there's no better time to transform your home into a warm and inviting haven for loved ones. Relaxing together and enjoying each other's company brings people closer and makes memories. So, how can you create a cosy, welcoming environment that's perfect for socialising this festive season?
Cosy conservatories
Your conservatory can have its own personality or it can be a harmonious extension of your home, extra space to dine, play or watch a film together. Create a relaxed seating area with a sofa, armchairs, or even bean bags or oversized cushions for a more informal feel. Choose tactile fabrics like crushed velvet, chenille or faux fur and position your chairs so that people face each other. The addition of throws and blankets will enhance the cosiness while also being practical during cooler months. Combine with soft lighting – or maybe even some fairy lights – and you have a wonderful spot to share mulled wine with friends or enjoy a family game night.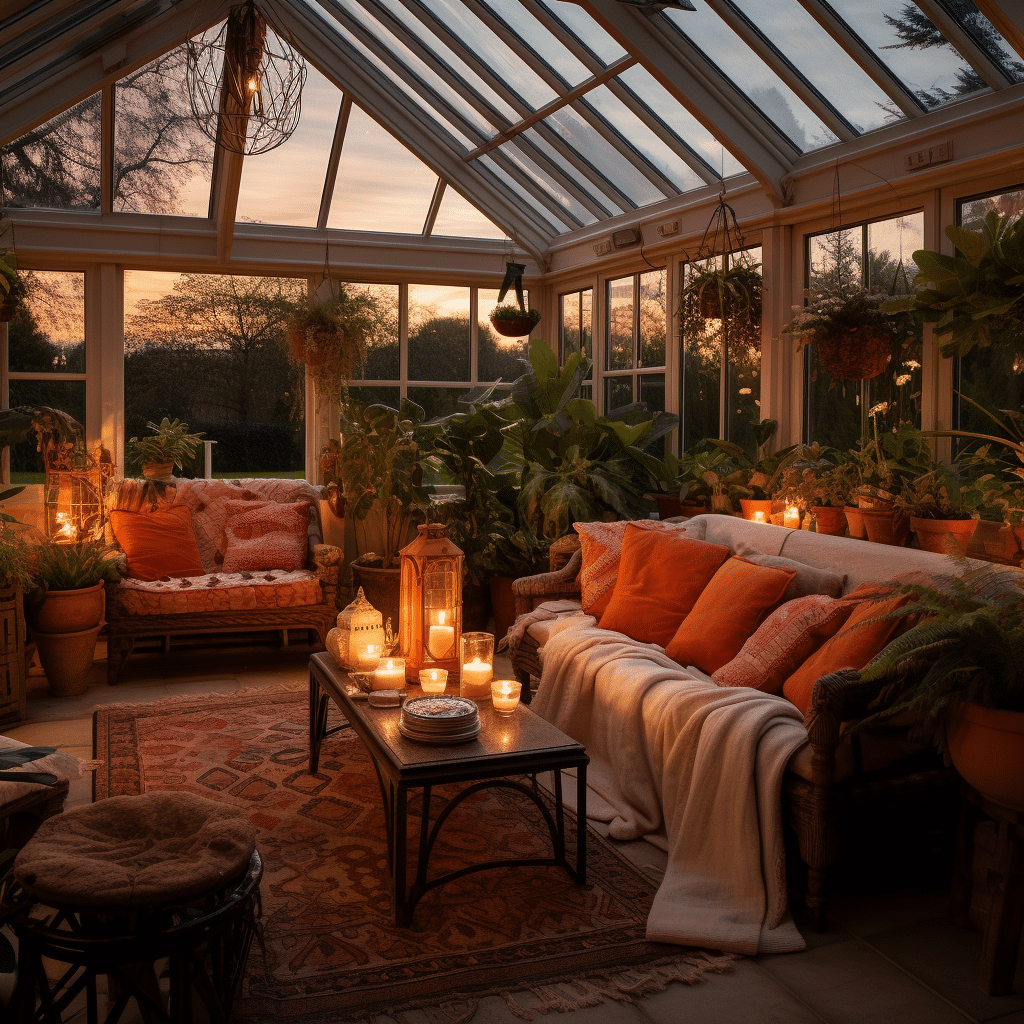 Add a sense of seamlessness by using the same flooring and decor style throughout. This can be particularly effective if your kitchen or dining room opens into your conservatory, essentially giving you a larger dining space. Perfect for buzzy dinner parties to brighten up the longer nights. If you have concerns about it being a bit chilly, consider how replacing the roof might help to keep some of the warmth in. High-performance roofs like the Guardian Warm Roof are so thermally efficient that they create another reception room that can be used year-round – perfect!
Space to socialise
Seamlessly opening up two areas, bifold and French doors make entertaining a breeze. Whether you want to make the most of an Indian summer (wouldn't that be lovely!) or merge two rooms while still maintaining some privacy, these doors are a stylish way of giving yourself extra socialising space. If your living and/or dining areas are too small to entertain comfortably and you'd like to invite the entire family over for Christmas or throw a New Year's Eve party for all your friends, consider opening up a wall and fitting some French doors between the two spaces.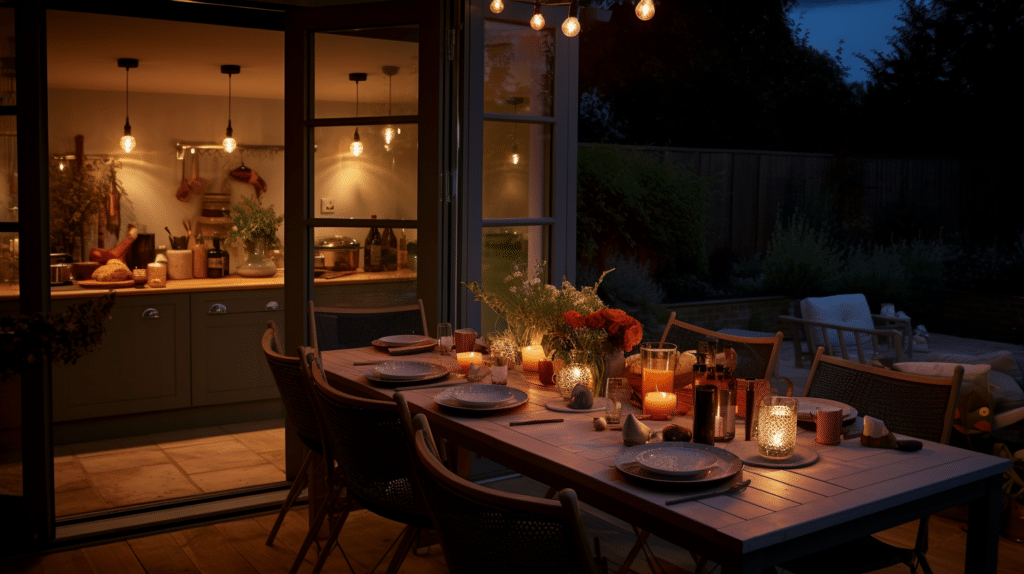 Alternatively, you could merge your indoor and outdoor spaces, allowing you to host gatherings that flow effortlessly between your home and garden. You don't have to stop entertaining outside just because the air is cooler and the nights longer. Embrace the changing seasons and cosy up by a fire pit or chiminea – there's nothing quite like the scent of woodsmoke on a chilly evening. Think Bonfire Night or Halloween celebrations where you can easily nip inside through your patio doors for more supplies.
A clear, crisp night has a magical quality and you can capitalise on this with the right lighting. String lights, lanterns, and LED candles infuse your outdoor space with a warm, inviting glow. If you love hosting dinner parties, a gazebo can protect a BBQ or dining table from the elements and, combined with French or bifold doors, extend your dining space. The added beauty of these doors is that you can still enjoy fresh air and views of your garden, even if it starts to rain, so there's no need to let changeable winter weather spoil your fun.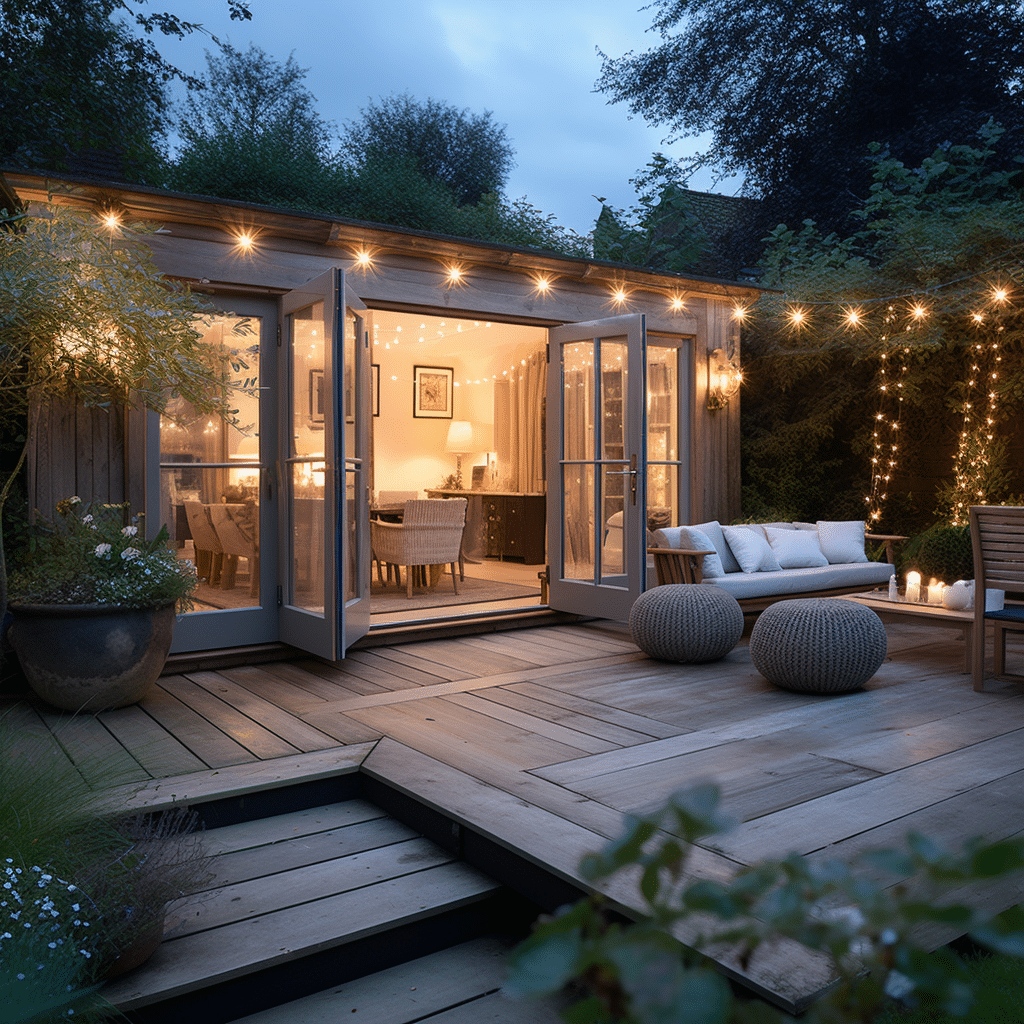 Become a fan of open plan
Open plan living has taken the world by storm. Characterised by spaciousness, seamless transitions, and airy ambiance, open plan homes are more than a trend – they also represent a mindset, one that addresses the human desire for connection. It quite literally breaks down barriers, which means it's perfect for socialising. Whether you're cooking dinner in the kitchen, watching TV in the living room, or catching up on emails at the dining table, you're never far from the heart of your home. This layout ensures that no one feels isolated or disconnected, promoting conversations and fostering stronger bonds.
Preparing a meal and sitting down together strengthens social ties, so it's perhaps no surprise that people usually imagine the kitchen when they think of open plan living. A well thought out layout is key. Consider a kitchen island which can serve as the nucleus of the room. It not only provides extra space and storage, it also invites other people to gather around, chat, and even lend a hand while you cook.
Don't forget to pay attention to storage. Ample and integrated storage is both practical and essential for maintaining a clean and inviting space. Think beyond traditional cabinetry. Open shelving allows you to display your favourite cookbooks, decorative items, and glassware, giving your kitchen a welcoming, personalised touch which encourages conversation.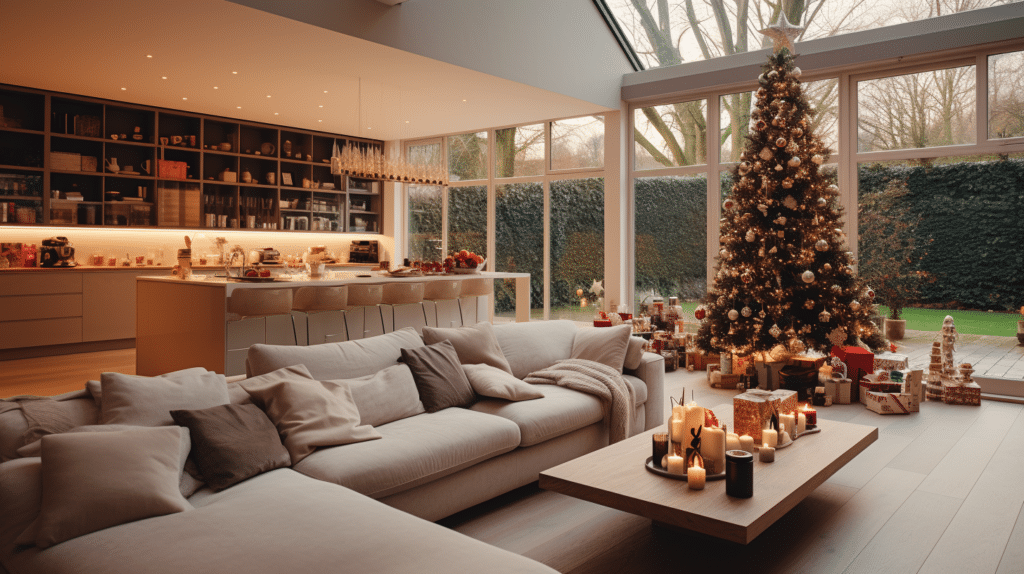 If you want to embrace the open plan lifestyle throughout your home, it's worth learning about 'zoning' or 'broken plan living'. This is where you create a harmonious blend of interconnected areas while still maintaining a sense of separation. Broken plan living takes zoning to a whole new level by introducing subtle divisions that combine the sociability of open plan living with the privacy and functionality of traditional room layouts.
You can achieve this with furniture, flooring, or lighting. For instance, you can cluster a set of cosy armchairs around a coffee table to create an intimate conversation area away from the TV in your living space or position the dining table and chairs to form a zone for eating in your kitchen area. You could utilise different levels, such as a sunken floor to provide a dedicated play space for children in your living 'room' while the adults talk over coffee. Even though they're doing different things, everyone remains in the same room which instantly makes your home feel more sociable. If making structural changes to your floor is too much, you can use soft rugs to mark out comfy play areas.
Open plan living often incorporates large windows and doors that allow an abundance of natural light (the doors discussed above can help achieve this). This creates an inviting warmth, encouraging people to engage with one another. Use lighting to accentuate different areas: a pendant light over the dining table, for example, not only highlights the zone but also creates a cosy ambiance for meals. Consider adding dimmer switches, which can easily transform the atmosphere of your home, allowing you to adjust the brightness according to the activity or time of day.
A truly festive season
Although the weather is colder and the days shorter, winter is packed with opportunities for parties and celebrations, where simple human connections make a huge difference to any challenges the season can bring. By making your home feel more sociable, it becomes infused with love and laughter, helping you make lots of happy memories. If this is something you'd like more of this winter, contact us to find out more about how we can help.